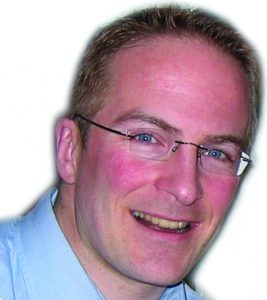 Bro. Mike Long, briefly tell us about yourself and your ministry.
I'm a 40-something, from Canada's Atlantic District, who grew up in the Baptist church until, in my mid-twenties, God filled me with the Holy Ghost and I began attending our local UPC church. My wife Liz grew up in Belgium, and we have three children: Sophie (17), Dominic (15) and Timothy (11).
A second man by nature, I spent six years as assistant to the pastor in our home church prior to coming to France on AIM, as furlough replacements for Paul & Darla Brochu. Besides pastoring the local home missions work started by the Brochus in 2000, Liz and I teach in the Bible school, and Liz is involved in translating Apostolic materials into French for use across the UPCI.
Please define "short-term missions."   
In a nutshell, I see short-term missions as the following:
An individual, couple or team who comes alongside an established missionary (at home or abroad) to either exercise a specific ministry via their own giftings OR to do everyday tasks which, in turn, frees up the missionary to concentrate work in their core tasks or giftings.
Short-term missions involvement can be anywhere from one week to several years, the key being that "at the time of service" the individual doesn't see it as a long-term (career) That being said, they may be "testing the waters," so to speak, serving in a short-term missions capacity while trying to determine whether God is calling them to something longer term.
What is the goal of short-term missions?  
The goal or purpose is three-fold: short-term missionaries provide more "manpower" than may normally be available for ministry undertakings on the mission field. As "outside voices," they come alongside GM staff and national ministers, enhancing the ministry to and training of national believers, essentially helping achieve the five-fold ministry locally.
Seondly, short-term missions provides excellent training and personal growth opportunities for participants; training and growth which can bear fruit at home as well. Sending churches, upon a participant's return, are able to benefit from their ministry experience abroad, thereby enhancing their own ministry locally. This flow of believers to and from the field also augments the overall global missions awareness of the church.
Thirdly, short-term missions can constitute the entry point of a recruitment funnel within sending organizations, when people and processes are properly managed.
Why would someone consider short-term missions as opposed to becoming
a fully appointed missionary? 
I don't think the two are mutually exclusive. In my experience, the shorter has often led to the longer. Perhaps, in the past, the absence of easily accessible short-term missions opportunities contributed to the phenomenon of people feeling a call and moving straight into the fully-appointed path. Increasingly, however, I think people are less and less willing to make a giant leap into the great unknown. Short-term missions provides opportunities for individuals who may be feeling out the call of God; allowing them to explore it while at the same time limiting risk. Participation in multiple short trips, or even trips of several months, allows them to get their feet wet. Participants get to know the work, the people they'll work with, and the area to which they'll potentially be bringing their family.
Who is the target of short-term missions? 
Short-term missions promotion has traditionally been directed toward young people, and to a large degree that is still the case. Able to take advantage of school and work holidays, they are generally more mobile than married couples or families.
A second group that has been a reliable target is the retired or semi-retired. In addition to increased flexibility and, in some cases, more disposable income, one of the main things they bring to the table is a wealth of experience.
The newest group that is of interest to short-term missions recruiters is comprised of individuals, couples and families who already have ministry experience and who may be looking for a change. Unlike my parents' generation – where you stayed with the same employer for the entirety of your adult working life – post-boomers and millennials are much more open to mid-stream change, particularly if they feel God is behind it. This group should not be overlooked. They have already acquired ministry experience but still have youth, vigor and time on their side.
Where are short-term missionaries needed the most? 
The UPCI's short-term missions experts at AIM2Go have an excellent feature on their website: the Go Center (AIM2Go.org/go-center). The Go Center lists current short-term missions needs as expressed by UPCI missionaries in different regions of the world. You'll see an overall snapshot of the missionary, the field, the time frame, responsibilities and a ballpark budget as well as language requirements – if any. The needs are varied. Some missionaries are looking for AIMers with teaching and evangelism ability, others are looking for administrative, IT and graphic design skills. Still other missionaries are looking for help homeschooling their children.
I do remember, however, that Raymond Woodward once told me that one of the next great revivals would be a teaching revival, whereby people skilled in the Word are used to help establish believers and ministers who have had a powerful experience but need foundational grounding. This is particularly so given our post-modern world where everything is questioned and people are less willing than they were previously to simply accept what a preacher says… they want to know "why." National leaders rising up under the guidance of our missionaries will benefit greatly from as much training as we can assist them with.
What is the cost and how do we order your book?
Short-Term Missions Success is currently available at both Amazon.com and at PPH (PentecostalPublishing.com) for $11.99. If you have questions about my book or about my short- term missions experiences in general, you may contact me by email: mike@missionpoing.ca, Twitter:@RevMikeLong, Facebook:  facebook.com/mikelongsj, or Blog: AIMLong.ca.