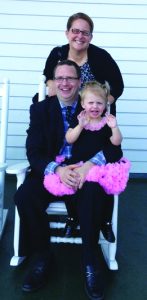 the Morehead Family
Battlecreek, MI
The heartbeat of ministry should not be just to have a great one-time service but to build capacity within teachers and leaders to continue what God has started. This is true for Bro. David Morehead, who is a full-time evangelist endorsed by the Association of Children's Evangelists of the UPCI. He also is the executive pastor of Apostolic Faith Tabernacle in Ferndale, Mich. In addition, he is the children's ministry secretary of the Michigan district. He and his wife, Rev. Bobbi Morehead Ph.D, and daughter Rose are greatly involved in children's ministry.
The Moreheads have been doing children's camps, Sunday school workshops, VBS's, Holy Ghost crusades, and children's revivals over 12 years now. He still does youth and adult ministry but has shifted mostly to children's ministry the last few years. Bro. Derek Ellison, the former Atlantic district children's secretary, observed, "The Morehead's ministry to children is anointed, gifted and energetic. Their props and methods are innovative and effective. The results are apparent as children weep in the presence of God during altar service."
Their connection to children's ministry began in 2005 when Bro. Morehead received a call from his pastor, Mark Hopper, of The Potter's House Church in Battle Creek, Mich. Bro. Hopper is a children's minister extraordinaire and has preached 80 children's camps and witnessed thousands of kids receive the Holy Ghost. Bro. Hopper said, "David, I have good news and bad news for you. Good news – you're getting ready to preach your first camp. Bad news – it is a children's camp." Bro. Morehead had only conducted about two children's services up to this point but now had an opportunity to preach an entire camp. Pastor Hopper told Bro. Morehead to go to his house, get his truck of puppets and his messages and preach his messages for the camp. Bro. Morehead said, "I remember going home and watching those messages of my pastor, feeling like David with Saul's armor." He told the Lord, "I truly believe with your help I can do this, but I cannot do it like Pastor Hopper. I'm going to have to do it like David Morehead." About 12 kids received the gift of the Holy Ghost that first camp.
Last year, Bro. Morehead spent two weeks in the Atlantic district of New Brunswick, Canada. He explained, "I went to a different church each night, leading crusades and providing workshop training. From that trip, I was able to start many puppet groups now taught by local church Sunday school teams. So instead of a one-night performance by me, I felt God allowed me to create a sense of legacy and leave something behind that is still continuing today."
Their ministry has been blessed with great responses from pastors, with many beginning to schedule them on an annual basis. Pastor James Maroney of Abundant Faith Church in Evansville, Ind., said, "David and Bobbi Morehead are two of the most effective communicators that I have ever encountered. Our staff left more unified, enthusiastic and with a clearer vision of their mission. This unified effort was carried over to our Sunday services with a great anointed word. Any group, church or organization would be blessed by having them."
To contact the Moreheads, go to www.whoopwhoopblog.com, email dtmore2236@aol.com or call 269-719-7730.