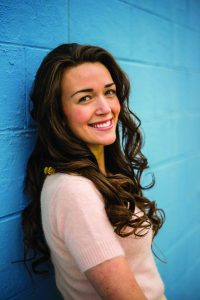 What does a godly young girl look like? What characteristics does she possess and who is she? More specifically, what does the silhouette of a godly woman entail? These questions and more are answered in Sis. Shenae Andrus' new book, Silhouettes, a curriculum for young ladies ages 12-18, as well as Apostolic women of all ages.
Sis. Andrus, creator and maintainer of ApostolicGirl.com, began her ministry when she was 16. "I was the only Pentecostal girl in my public high school," she said. "I sometimes felt lonely and knew how much it would mean to me to have a voice of encouragement and resources. So, I created ApostolicGirl.com. Through that ministry, I've been asked to speak at numerous conferences and ladies retreats in our nation and around the world. Recently, we broadened the ministry to include the Apostolic young ladies' community, hyphen age, and older ladies as well. Now, ApostolicGirl is a subsidiary under the umbrella of Shenae Andrus Ministries."
Florida-born, Sis. Andrus transferred to Milford, Delaware "because I married the man of my dreams." She works alongside her husband, Joel, who serves as assistant pastor at Lighthouse Christian Center and youth president for the NJ/DE district. She graduated from Urshan College with a music degree and Florida State University with a sociology degree.
"Silhouettes is the culmination of the past 12 years of working with ApostolicGirl. The cover of the book has a hot pink silhouette of a young lady with words that pertain to the topics we cover: royal, rooted, chosen, beautiful." Topics include dealing with fear and insecurities, answering the call of God on your life, and being open to His voice. "We also challenge the world's standard and philosophy of beauty and self-worth with a biblical perspective," she said.
"When you purchase the Silhouettes curriculum, you will receive a hard copy teacher's manual and a link to our website to download resources for every lesson. Every lesson has a downloadable handout and video introduction which contains an invitation for the class to engage with the topic for that particular lesson. Then, in the teacher's manual, there are also ice-breakers and games and activities for each lesson as well. There are seven lessons total. You are given everything you need to fill a 30-45 minute session with your young people.
"Our feedback has been overwhelmingly positive." Cost is $20 for the book and $5 for shipping and handling. You can purchase it through Pentecostal Publishing House, or directly from ShenaeAndrus.com/silhouettes. "My email is contact@shenaeandrus.com for any questions or issues."
"We're all trying to become that godly Proverbs 31 woman. While we may never reach that mark in its entirety, we understand that it's all about the journey and growing in our walk with God. I hope through this series, it is a catalyst for conversation, connects us all together, creates a support system amongst the young ladies in our churches, and lets us know that we're all walking this journey together."