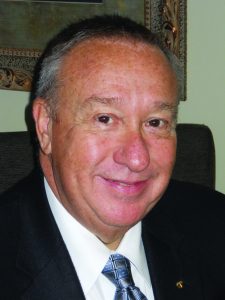 Did you know that the United Pentecostal Church International (UPCI) has a loan fund that helps affiliated churches, schools, colleges and ministries receive needed financial assistance? "The primary purpose of the UPC Loan Fund is to provide investment opportunities for churches and members of churches and financing solutions," said Bro. Stephen Drury, who has served as president of the United Pentecostal Foundation since 2006. "We offer term investments at attractive fixed rates of return and use these proceeds to make loans to UPCI churches, districts and ministries. Currently, however, only UPCI-affiliated ministries can borrow from the Fund."
As of this interview, a total of 122 loans has been made, with 93 still active. "We have been blessed to be a part of so many amazing stories," said Bro. Drury. "One that is very memorable to me is the story of New Life Church in Arab, Alabama. The church found itself in hard times after our nation's financial crisis, and their credit union foreclosed on them. In order to stay afloat and stay together, they were forced to lease their own building back from the bank. This is where God stepped in with a plan. Several major repairs had to be made to the building during this time, but since the congregation was just leasing the building, the credit union was responsible financially to make these repairs. The church began saving money with no mortgage payment, an amazingly low lease payment, and no maintenance costs. After three years, the credit union, which had been unable to sell the property, dropped the price drastically. This is where the UPC Loan Fund stepped in and helped them secure new financing and purchase their building back. During this whole process, the church ended up saving over $550,000 in mortgage costs and repairs. Miraculous!"
Bro. Drury said he is proud to report that "since we opened the Fund in 2011 we have not only had no defaults, we have not had one church a single day late on any payments. We have an incredibly professional and unbiased underwriting process and financial guidelines we follow just as any other lending institution. This provides a level of safety for our investors knowing their money is being stewarded wisely."
The UPC Loan Fund is aggressively seeking investors – people willing to invest their money into the work of God and still receive a competitive rate of return. How does their rate of return compare to other church's loan funds? "Rates of return vary by term length," explained Bro. Drury. "As of this interview, for investments over $5,000, a 12-month term offers 2.0%, a 36-month term is 2.5%, and a 60-month term offers 3.0%. Generally, there are very few other church loan funds that offer interest rates in investments as high as ours. Most are well below us, in fact. You will also find our rates higher than certificates of deposit at your local bank or credit union. And they cannot offer you the added Kingdom bonus of providing our churches the opportunity to better reach the communities and the souls around them.
"Investors can contact any member of our staff directly, including myself. We list our direct lines on all our brochures and our website. We aim to be 100 percent available whenever we are needed. We can e-mail or mail any interested investor, which could be an individual or an organization, an investment packet with more information and applications. We publish a quarterly newsletter, which you can sign up for on our website at upciloanfund.org. And you can also keep up with us on our social media pages on Facebook and Twitter @UPCLF."
Stephen Drury, president, smdrury@upci.org, 636-229-7976; Rebecca Rhoten-Batchelor, secretary, rrhoten@upci.org, 636-229-7978; or Susanna Drury, investor relations, sldrury@upci.org, 636-229-7979.