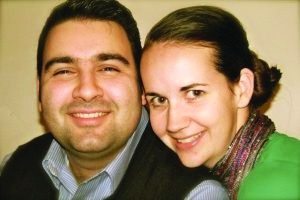 What is the key to successfully planting an Apostolic Pentecostal church in a city that doesn't have one? Some might say that financial preparation, programs and contacts are the key.  A church planter in a little town in Illinois has a different answer. Pastor Adam Solorio and his wife attribute the success of their church to prayer, showing kindness, and the miraculous provision of God. For the Solorio family, it didn't take a financial program to attain a 15,000 square foot building, but instead a miracle from God.
Pastor Solorio was raised on the south side of Chicago, in Harvey, Ill. After high school graduation, he felt a calling into ministry and attended Indiana Bible College for two years. After leaving IBC, he served at Calvary Tabernacle in Toledo, Ill., where he met his sweetheart, Betsy. In 2003, the couple married.
Sis. Solorio was from Casey, Ill. but attended the church in Toledo, just a few miles away. The same year they were married, the Apostolic church in Casey had closed due to a dwindling population. The Solorios developed a burden for the city of Casey. Bro. Solorio would often tell his wife, "There really needs to be an Apostolic church in that city."
In 2010, the couple communicated with their pastor about planting a church. They were planning on starting a church near Toledo. That's when their pastor asked them, "Have you ever thought about Casey?" The couple had thought about Casey. In fact, they thought about the city quite often.
In 2011, the Solorios received approval from their district to plant a church in Casey. That October, The Church of Casey was born. They rented a 2,000 square foot storefront, right on Main Street. The owner of the property only charged them enough to cover the property taxes for the year! This can be noted as the first financial miracle of many. After four years, the church began to outgrow its storefront home.
In May of 2016, the church purchased a 10,000 square foot warehouse. It was empty, and it needed work and funds to transition into a place of worship. The church didn't know it, but another miracle was on its way.
Bro. Solorio had recently attended a town hall meeting where a discussion opened regarding a new medical clinic being built in Casey. After the meeting, he spoke to the vice president of the local hospital regarding plans for the 15,000 square foot clinic. Bro. Solorio described the building as "a beautiful facility made of brick, with tons of rooms, right off the main highway." The vice president stated that their plans were to donate the building to a non-profit organization, but they "had not been able to find the right one yet." Bro. Solorio proceeded to tell her about The Church of Casey. They exchanged emails and corresponded for a few weeks.
Recently, the hospital vice president contacted Bro. Solorio stating that the construction on the new clinic would be completed by January 2017.  She went on to say that they wanted to sign over the title to the church for the purchase price of one dollar! This truly was a financial miracle! The Church of Casey can expect to move into their new building by March 2017. Moreover, the church will be able to sell the warehouse and regain all of the equity. They will be moving into the new building debt-free! Bro. Solorio stated, "God has done more than we ever could have anticipated."
The Solorios have five children: Abby, Beckham, Jonas, Evah-Kate, and Jude. You can connect with Pastor Solorio on twitter @ajsolorio or email him at: ajsolorio@hotmail.com