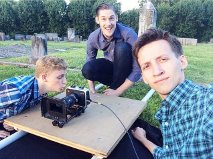 Heath Dotson of Blairsville, Georgia had a dream: to write, direct and produce a fictional film, using live actors, for the purpose of inspiration and evangelism – and it had to be 100% Apostolic.
"It took many months to develop the story of Escaping Bitterness," stated Bro. Dotson, writer/director of the film. "I feel like God has called me to do this."
Bro. Dotson added, "Honestly, I have felt God moving me to do film-making for a while. It's something that has never been done on this large of a scale in the Apostolic movement."
He says that many people were involved with the process and making of this heart-gripping film. "If I started calling names I might get in trouble by forgetting to mention someone, so I'm just going to say there were a lot of minds and hands involved in its making. It took many months to develop the story into what it is today. We went through a lot of editing and many script changes until I was finally happy with what we had."
The basic story line is very interesting and enlightening. It's about 19-year-old Jared Gray; his world is rocking along just great until out of nowhere a storm moves in to shake him to the core. Using thematic elements from the Biblical book of Job, Bro. Dotson tackles the binding power of bitterness, a force which holds far too many in its grasp. We follow Jared as he wrestles to break free, desperately trying to be the man that his dad has always known he can be.
The response to the film has been very encouraging. "We held a premiere here in our small town of Blairsville," he said. "Using a limited marketing budget, over 300 people showed up and most were not a part of our faith." Others are using the film, also, for various purposes. "We have heard that people are playing this short film in classroom settings; again the response is very encouraging." Bro. Dotson adds, "The film is very much considered at our church as an icebreaker to get involved in people's lives. With that said, I'm very happy to say we have had a lady that went to the premiere coming very consistently to our church for the past few months, and she has just gotten the Holy Ghost and was baptized in Jesus name."
The inspirational film, Escaping Bitterness, is meant for everyone. "We want everyone to see the film; it's something we feel very passionate about. New media is grabbing our youth's attention every day. We believe and hope that more Apostolic short films and full-length feature films will continue to come out from The Rock of Blairsville and other Apostolic churches."
The film is currently available at Escapingbitternessthefilm.com but will soon be available for purchase from the Pentecostal Publishing House.