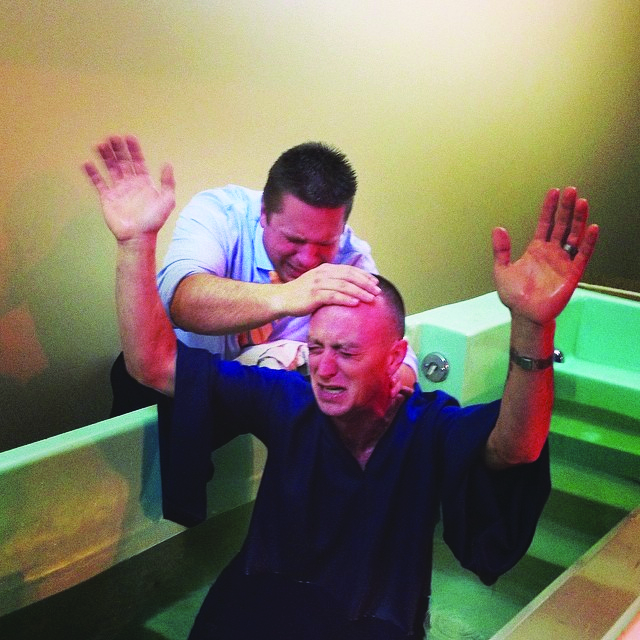 Connecting Point for Revival
Just an hour east of Nashville is the small factory and farming town of Smithville, Tennessee, home of the dynamic congregation of New Life United Pentecostal Church, pastored by IBC alumnus Dwayne Cornelius. "Welcome to the most exciting church in DeKalb County" is the signature phrase at New Life. "We believe the church you attend should be the most exciting place you ever go," explains Pastor Cornelius.
Personal History
Pastor Cornelius was born in West Palm Beach, Florida. He received and accepted his calling to preach at the age of 18. After high school graduation, he attended IBC in 1991-1993, graduating with an AA in Theology and a minor emphasis in Christian Education.
"In July of 1993, I married Heather Graham from Peoria, Illinois and returned to my home church in West Palm where our newly elected pastor, Daniel Kyle, put us to work," states Bro. Cornelius.  "We assisted in starting a Christian school — Forest Hill Christian Academy, ACE — and in 1995 we were made the youth pastor at our local church. We were blessed to become involved in a wider ministry by serving the Florida District as sectional youth leader and worked in that capacity until 2001. While in Florida, I also received my General Contractors License and worked in that field while being youth pastor.
"In 2001 we relocated to Palm Bay, Florida to work with Pastor David Myers.
At that time I continued to be bi-vocational, working in construction and in different capacities with the church. Then in 2003, we accepted a full-time position in Jacksonville, Florida working under Pastor Lester Green. I was the Pastoral Assistant and Assistant Administrator for the Jacksonville Christian Academy. While in Jacksonville, we continued to work with the youth as well as helping with the Christian school operated by the church." In 2007, Bro. Cornelius and his wife accepted the senior pastor position in Smithville.  Since arriving in Smithville, they have been blessed to see God grow their congregation from around 50 people to over 200.
Principles of Growth
"Love people, have good church, and build solid doctrinal foundations." These are the principles Pastor Cornelius uses to keep New Life vital and growing. "Upon preparing for every service, we prayerfully determine to be a place that the presence of God can be felt and lives can be changed," he said. "I have used things that I have learned in every place we have had the opportunity to serve. This is how we have developed our style and principles of growth which God is blessing.
"When we arrived, we began a discipleship program with the entire existing congregation. This evolved into the present ongoing program for all new members.  Discipleship is definitely a priority at New Life. We have incorporated many resources as well as writing much of our own new material in-house to develop our current extensive discipleship program."
Pastor Cornelius adds, "About every two years we reassess our program and classes to make sure we are keeping it current and relevant, and to be sure people are continuing to learn, grow closer in their relationship with God and involvement in the church." Also, New Life uses visitor follow-up programs, home Bible studies and community involvement to draw in new people. When visitors come in the door, the New Life family makes sure they feel welcome and find a place that is friendly and genuinely concerned about them and their needs.
Diverse Ministry Programs
"We are continually developing new programs to help us grow and strengthen each member," said Pastor Cornelius. "Our newest addition is our visitor/new convert program, Connect Point. Connect Point leaders meet the guests and follow up on them after their first visit. Upon the follow-up, we transition them to a new convert class (Connect 101). Upon completion, they proceed into discipleship (Connect 102-106).  The Connect Point system keeps them progressing through new, graduated material for a total of 36 weeks. While participating in Connect Point, the staff involves the new convert in a home Bible study and introduces them to the different departments available within the church," states Bro. Cornelius. "We understand that involvement is key in retaining new converts. We make sure new people understand how many ways they can be involved at every level of their personal growth."
Matthew 25 Ministries is also newly developed. This department is a venue for many different aspects that the church was called to do in Matthew 25, such as Prison & Half Way House Ministry, food and clothing banks, assistance to our elders, widows and single moms, and more home Bible studies. The outreach of Matthew 25 also consists of community events, church bus transportation, and Nursing Home Ministry.
New Life has recently established a Spanish Ministry. Because of local industry needs, the Hispanic community is very significant in DeKalb County. "We have begun with Bible studies and a quarterly Spanish service and fellowships to build our base before moving to weekly services," said Bro. Cornelius. Also, free English classes have been offered to the Spanish-speaking people of the community.
"We also believe strongly in personal ministry development," he said. "We have two levels of leadership involvement and development. The first level is Connection Ministries. This is a group of about 50 people who desire more involvement in the work of the Lord. They are department leaders and others who plan and implement the majority of all activities and functions of the church. They are the first pool of people that we look to for help with any functions of the church. The second level is what we call Life Leaders. This is currently a group of 12 ministers who are either licensed or working toward license with the UPCI. Life Leaders meet twice a month for training and planning.  We cover different aspects of the ministry. Some of the material we have developed in-house, but we also use materials by UPC writers. We currently are using Bro. David Bernard's teaching found on Launch Your Ministry to begin our class discussions."
Pastor Cornelius adds, "These ministers are involved in home Bible studies, discipleship, service leading and preaching. God has given me a great passion for development of ministries. When we came to New Life, I was the only licensed minister in the church.  We now have nine ministers and their wives. We also have very active, vital ministries that are typical to Apostolic churches, such as Children's Ministry, Student Ministry, Prime Timers (Elders), Young Marrieds, Singles and Music."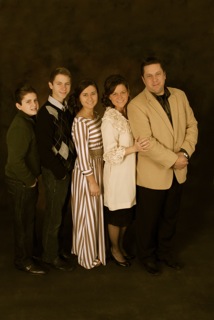 You Cannot Grow a Church by Remote Control
"You have got to get involved!" said Pastor Cornelius. "Being active in our community is our heartbeat. I feel strongly that the church needs to get out of the building and into the community. I am personally involved in the community as City Police Department Chaplin, member of the County Chamber of Commerce Board and coaching Little League sports. The church family is involved in many community events as well. We support and sing at such events as the City Police Department "Cops for Kids" Banquet, ACS Relay for Life, and community memorial services. Several non-UPC churches in our community have invited our Praise Team to be a part of their functions. Our Children's Ministry has taken its puppet ministry to many different community events. We host a community Easter Egg Hunt which averages over 500 in attendance. Our Harvest Festival usually hosts over 1,000 in attendance," informs Bro. Cornelius. "Being involved in the community really pays off in terms of ministry opportunities.
"The New Life Drama Department presents the Reality House in October, a Children's Musical in December, and an Easter Drama on Easter weekend. These events draw hundreds into our facilities, giving us access to many new connections while we present the story of Christ to our world. During the summer months we keep attendance climbing using Focus Services, emphasizing such things as educators, professionals, friends and family, neighbors, and prime timers – a Sunday to revisit our old-fashioned roots in Pentecost. We hold services at the local nursing homes and Bible studies at the jail and halfway houses. This has gained us tremendous exposure and respect within our community."
Planning for Growth
Desperate for more space, New Life leadership began planning a building program in 2011. As plans were being drawn, the Lord blessed the church with a 36,000 square foot department store located next to the church. After extensive remodeling (another blessing from the Lord) the new facility was renamed the Connection Center. This gave New Life a total of over 50,000 square feet to use in reaching and blessing the Smithville community. It now houses Kids Connection Early Learning Center, a daycare which is open to the public. The Connection Center also includes a full gymnasium, men's and ladies' exercise rooms, a student auditorium, game room, church offices, banquet facilities, a commercial kitchen and nine classrooms. These facilities enable the church to connect with the community further by hosting basketball tournaments, banquets for high school functions, and renting to private parties for personal events. Pastor Cornelius commented, "This was something I had secretly desired to gain access to but was almost afraid to tell anyone about. It just seemed too ambitious for our little town. Finally, with my wife's encouragement, I asked the church to pray about it with me. Soon, the owners of the building made an unbelievable arrangement and this huge empty building was ours! When we were planning our use for this new facility, some said, 'What are we going to do with all this space?' Now, just two years later, the impact it has had in our community is incredible and we cannot imagine how we got along without it."
Closing Remarks
"The principles we have used in the community can be used anywhere," concluded Pastor Cornelius. "Growth and revival is not dependent on the size of the city or the location of the facility. Conventional thinking would never accept that a small city of less than 6,000 and a county of less than 20,000 would ever support an Apostolic church as large, vital and growing as New Life. However, church growth based on the principles of teaching foundational truths, developing personal ministries, having great Apostolic services, and loving people cannot fail. This is how we plan to enjoy continued Apostolic revival until Jesus comes. This is how we plan to remain 'The Most Exciting Church in DeKalb County!'"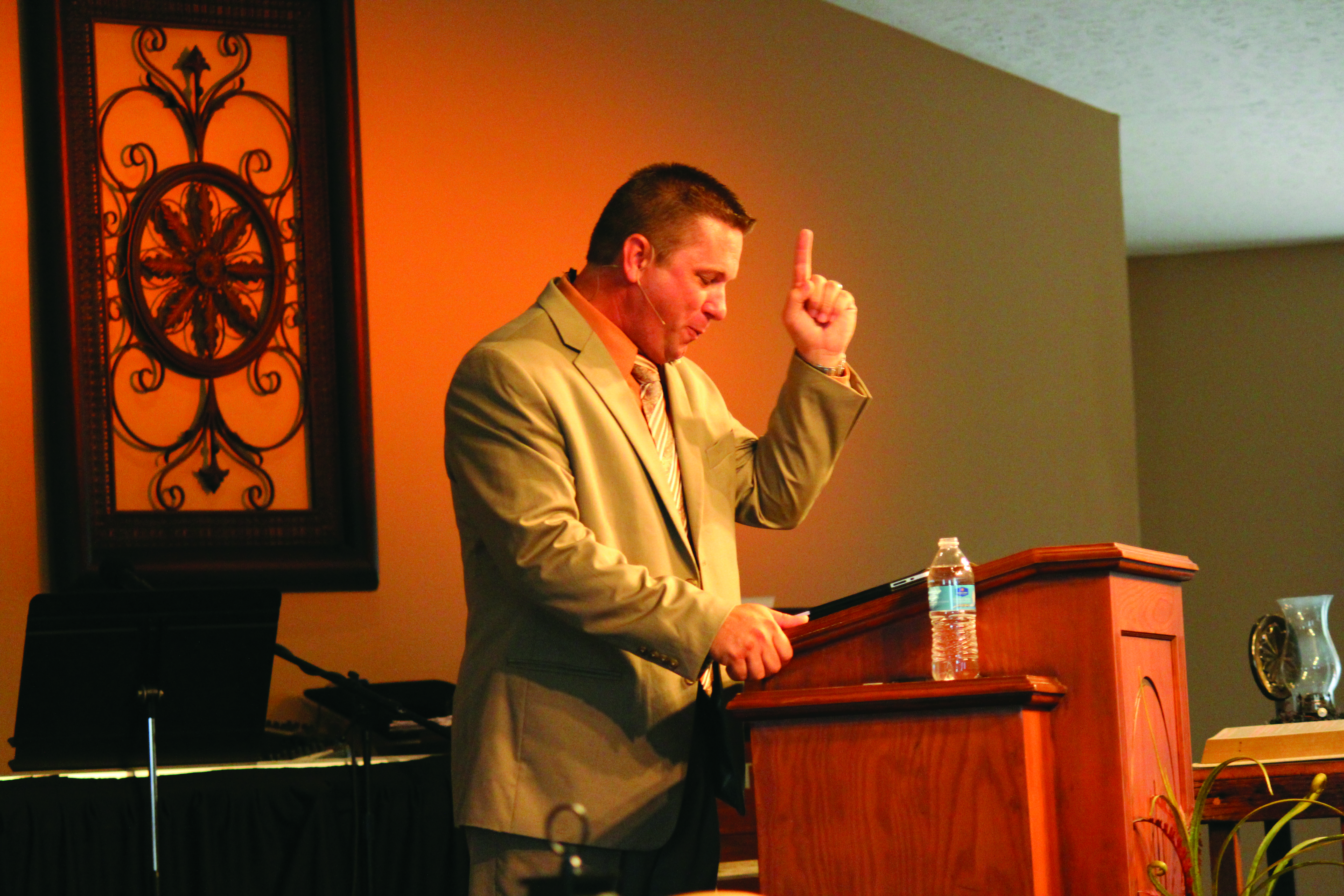 By Susan Thomas