Foreign Missions Spotlight Interview with Kara Dibble — Part 1
By William D. Turner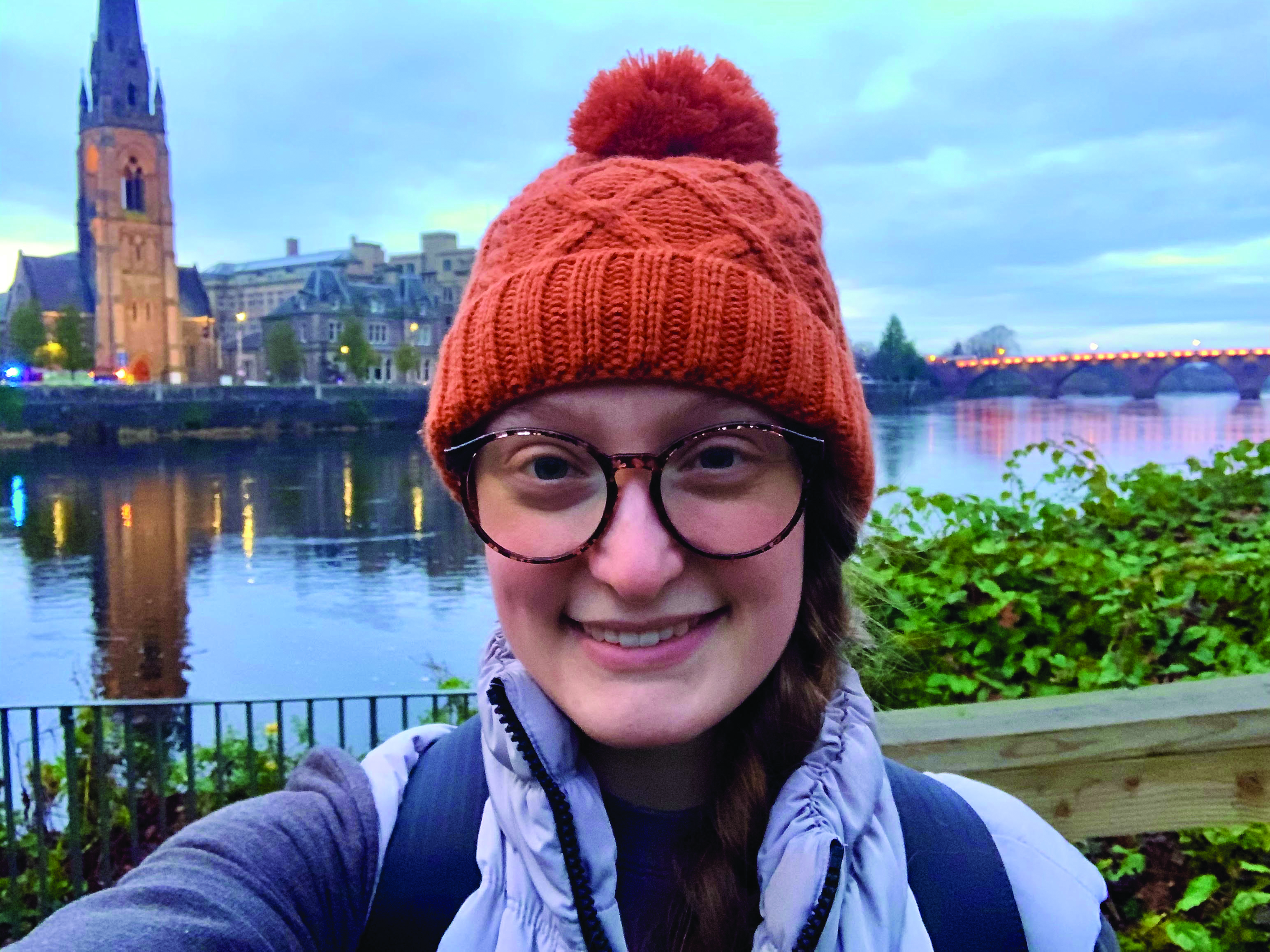 Kara Dibble graduated from Indiana Bible College in 2018, followed by an additional year in the IBC Advanced Leadership program. She has served for the past two years as an Associate in Missions (AIM) missionary in Scotland, where she began as an instructor at Harvest Bible College in Glasgow under the leadership of Robert and Jerolyn Kelley. She was a key to the missionary team's adjustment to online learning during the national pandemic lockdown, and shifted to the position of academic dean for the college while assisting a new church plant in a nearby city. Kara returns to Indianapolis and IBC in July to assume the position of Business Office Secretary.
A Family History Of Missions
In personal terms, Global Missions involvement was not a surprising choice for Kara. Her grandparents, Robert and Belinda Filkins, were UPCI missionaries to Switzerland, Ivory Coast in West Africa, and France. An uncle and aunt, Dale and Maleah Pace, were AIMers to Ivory Coast. Another uncle and aunt, David and Kelly Dibble, are regional missionary evangelists in the Pacific and missionaries to Micronesia. Her first direct exposure to Global Missions was as a nine-year-old with her parents on a church missions trip to Guatemala. Her pastor and father, Thomas Dibble of Waterbury, Connecticut, had led a team from her home church to construct a local Guatemalan church. Kara returned with them for the construction of Sunday school classrooms. The experience left a distinct impression on Kara's mind and heart.
"I remember being so in awe that people would walk a whole day just to get to church, which was also all day," she said, "and then walk all the way back home. I remember thinking, 'There's just not enough churches.'  We got to tour the Bible school and see the rooms that many in our group had helped build on the last trip they came on. But this time, we got to help build Sunday school rooms, and to me, that was special because it meant that kids just like me could have their own room to come and hear a lesson about who Jesus is."
Preparation for the Foreign Field
Her next mission trip did not come until she was twenty-three and on her way to Scotland with the encouragement and direction of Robert K. Rodenbush, Dean of Missiology at IBC, and Biblical Studies Dean Bobby Killmon, as well as her father. Some valuable lessons learned at IBC helped her establish her ministry in Scotland, she said. "I loved Brother Mooney's night classes," she recalled.  "I had taken them for credit but also repeated them as his TA." On more than one occasion, he would invite students who lingered after class to go to McDonald's "to grab a bite to eat." The real purpose, of course, was for interaction with the students. "He let us ask him questions, but it always amazed and humbled me when he would start asking us questions. This seasoned, well-established, and respected minister asked a group of 18-to-21-year-olds questions. One of those nights, I asked him what he wished he would have known when first starting out in ministry. He turned to me and said, 'Family is important, Sister Secretary. You've got to learn to be present.  You've got to learn to do what you're doing and nothing else. When you're working, you work hard, but when you are with people, don't be working.'  I felt as if he'd been watching me my whole life and knew that is exactly what I always failed at. He didn't say it with judgment but with compassion. It didn't make me feel scolded, but encouraged and inspired."
Other Lessons Learned At Indiana Bible College
There were other lessons from IBC that she drew from during her time in Scotland. "IBC helped to prepare me in so many ways, from theology and Bible classes, to the classes about how to teach, to the classes on adapting to a new culture. They all helped to prepare me. "Just realizing that there are many ways of thinking and approaching life helped me approach the mission field with the mindset of 'this is different, not necessarily wrong.' The point isn't to go and change people starting with culture or 'the right way to do things,' but to allow the Lord to bring about change that He desires by introducing Him to others." She remembers a statement by James Poitras, Global Missions Director of Education and Short-Term Missions, when he was at IBC as a guest lecturer. "He told us that people often focus too much on their weaknesses and ignore their strengths," and end up wasting their current skills by trying to master another. "My takeaway from it was, 'Find what you're good at and get busy doing it for the Lord.'"