Why does it seem there are many different definitions for basic doctrines like inerrancy today?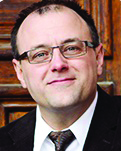 I will leave aside attacks against the Church today and speak to the more important issue of "in-house" differences. Sometimes, when someone loves the Word of God, they can hear liberal attacks against inerrancy and attempt to reduce the Bible's clear statements to something that seems more "defensible." That impulse, however, reduces what they can claim about Scripture in terms of science, history, or even morals. For instance, Peter Enns says to think of inerrancy in terms of the incarnation. There is "God stuff" and "human stuff." That sounds plausible and perhaps something we might be able to use, but the analogy breaks down. Enns doesn't believe the Bible is without error. To make his new term "incarnational inspiration" work biblically, the Bible would need to be without error, just like Jesus was without sin or error as a human being. He's trying to distort the language of Scripture to move people into non-Scriptural belief.
The response of Bible believers can sometimes fall into what James Boren called "fuzzification." By this, he meant the "presentation of a matter in terms that permit adjustive interpretation." That means the definition constantly adjusts to new attacks until the term becomes useless. J. W. Montgomery, writing in 1978, said that Evangelicals would start to see "contradictions" or "source theories" and perhaps even "errors in Holy Scripture" as nothing more than "a question of hermeneutics, not of inspiration at all!" Montgomery declared that "the 'inerrancy' with which one is left is an inerrancy devoid of meaningful content;" and he warned of the dangers of "adjustive interpretation." As Apostolics, we need to remember that we too can be moved from the true standard of belief by an impulse to defend on the ground the enemies of Scripture create. While this doesn't deal with all issues surrounding inerrancy, it is a baseline for approaching the issue because real things are at stake.
Today, I sit in a hospital with my 85-year-old father. He has been in a serious accident, but thanks be to God, he is recovering. However, I have spent moments with him over the last few days as he has prayed, talked in tongues, witnessed to doctors and nurses; and yes, he has even spoken of heaven and "going home." The promises of God's Word are real. I have a concrete trust in the truth declared in the Bible that goes beyond mere human emotion and experience. In moments like this, we find a biblical faith. It is real trust, not a blind existential or emotional leap. A trust that is based on what I know to be true from both God's Spirit and my real encounter with Him by the Spirit, and the reality of a trustworthy, inerrant Word that affirms my faith is not in vain. I need both. I have both. I give heartfelt thanks in moments like this for both.