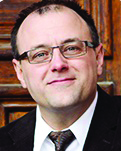 Leadership matters. The "great man theory", fallen out of vogue today, shows that individuals have so impacted moments in the movement of history that they've shaped the world in profound ways both positive and negative. The concept is some people, in official positions or not, had incredible influence due to their God-given abilities, and had a decisive historical impact.
Thomas Carlyle stated in 1840, "…the history of what man has accomplished in this world, is at bottom the History of the Great Men who have worked here. …all things that we see standing accomplished in the world are properly the outer material result, the practical realization and embodiment, of thoughts that dwelt in the Great Men sent into the world…" The point is, of course, faithful individuals are pivotal.
Great men show the power of choice. Providence and God's will joins moments in time with individuals whose gifts match the moment. Prov. 29:18a, "Where there is no vision, the people perish…" Nothing is more debilitating than the people of God disconnected from the vision of what God wants and has for us. The flesh can perfect performance, routine, and ritual, but someone must genuinely speak God's vision to the time and thus call us to what we can be in the Spirit. Someone must hear from the Lord about their day and "make the vision plain." (Hab. 2:2) That vision which comes from God must then be spoken by faithful leaders so that we may know God's will for our day, which makes this act of faithfulness both a responsibility and powerful guide.
Particular men and women of faith are what God uses to shape our world. Some of them have no idea how God will use their simple service to shape history. These faithful people make choices, often selfless and sacrificial and unseen, that become in truth God's very means to shape moments. That's why it's right that we should pause and ponder how the world we live in, the Churches we serve in, the fellowships we benefit from and love, and the wider Apostolic movement we are a part of, has come to be. We owe much.
I recall walking out a night class where my Pastor said, "I don't think I've done much. I've been fortunate to be a part of great teams." A student said to me, "Bro. Killmon, if Paul Mooney hasn't done anything, I'm quitting right now." I chuckled and said, "You missed his point." He was saying I didn't plan all of these great things that I've been a part of. He was saying somehow God used his giftings and brought more out of them in terms of impact than he could have ever planned. That's the truth. We do not know how much our faithfulness matters each day. But these men and women who've been faithful show us the way. And how many lives will have been inspired, changed, lifted into what God can then use? Only eternity will tell. All I will say, on behalf of many in the Apostolic movement worldwide, is thanks. I love and appreciate you, Paul D. Mooney.
Bobby Killmon