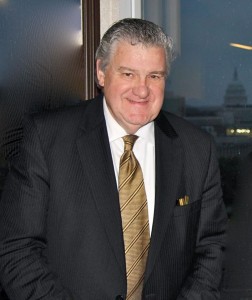 Pastor Mooney has served for many years as a pastoral representative with the Indianapolis Ten Point Coalition. The mission of the Ten Point Coalition is to reduce crime, violence and homicide. They work with community leaders, pastors, law enforcement, and other public servants to help get "boots on the ground" in the fight to take back the streets of Indianapolis from crime, unrest and the darkness of racism.
This year, the Coalition held its annual luncheon and reception on August 11 at the Indianapolis Marriott Downtown. The keynote speaker for the event was Vice President Mike Pence, who had worked with the Coalition during his years as governor of Indiana. Following the speech, Pastor Mooney was asked to give the benediction. He prayed these words for our city and our country.
 "But this is a people robbed and spoiled; they are all of them snared in holes, and they are hid in prison houses: they are for a prey, and none delivereth; for a spoil, and none saith, Restore" (Isaiah 42:22).
Let us pray. Today, we humbly thank you for this special occasion. We give honor to Vice President Mike Pence and his wife, Karen. We thank you for the Ten Point Coalition and ask you to bless the important work they do for our city and its citizens. We thank you for many good and faithful leaders who serve the people of Indianapolis and across Indiana; our Governor Eric Holcomb and our Mayor Joe Hogsett and all of our national and local public servants.
Dear Lord, in the great Book, you spoke to the Prophet Isaiah stating that your people had become "spoiled" and "snared." That they had become "prey" and "confused," they hid in prison houses. But yet in their moments of confusion none cried out for restoration—"None saith, Restore."
On this day, we dare to say RESTORE. Restore truth in all our ways. Restore our understanding of righteousness. Restore a passion for the great ideas and the great hope of our founders, "life, liberty, and the pursuit of happiness." Break the chains of hatred and restore the power of unity.
Restore families and restore faith in God. Restore ideas and the high aspirations of all people. Restore prayer. Restore spiritual power in our churches. Restore humility and manners. Restore to our community and to our country statesmen of bold integrity that stand without fear against the darkness and evil of this important hour.

Finally, brethren, whatsoever things are true, whatsoever things are honest, whatsoever things are just, whatsoever things are pure, whatsoever things are lovely, whatsoever things are of good report; if there be any virtue, and if there be any praise, think on these things (Philippians 4:8).