Royalwood Church
Reaching, Teaching & Serving
From pastor to pew, everything at Royalwood Church in Houston, TX. evolves around the church motto of Reaching, Teaching & Serving. This thriving growing church is all about that motto.
Senior Pastor Ron Macey (65) and his lovely wife, Jeanna, have two children; a son, Brandon (40) and a daughter, Lorna (34), and six wonderful grandchildren. Lorna's husband, Tauren Wells, is a Christian singer. Brandon serves as the Connections Director that includes Web-based Ministries, Photography/ Videography, and Guest Services, etc.
Rev. Chad Parker serves as Executive Pastor, and his wife, Angela, serves as Financial Director. Daniel Bernard serves as Student Pastor, and his wife, Kalee, serves as the Circles Director over all of the Circles Ministries.
Pastor Macey currently serves as Presbyter of Houston's Metro East Section and is on the Global Missions Board. He served on the Texas Bible College Board in the past.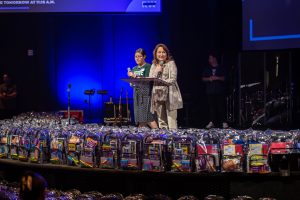 Principles of Growth & Revival
Royalwood has a lot of community outreach projects, including a massive 600 school backpack giveaway, called Backpack Giveaway/ Backpack Celebration of Education Weekend. "We have about 2500 people who come to this event," said Pastor Macey. "We always have our congressman speak, and Texas Governor Abbott's wife came and helped us hand out the backpacks. We received an invitation to meet Governor Abbott, so this event really opened the door for community help. People see us doing other things besides just trying to get people to come to church. Last Christmas, our Worship Pastor, Keith Pace, invited the high school band to play in our Christmas program, and we reached a lot of people through that. We can change our methods without changing our message. And, I believe in younger teams that keep things moving forward, pushing for growth."
Special dates such as Friend Day, Pentecost Sunday, Baptism Sunday and Back the Badge, (celebrating First Responders), etc. not only excite the church but the community to come and be a part. The church has also been live streaming their services for a while, and that has helped reach out as well.
Organization & Management
            Departments and ministries of Royalwood include a prayer team, Sunday School, Ladies' Circles Ministry, Men's Circles Ministry, Spanish Circles Ministry, Young at Heart Circles Ministry, Bible Study Circles Ministry, and Family/ Parenting Circles Ministry. Others include Guest Services, Choir, Praise Teams, Anthem Student Worship, Senior Bible Quizzing, Anthem Small Groups, Junior Bible Quizzing, Web-based Ministry, and Lighting/ Media departments.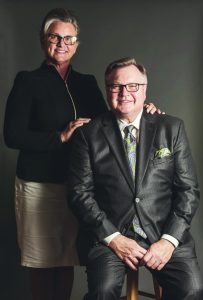 Pastor Macey holds a staff meeting every Tuesday. His department leaders have specific job descriptions and meet monthly, even if through electronic means. "Usually in October or November every year, we go offsite to a retreat," said Pastor, "There we do our planning, training and teaching for the next year. This past year we totally revamped our Mission Statement and our core values to go with our motto of Reaching, Teaching and Serving. We sent our church team for training to the Church of the Highlands in Alabama, (a non-denomination church, pastored by Chris Hodges), and we have adapted some of their great ideas."
 About 250 volunteers are actively involved in some form of ministry at Royalwood. After trying other methods of evangelism, they found that one-on-one seems to work best for them in reaching others. Pastor Macey encourages involvement in every service. When people are ready for the next step of involvement, they are encouraged to come to the north lobby right off of the platform and sign up at the kiosks there. The church also uses Connect to help them find their place in the kingdom.
Personal Ministry
"My principle of ministry is really our church motto of Reaching Teaching & Serving," said Pastor Macey. "This is what drives me. As Pastor, I've got to reach, teach and serve. I love to preach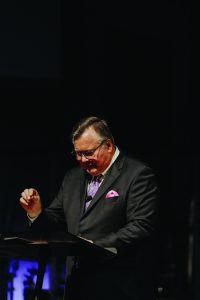 about the Word of God and what it can do by faith. While evangelizing I memorized 2,000 scriptures. I believe utilizing the scriptures will keep us from situations that cause us a lot of grief. I tell our people the Bible tells us to be quiet and study and do our own business."
Early in his life in Bro. Kilgore's church, Bro. Macey had a burden for the Spanish people. There were a lot of Hispanic people there. So, he started a Spanish church out of Royalwood, and they run between 400-500 every Sunday. Because of the large Spanish population in the city of Houston, they're getting ready to start another Spanish church there.
Current Facility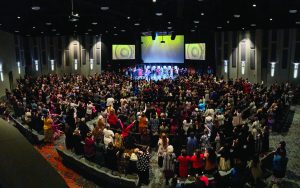 Royalwood has 75,000 SF of building space, 20 classrooms, a student center with its own Hebrews Coffee Co. coffee shop. They have a new Expresso Coffee Bar off of the foyer in their new building, a bookstore for the church, and an apartment they built for evangelists and a gymnasium. And, they built a facility behind the church for retired pastors or missionaries.
"We originally only had very small building with 2 ½ acres," said Pastor Macey. "The Lord helped us, and we now have up to 18 acres with multiple buildings, including a gym. When we built our new facility a few years ago, we used chairs so we could use it for a banquet hall as well. That way we could use it as a multi-purpose building and had all of the multimedia already there. And, we held our Christmas banquet there. However, we've already outgrown that part of the building, so we started having two services on Sunday, one at 9:15 and one at 11:15. By utilizing two services, we don't have to build in the very near future. We're averaging around 700 now, and we do not have a Sunday evening service."
Personal History
Pastor Macey grew up in Houston, TX, was raised in the church and attended Life Tabern
acle, pastored by Bro. James Kilgore. He received the Holy Ghost at 6 years of age. His grandfather, Rev. Ira H. Jones, and his uncles, Rev. Franklin Jones and Rev. Jimmy Jones, were pastors who influenced his ministry. The greatest influence on his life, however, was Bro. Kilgore, because he always pushed missions and a burden. Others who influenced his life were Rev. J.W. Harrell and Rev. Marvin Treece. Bro. Macey first felt his call to the ministry around 10 years of age. He began his ministry at the age of 19 in 1974 and started evangelizing. He preached his first message at Westgate Apostolic Church, pastored by Rev. Jimmy Jones, in Austin, TX. He married Jeanna in 1975, and they traveled
evangelizing.
Church History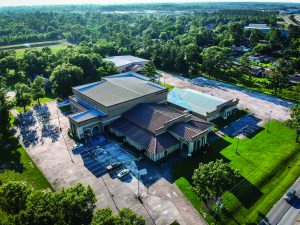 Royalwood was originally started by Rev. Jack Morton in 1958. Then there were two pastors before Bro. Harry Haygood assumed the pastorate. The church at that time was a small, square 9,000-square-foot building, with four classrooms and a small fellowship hall.
"I had preached a revival at Royalwood for Pastor Haygood," said Bro. Macey. "Then he passed away, and Sis. Haygood asked if I would consider coming and trying out for the church. I did and became the pastor in 1983. Our first service was held on Christmas Day. The building was filled, and it was a great service. There were 120 saints when I began pastoring. In the early years, we did Search for Truth Bibles studies and every type of Sunday School drive you could imagine for outreach, including bus ministry, door knocking, Easter Egg hunts, and various children's events. Our church was involved in prison ministry, and I had a radio broadcast at that time."
Human Interest
Pastor Macey enjoys reading, and he and his family enjoy the water. They have a boat that they go out in, and they're within a few minutes of Lake Conroe and Lake Houston.
Asked what people would be surprised to learn about him, he answered, "That I'm a very determined person. People see me as very easy going, and I am, but if I get my mind set on something, it's difficult to change it."
He enjoys collecting old out-of-print sermon books, and his favorite preacher is Rev. Wayne Huntley. His favorite author is C. H. Spurgeon, and he also enjoys works by W.L. Watkins and the Revival Time Pulpit Series from the fifties by C.M. Ward.