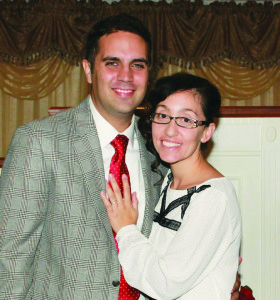 Rev. Eric Sierra, New Port Richey, FL.
"And Jacob went near unto Isaac his father; and he felt him, and said, "The voice is Jacob's voice, but the hands are the hands of Esau" (Gen. 27:22). 
Isaac was 40 years old when he took Rebekah, and God gave them "more than enough," as twins were born after Isaac prayed for Rebekah. Esau came out red and hairy (Esau means "red," Gen. 25:25) and Jacob came out, grasping his brother's heel (verse 26). Esau was an outdoorsman, a hunter, and Jacob liked to stay at home.
Their parents played favorites. When Isaac asked Esau to get him venison, Rebekah had her own plan. She disguised Jacob as Esau in order to get the blessing for Jacob by trickery. Jacob objected, "His eyes are bad but there's nothing wrong with his touch. Esau is hairy and I am not. Instead of a blessing, Isaac will curse me!" Rebekah took steps to mitigate that, and gave Esau's clothes and animal skins for his arms and hands to Jacob.
Isaac then said (Gen. 27:21), "Come near that I may feel you." "And Jacob went near unto Isaac his father, and he felt him, and said, The voice is Jacob's voice, but the hands are the hands of Esau" (Verse 22). Isaac was relying on his sense of hearing and touch. He refused to realize the contradiction, and went with what he felt instead of what he heard.
We are like Isaac. We serve a God we can't see, and we are forced to relate to Him based on our senses — what we hear and feel. If we're not careful, we will rely on what we feel and not on hearing God's voice. I love to feel His presence! I magnify Him, He sweeps in, and I feel His arms about me!
The Power of God's Touch
Access into the presence of God is not always our privilege. Only once a year, the High Priest entered the inner Holy of Holies sanctuary in the Temple. When Jesus died, the curtain separating the inner and outer areas ripped in two. Now everyone can enter and enjoy the presence of God, and ask for grace and mercy.
God's touch is powerful. He touched the stones and wrote the Law. He touched Jacob's thigh; Jacob was never the same again (Gen. 32:31). "As many as touched him were made whole" (Mark 6:56).  They "besought him to touch" a blind man, and he was restored and saw clearly (8:22-25). "And they brought young children to him, that he should touch them" (10:13). "And the whole multitude sought to touch him: for there went virtue out of him, and healed them all" (Luke 6:19).
The touch of God is powerful. I want it, I desire it. But I will not always feel it 24/7. Feelings are fickle. Some touches may not be from Him. If we are solely relying on it, we can become unbalanced. The heart is deceitfully wicked.
"My sheep hear my voice, and I know them, and they follow me" (John 10:27). I love … I need … I want His touch. But I need to hear His voice. Isaac chose to follow his feeling rather than the voice he heard.
Feel His Touch, Hear His Voice
Job said (23:8), "I go forward, and backward, and can't see him." We can feel like God went MIA [missing in action] in our life, but Job continued, "On the left hand, where he doth work, but I cannot behold him: he hideth himself on the right hand, that I cannot see him" (verse 9). Right hand represents the hand of power. On the left hand, the opposite side of where power is expected, Job said God is working. God can be working on the left hand, and you don't always feel Him. I must learn to feel His touch in addition to His voice!
Between the last line of the Old Testament and the first line of the New Testament is 400 years of God's silence. There was no voice of God; He went quiet. During that time, knowledge increased; most of the OT was canonized, but religious dissatisfaction existed. They were looking for more than cold ritualistic hypocrisy. The stage was ready for the Messiah.
He came to a world that "knew him not" and "received him not" (John 1:10-11). Four hundred years of hearing no voice; then when Jesus came and could be touched, people didn't want Him.
Today there's a danger in losing how to hear His voice; we are removed from it, can't recognize it. I love to feel Him, but I must know how to hear His voice!
How Does God Speak?
It's not like "voices in our head." God has a voice, and it can be audible, but we need to learn the voice of God even if it's not.
The Bible. It's simple. When we're reading the Word of God, we're hearing His voice. As we study it, read it, it tells us with His voice. We must be in pursuit of hearing His Word! Hearing of His voice takes time, study, a love for, a desire.
William Tyndale was a priest in the 1520s, a controversial figure in the Church. He worked to translate the Word, and while doing so in Antwerp (Belgium), he was arrested. On October 6, 1535, he was convicted of treason, and strangled and burned to death. His last words were, "Lord, open the King of England's eyes." Today we have the King James Version of the Bible.
Many of us have multiple copies of the Bible, in our homes and on our devices. It is because of William Tyndale who was willing to risk his life. If I love it, I will be better at understanding the Word of God.
The Preached Word of God
The preached Word of God has much to do with us hearing His voice. Prophets and preachers were called. We still have a need for them. He gave us apostles, prophets, evangelists, pastors, teachers … for the perfecting of the saints … to avoid "every wind of doctrine … speaking the truth in love" (See Ephesians 4:11-15). God has given us the five-fold ministry to keep us from false doctrine. It helps us better understand His voice. That's why I must hunger for the preached Word of God.
The angel told Cornelius, "Send for Peter … he will tell you what you ought to do" (Acts 10:5-6). Get the preacher! Beautiful are those that bring good tidings, that publish peace and salvation (Isaiah 42:7). "How shall they believe in him of whom they have not heard? And how shall they hear without a preacher?" (Romans 10:14). "It pleased God by the foolishness of preaching to save them that believe" (1 Cor. 1:21).
The voice of the preacher can help us learn the voice of God. Don't silence the voice of the preacher in your life.
The Holy Ghost
The Holy Ghost can speak through us. There is no textbook for it, but you can develop a relationship whereby God works through promptings, thoughts, or just a feeling. God can speak to you if you will let Him. This only comes through a relationship, sometimes a work of trial-and-error. God's voice won't contradict His Word. We need an ear tuned to the voice of God.
God will not override your will. Learn to discern the voice of God. Build a relationship with the Holy Ghost.
Elijah gasped after running for his life, "I, even I only, am left; and they seek my life to take it away." God told him to stand on the mountain, and He would pass by. Elijah could FEEL the wind, the earthquake, and the fire, but then God spoke to him in a still, small voice. God IS in the wind, earthquakes and fire of our lives. We must hear the voice of God!  Sometimes it's on the left hand where He is working.
Know the Voice of the Shepherd
Now it is Jacob, his eyes dimmed by age like his father Isaac's, who "could not see" (Genesis 48:10). Joseph arranged Manasseh and Ephraim for Jacob's final blessing, Manasseh on the right, Ephraim to the left. "And Israel stretched out his right hand, and laid it upon Ephraim's head, who was the younger, and his left hand upon Manasseh's head, guiding his hands wittingly" (Genesis 48:14). "No, not this one!" Joseph protests. "And his father refused, and said, I know it, my son, I know it" (verse 19). "I know what I felt, but this is right." He was fulfilling God's will for the future blessing.
There is much nonsense in the world that sounds convincing, but if I know the voice of a Shepherd, I will not be deceived. So keep your ear tuned to the Shepherd.
BIOGRAPHY
Eric and Cristina Sierra serve as pastors at The Sanctuary in New Port Richey, Florida under the leadership of Senior Pastor Mark Huba. They have also served as assistant pastor and youth pastor in years past. When they're not working at the church, they also work as public school teachers in their community or they're chasing around their two small children, Gracie and Elias.
Transcribed by Peggy Jenkins