Word To The Wise: "Eventually you stop lying about your age and start bragging….
A very, very stingy man died and went to heaven. He was met at the pearly gates by Peter, who led him down the streets of gold.
They passed mansion after mansion until they came to the end of the street and stopped in front of a tiny shack without gold paving in front. "And here is where you will be living, sir," Peter announced.  "ME, live HERE?," the stingy man yelled. "How come?"
"Well," Peter replied, "We did the best we could with the money you sent in."
***********************************************************************************************
One day a little girl was sitting and watching her mother do the dishes at the kitchen sink. She suddenly noticed that her mother had several strands of white hair sticking out, in contrast on her brunette head.
She looked at her mother and inquisitively asked, "Mommy, why are some of your hairs white?"
Her mother replied, "Well, every time you do something wrong and make me cry or unhappy, one of my hairs turns white."
The little girl was silent for a while, and then said, "Poor Grandma. You must have been very, very hard to raise."
Hypochondriac: "I have a terrible pain in my left side. I think it's appendicitis!"
Doctor: "No, that can't be. The appendix is on the right side."
Hypochondriac: "So THAT'S why it hurts so much! My appendix is on the wrong side!"
****************************************************************************************************
A Texas rancher was visiting an Iowa farm. The Iowa farmer was very proud of his 200 acres of rich, productive land.
"Is this your whole farm?" the Texan asked. "Why, back in Texas, I get in my car at five o'clock in the morning, and I drive and drive all day. At dusk I am just reaching the end of my ranch."
The old Iowa farmer thought a while and replied, "Yeah, I used to have a car like that too."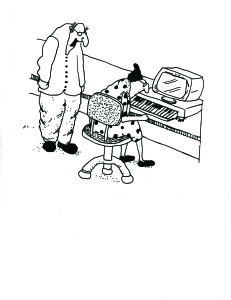 An older gentleman was on the operating table awaiting surgery and he insisted that his son, a renowned surgeon, perform the operation.
As he was about to get the anesthesia, he asked to speak to his son.
"Yes, Dad, what is it?"
"Don't be nervous, son; do your best, and just remember, if it doesn't go well, if something happens to me, your mother is going to come and live with you and your wife."
Pessimist: "Things can't possibly get any worse than this!"
Optimist: "Oh yes they can."
A Sunday school teacher was telling her class the story of the Good Samaritan.
She asked the class, "If you saw a person lying on the roadside, all wounded and bleeding, what would you do?"
A thoughtful little girl broke the hushed silence, "I think I'd throw up."