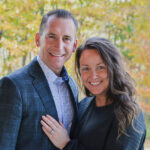 Micheal Ensey, Heath, OH
"It's the people!" That's the most common description of Heath, Ohio. A small town with caring citizens and a family-friendly place where volunteerism is the heart of the community. "Our world begins in Heath, Ohio," said Bro. Michael Ensey, Pastor of Christian Life Center. "Jesus told His followers to make disciples throughout all the world, and we want to help as many people as possible within our community come to know Jesus Christ through His Word and through His Spirit.
Christian Education Shaping the Pastor
Born in Grand Prairie, Texas, Bro. Ensey has been in the church since he was one year old and received the Holy Ghost at the age of five. He lived nine years of his childhood on the Texas Bible College campus in Houston, Texas. He attended private schools from kindergarten through high school and graduated as Valedictorian. He then attended Texas Bible College, graduating with his bachelor's degree in theology, and also graduated from Urshan Graduate School of Theology with a master's degree in theology. 
The first twenty years of his ministry were primarily focused on teenagers and young adults, and while he still has a strong burden for that age group, as a pastor, Bro. Ensey certainly feels called to minister to every age group. "A strong focus of our pastoral ministry has been on marriage and family," explains Bro. Ensey.  "We have been privileged to speak at several marriage and family conferences in the past few years. I believe this is such a critical ministry for the church today. So many families and so many marriages are in grave spiritual danger. We must equip our couples and our parents to be more effective. Spirituality must originate in the home, and then flow into the church and ultimately into the community. If the church is the source of spirituality for our homes (the opposite direction), then the church will never reach its full potential for community impact."
There were a lot of things that impacted Bro. Ensey's ministry from a young age that has helped to shape him into the man he is today. "The most important factor was my father starting a home missions church," said Bro. Ensey. "It gave me incredible exposure to ministry and gave me ministry opportunities at a young age. Another very critical factor was Bible quizzing. I quizzed for twelve years, learning over 5,000 verses. This gave me a firm foundation in the Word of God and helped me create a daily discipline of Bible study. I felt my call into the ministry when I was sixteen years old. It was at a Bible quizzing award banquet while a young man was singing 'Draw Me Nearer.'"
Bro. Ensey has served in many capacities since that time. "I served as a ministry intern at Christian Lighthouse Church (Mt. Clemens, Michigan – Pastor Gerald Hall) from 1996-1997," said Bro. Ensey. "From 1997-2000, I attended/graduated from Texas Bible College. I served on the ministry team at Eastview UPC (Lufkin, Texas – Pastor Leon Wallace) from 1998-1999. On July 17, 1999, I married Rebecca Lyman from Seattle, Washington. I was the Youth Pastor/Assistant Pastor at Living Way Church (Conroe, Texas – Pastor Randy Ensey) from 2000-2009. From 2003-2010, I served as the Texas District Youth President, and from 2010-2017, I was an executive with the UPCI Youth Ministries. I was then elected pastor at Christian Life Center in 2017."
Christian Life Center has a tremendous legacy of Apostolic ministry and leadership, and Bro. Ensey considers it a miracle that his family is there. "The church suffered a horrific tragedy in October of 2016 when Pastor James Kirk passed away suddenly in a tragic accident," explains Bro. Ensey.  "We did not know a single member of the church and had never been to this part of Ohio before visiting to preach in June of 2017. After preaching one time at the church, the Lord woke me up the next morning and asked me the question, "Will you go?" I began to pray the prayer of Moses from Exodus 33: "If Your presence will go with us, we will go." We preached again in July, and then one more time in August. We were elected pastor on August 6th, 2017.
Creating a Culture of Revival
A culture is a group of people's ways of life—the behaviors, beliefs, values, and symbols that they accept. According to Bro. Ensey, a church's culture is everything. "A healthy church culture will produce growth," explains Bro. Ensey.  "That healthy culture is produced by visionary leadership (communication), servant leadership (empowering others), and disciple-makers (intentional relationships). Culture is what you say and do over and over. Celebration is the currency of cultivation—what you celebrate cultivates culture." 
"The first priority must always be prayer, fasting, and the study/teaching/preaching of the Word. A pastor must be a spiritual leader. Secondly, the pastor must develop spiritual leaders who can develop other spiritual leaders. One man can only do so much. Anything of any significance that is accomplished in the kingdom, or any secular organization, is only the result of collaboration and teamwork. It takes a lot of people fulfilling their responsibilities at a very high level with excellence in order to successfully fulfill our purpose.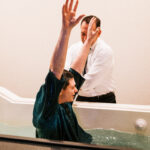 Christian Life Center is a multigenerational ministry (they have something for every individual, no matter their family dynamics, and for every age group). "We have two services in a duplicate format on Sunday mornings (9:00 a.m. and 11:00 a.m.)," says Bro. Ensey. "We have dynamic worship and are blessed with amazing music and media ministry teams. We have new member classes as well as an effective youth and children's ministry (these attract young families). Online marketing, social media, our website, apps, and live-streaming of services are also a few other ways that help to increase our growth. Community outreach events are also a huge success. We have Vacation Bible School, Trunk or Treat, a Good Friday community worship service, an "Eggstravaganza" event [the Saturday of Easter weekend], holiday church picnics, outdoor concerts, monthly meals for those in need, home Bible studies, and we also have weekly outreach at a local skate park. In accordance with these, we have a Connection Team/Guest Experience ministry, which coordinates gust connections and follow-ups, both of which are crucial to church growth.
Meetings, Retreats, Vision and Focus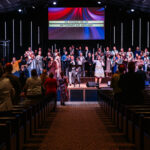 With close to 50% of their committed members involved in some form of ministry and approximately 25% involved in some form of evangelism, organization and management are crucial to keep everyone on the same page and to keep things running like a well-oiled machine. "I have a weekly meeting with our church staff and weekly tag-in meetings (before Sunday and Wednesday services) with our ministry team," explains Bro. Ensey. "I also have weekly meetings with my production team on Sunday morning. The first of these takes place at 7:00 a.m. (in-person) to review the Sunday production schedule, and the second meeting happens at 9:30 p.m. (via Zoom) to debrief our Sunday services. Other meetings include our weekly guest relations meeting, our monthly executive leadership meeting, and our quarterly ministry director meeting. We also have an annual planning retreat with our executive leadership team. 
Investing in leadership training is a great way to refresh and reset the mindset of your leaders. "Our annual planning retreat includes an emphasis on training," said Bro. Ensey. "We also do a book club with our leaders twice each year, using material that will help them develop into more effective leaders. We have brought in several apostolic leaders to provide specific ministry training as well.
A History of God's Providence
In January of 1947, John O'Riley planted a church in the home of Goldie Haas in Newark, Ohio, chartered as Oneness Apostolic Church. This was the beginning of Christian Life Center (CLC). "The church then relocated to a property that was purchased on the corner of North and Everette Street in Newark," explains Bro. Ensey. "The fledgling church began a journey of growth as Pastor O'Riley led the church for eight years. He passed away in 1955 due to poor health. On November 23, 1955, Charles B. Smith became the second pastor of Oneness Apostolic Church as the church continued to grow. In 1980, the property on Linnville Road in Heath was purchased, and a name change took place as the church became Christian Life Center and Academy. CLC spent thirty-one years at the Newark location. In 1985, the church broke ground to build a new sanctuary; the building where the upper-level lobby is now located. In 1986, the building was completed as the church continued on its journey of growth. Pastor Smith retired after thirty-three years of service. In June of 1988, Travis Kirk and his family came to Heath as he became the third pastor of Christian Life Center. CLC continued to grow spiritually and numerically as it increased its impact in the cities of Heath and Newark. CLC purchased more land, and in 1993, built a much-needed shelter house for outside activities. CLC continued to see souls saved and lives changed.
"As CLC outgrew its facility, plans were drawn up in 1997 to build a new worship center. The new sanctuary and classroom facility was completed in 1999, with the first service being held on January 1, 2000.  In 2000, James Kirk was elected as the fourth pastor of CLC, and in 2006, he directed the building of the beautiful Family Life Center. In 2009, Travis Kirk became the bishop of CLC, and James Kirk became the Senior Pastor. On October 10, 2016, tragedy struck as Pastor James Kirk died in a tragic fall. The congregation, though shattered by the tragedy, began to pray their way through the pain to seek God for His direction. By the strength and grace of God, CLC grew closer to each other through this tragedy, and in the spring of 2017, began an extensive remodel and expansion of the current sanctuary. On August 6, 2017, another chapter to the storied history of Christian Life Center began. I was elected as the fifth Senior Pastor in the history of CLC. In the spring of 2018, the remodel of the current sanctuary was completed. CLC continues to increase numerically and spiritually and is already making plans for what God has next in store for this growing congregation.
An Ever-Growing Facility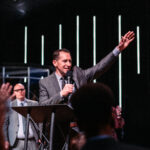 Christian Life Center currently sits on 9.5 acres and can seat 500 in their sanctuary. "We have been at this location since 1986," Bro. Ensey said.  "An expansion and remodel of our sanctuary was completed in March of 2018. We had services in our Family Life Center during the remodel for the first seven months that we were pastor. Our current sanctuary was completed in January of 2000. We have a youth chapel, a kid's chapel, four classrooms, and a full kitchen in our main building. We also have a Family Life Center with a gymnasium, full commercial kitchen, classroom, and youth fellowship space. We have a shelter house (pavilion) and a softball field for outdoor events as well. We do not have room to expand at our current location, so we have two Sunday morning services in order to increase our capacity and provide space for our church family and guests.
Being a "Sending" Church
What is the plan for the future of CLC? Growth! "We plan to grow," exclaimed Bro. Ensey. "We plan to make a greater impact in our community. We are working on acquiring 42 acres in the heart of our city so that we can increase our capacity and expand our reach. We plan to build a sanctuary, office complex, education facility, family life center, community center with a café, daycare, K-12 school, and ministry training center (maybe a Bible college). We plan to start more daughter works (we will launch a Spanish daughter work later this year and more are in the works). We want to have a "sending" church—sending out evangelists, church planters, and missionaries."