Smiles and Humor Vol 32 No 1
Word to the Wise:
"Commit thy works unto the LORD, and thy thoughts shall be established." – Prov. 16:3
A heavy snowstorm closed the schools in one town.
When the children returned to school a few days later, one grade school teacher asked her students whether they had used the time away from school constructively.
"I sure did, teacher," one little girl replied. "I prayed for more snow.
A very dirty, grubby little boy came in from playing in the yard and asked his mother, "Who am I?"
Ready to play the game, she said, "I don't know! Who are you?"
"WOW!" cried the boy. "Mrs. Johnson was right! She said I was so dirty, my own mother wouldn't recognize me!"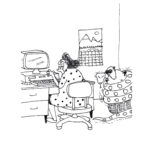 "'Wow, pastor! I love your idea of a live snake for your 'Fall of Man' sermon. I just hope it doesn't get loose."