Word to the Wise
"If it weren't for the last minute, a lot of things wouldn't get done."
—–
A child asked his father, "How were people born?" His father said, "Adam and Eve made babies, then their babies became adults and made babies, and so on." The child then went to his mother, asked her the same question and she told him, "We were monkeys, then we evolved to become like we are now." The child ran back to his father and said, "You lied to me!" His father replied, "No, your mom was talking about her side of the family."
——
A husband and wife were driving through Louisiana. As they approached Natchitoches, they started arguing about the pronunciation of the town. They argued back and forth, then stopped for lunch. At the counter, the husband asked the waitress, "Before we order, could you please settle an argument for us? Would you please pronounce where we are very slowly?" She leaned over the counter and said, "Burrr-gerrr Kiiing."
—–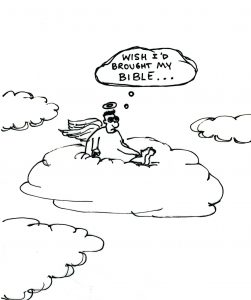 —–
Reaching the end of a job interview, the Human Resources officer asked a young engineer fresh out of the Massachusetts Institute of Technology, "And what starting salary are you looking for?" The engineer replied, "In the region of $125,000 a year, depending on the benefits package." The interviewer inquired, "Well, what would you say to a package of five weeks vacation, 14 paid holidays, full medical and dental, company matching retirement fund to 50% of salary, and a company car leased every two years, say, a red Corvette?" The engineer sat up straight and said, "Wow! Are you kidding?" The interviewer replied, "Yeah, but you started it."
—–
A mom texts, "Hi! Son, what does IDK, LY, & TTYL mean?" He texts back, "I Don't Know, Love You, & Talk To You Later." The mom texts him, "It's ok, don't worry about it. I'll ask your sister, love you too."
—–
Q: Is Google male or female?
A: Female, because it doesn't let you finish a sentence before making a suggestion.
—–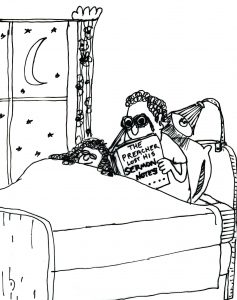 Late night horror stories
—–
Late one night, a burglar broke into a house and while he was sneaking around, he heard a voice say, "Jesus is watching you." He looked around and saw nothing. He kept on creeping and again heard, "Jesus is watching you." In a dark corner, he saw a cage with a parrot inside. The burglar asked the parrot, "Was it you who said Jesus is watching me?" The parrot replied, "Yes." Relieved, the burglar asked, "What is your name?" The parrot said, "Clarence." The burglar said, "That's a stupid name for a parrot. What idiot named you Clarence?" The parrot answered, "The same idiot that named the pit-bull Jesus."
—–
A boy asked his father, "Dad, are bugs good to eat?" The dad replied, "That's disgusting. Don't talk about things like that over dinner." After dinner, the father asked, "Now, son, what did you want to ask me?" "Oh, nothing," the boy said. "There was a bug in your soup, but now it's gone."
—–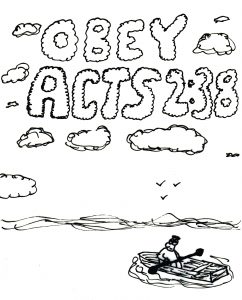 Seeking direction, Herbie learned that God can be blunt.
—–