CA New Sex-Education Teaches 5-Year-Olds About Transgenderism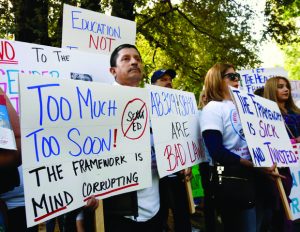 The California Department of Education has been praised by the LGBT community for approving new education guidelines that discuss the issue of gender fluidity with kids as young as five.
Alongside explaining transgenderism to young children, the sweeping new guidelines also encourage teachers to advise LGBT teenagers on practices of safe sex and address masturbation with middle-schoolers.
"The goal is not to cause confusion about the gender of the child but to develop an awareness that other expressions exist," the new framework reads, according to the National Review. However, while the LGBT community is ecstatic at the reforms, many parents have expressed their concerns over the detrimental impact of the new curriculum on impressionable young children.
In protest at the decision, hundreds of worried parents gathered at the state capitol recently carrying signs that read "stop sexualizing my kids," "respect parental rights" and "too much too soon." Most of those in attendance agreed that sensitive issues surrounding sexual behavior and transgenderism should be discussed in the home and not mandated by the education system.
"It's just scary what they are going to be teaching. It's pornography," one mother, Patricia Reyes, told the Associated Press. "If this continues, I'm not sending them to school."
Teachers are also rightly concerned over the new guidelines. Educators "are afraid they will be forced to teach concepts that go against their conscious, and use nonbinary terms or else they could lose their jobs," teacher and board member, Brenda Lebsack, told the Sacramento Bee.
—–
CNN Democrat Claims Unborn Baby Is Not Human Being
A Democrat and CNN political analyst sparked pushback on social media recently when she claimed the unborn baby growing inside a pregnant woman's body is not a human being.
Christine Quinn made the comments during a debate over state abortion restrictions with former U.S. Sen. Rick Santorum and host Chris Cuomo. Quinn was the first female speaker of the New York City Council.
"When a woman gets pregnant, that is not a human being inside of her. It's part of her body," Quinn said, adding that legalized abortion "is about a woman having full agency and control of her body and making decisions about her body and what is part of her body with medical professionals. Those are the facts and that is the law of the land."
Santorum challenged her logic. By her worldview, he said, the baby is considered "chattel." He said, "They can do whatever they want. They can torture the baby."
Earlier, Santorum had asked Quinn and Cuomo, who is pro-choice, "A baby dies in an abortion — do you realize that? Are you ignoring that fact? That's a reality."
"Is it biologically a human life?" Santorum asked.
"No," Quinn answered. Surprised by her answer, Santorum responded, "It's in every biological textbook in the world — at conception that is a human life. You guys talk about being the party of science. This is so anti-science."
—–
Democratic House Seeks to Force Churches to Change Practices or Face Punishment
The Equality Act, a sweeping new piece of legislation that elevates sexual orientation and gender identity above religious freedoms, passed the House Judiciary Committee recently and could face a floor vote soon.
"Essentially, the Equality Act gives people of faith an ultimatum: Change your faith-based practices or face government punishment," Sarah Kramer of Alliance Defending Freedom (ADF), wrote on the organization's website.
The bill would amend the 1964 Civil Rights Act and the Fair Housing Act to prohibit discrimination on the basis of sexual orientation and gender identity in employment, housing, public accommodations, public education, federal funding, credit and the jury system.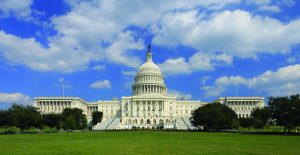 ADF and other prominent Christian and conservative groups, including Judicial Watch, James Dobson Family Institute, Liberty Counsel and the Heritage Foundation, are warning of widespread repercussions for believers since it eliminates Christians from relying on the Religious Freedom Restoration Act to uphold their religious rights, according to World Net Daily.
In an April hearing in the Judiciary Committee, Chairman U.S. Rep. Jerrold Nadler (N.Y.-Dist. 10) outlined the intentions of the bill. "Religion is no excuse for discrimination when it comes to sexual orientation or gender identity," Nadler declared.
Judicial Watch said the bill effectively eliminates single-sex "public multi-stall bathrooms, domestic violence or rape crisis shelters, drug rehabilitation centers, jails, juvenile detention facilities, homeless shelters, locker rooms or group showers."
Rev. James Dobson called the Equality Act "a thinly veiled attempt to finish off religious liberty in America once and for all, which ought to be plainly obvious based upon a cursory reading of the First Amendment."
The ADF article said that while "equality" may "sound nice to some ears, this bill actually poses a devastating and unprecedented threat to religious freedom and the progress that women have made toward true equal treatment in law and culture."
Kramer wrote: "This would prohibit employers, individuals who rent out apartments in their homes, preschools, and even religious schools and organizations from making choices based on basic biology, bodily privacy, and their beliefs about the nature of marriage."
—–
Expert Reveals 12,000+ Boy Scouts Were Victims of Sexual Abuse
An expert contracted by the Boy Scouts to examine sexual abuse cases within its ranks revealed that as many as 7,819 troop leaders and volunteers allegedly abused 12,254 victims, according to newly released court documents.
Attorney Jeff Anderson, who specializes in sexual abuse cases, released the figures during an April 23 news conference in New York, where at least 130 abusers have been identified. New York recently changed its reporting laws, easing the statute of limitations and giving victims more time to report their abuse.
The breadth of the scouting abuse was first revealed in January, but not made public, during court testimony provided by Dr. Janet Warren, a professor in the Department of Psychiatry & Neurobehavioral Sciences at the University of Virginia's medical school. Warren was a witness in a Minnesota child sex abuse case.
According to ABC News, Warren testified that she has been "on private contract" with the Boy Scouts of America for the past five years, evaluating its handling of sexual abuse within the organization from 1944 through 2016.
That work included the review of thousands of records sometimes referred to as "perversion files," which contain details of leaders and volunteers who were let go because of alleged abuse.
"The disclosure made by Dr. Janet Warren really sounded the alarm to us," Anderson said, adding, "This is information that the Boy Scouts has and has had for several years… [and is still] keeping secret today."
In a statement this week to ABC News, Boy Scout officials said, "At no time have we ever knowingly allowed a perpetrator to work with youth, and we mandate that all leaders, volunteers and staff members nationwide immediately report any abuse allegation to law enforcement." The organization also said it is providing post-abuse support for those who were harmed under their watch.
—–
Despite Controversy, Chick-Fil-A to Become 3rd Largest Restaurant Chain
Chick-fil-A, the Christian-owned company that's often targeted by liberals, will soon become the third-largest restaurant chain in the U.S. CNBC reported recently that the chain is on pace to pass Subway in sales this year and trailing only McDonald's and Starbucks.
"Chick-fil-A stands out largely because it has avoided any major menu renovations, unlike competitors McDonald's and Burger King [by] sticking to a relatively simple menu," CNBC's Sara Eisen reported. The company, she added, has instead focused "on its signature chicken sandwiches."
Chick-fil-A will reach No. 3 "despite all the controversy and despite the fact that it's closed on Sundays," she said.
Chick-fil-A founder Truett Cathy decided to close on Sundays in 1946 when he opened the first restaurant in Hapeville, Ga., according to the Chick-fil-A website.
"Having worked seven days a week in restaurants open 24 hours, Truett saw the importance of closing on Sundays so that he and his employees could set aside one day to rest and worship if they choose – a practice we uphold today," the website says.
—–
NEWS IN BRIEF
Montana's Democratic governor vetoed a bill recently that would have protected babies who survive abortion. Gov. Steve Bullock vetoed the bill, SB 354, which says that a health care provider performing an abortion shall take all medically appropriate steps to preserve the life and health of a born-alive infant who is viable. North Carolina's democratic governor also vetoed a similar bill this year.
Bible teacher, pastor and preacher Warren Wiersbe died May 2 at age 89, leaving an impressive legacy of teaching, preaching and mentoring countless pastors. Through his lessons, broadcasted sermons and over 150 books, he resourced the church to better read and explain the Bible. His wisdom and teaching has left an indelible mark on countless pastors and Christian leaders.