Love is Many a Splendor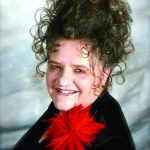 Carol Clemans-
February is the month to celebrate love from the world's point of view. What the world is missing is the truth that God is Love! God proved His love toward us when He came to earth in human flesh to become the supreme sacrifice for our sins.
The definition of "splendor | splendər | (British splendour) noun: magnificent and splendid appearance." We just celebrated the birth of Jesus who was God manifest in the flesh! God came to earth in flesh as Jesus Christ to prove His love for us by His birth, life, death, burial, and resurrection!
God's love is shed abroad in our hearts by the Holy Ghost. The salvation experience of Acts 2:38 is the miracle of God living in us – in Him we live, and move, and have our being. We are to do all we do heartily as unto the Lord! How we treat others is how we are treating God!
In my twenty-nine years of counseling, many people who have experienced an Acts 2:38 salvation call me for God-centered counseling because they have been the victim of a 'believer' who abuses in anger, lies, are porn addicted, etc. Once we are saved, we have daily choices to make in our thoughts, feelings, and actions that are to please God.
We must allow the Holy Ghost to control us. God is a 'gentleman' – He never forces anyone to do what is right. God's Word teaches if we love God, we will keep His commandments. We are either serving the one true God or the god of this world that is the devil.
If the father is God-centered and loving toward his children, they will form a loving image of their heavenly Father. Mothers have a tremendous influence on their children also. Godly parents are to jointly teach by life's example godly principles every day by sharing God's truth with the children through all daily activities.
God is Love! His desire is to be an integral part of all our activities. His love never fails. God's love gives us the gift of eternal life when we surrender our lives to Him!