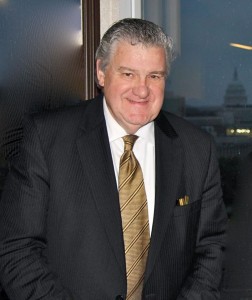 A photo freezes the moment. A certain photo, viewed after many years, may provide a rush of memories, emotion or nostalgia. Recently, one such photo struck me hard. It was a snapshot of two of my grandchildren, and it pulled me back in time. For an emotional moment my heart longed to go back and relive that day, but quickly I was awakened to reality. We cannot freeze time. We cannot return to yesterdays. Time moves forward.
It's a brutal truth that civilization is moving through a matrix into a future that provides little if any guidance. A nostalgic longing for the past is not an acceptable strategy for anyone or any enterprise. This is especially true for the Church, in light of at least three major things. First, we are facing the ubiquitous push for world governance led mostly by powerful men and institutions that discredit religion all together and threaten its survival. Second, we are confronting the pervasive reach of technology which has become addictive, and threatens to change the very way our brains function. And, society has been slow to acknowledge technology's dark side. Third, we are struggling against the loss of authority and absolutes that have deep impact on the presentation of Gospel.
The moment is real. The war against unrighteousness is real. But that doesn't necessarily mean that Christians are preparing for it, or that they are taking it seriously. One cannot escape the future, nor avoid the consequences of decisions made. Frankly speaking, how could we not see the dangers that the trends of worldliness imply? The wise man made it plain: "As righteousness tendeth to life: so he that pursueth evil pursueth it to his own death" (Proverbs 11:19).
The Church cannot afford to mishandle this moment by casually approaching the decisions that modernity imposes upon us. "This present world" is indeed our "world." It's our challenge. We cannot choose another time, another world or another destiny. The Apostle admonished us, "For the grace of God that bringeth salvation hath appeared to all men, Teaching us that, denying ungodliness and worldly lusts, we should live soberly, righteously, and godly, in this present world" (Titus 2:11-12).
History is defined and can be traced by following individual decisions, changes and compromises. The ideas and choices made all have consequences and shape history. It is said that the beginning of World War II could be traced to the Munich Agreement, at which time the British Prime Minister Chamberlain signed an agreement that he said meant, "peace for our time." However, peace did not come, and that agreement is now considered by most historians as an appeasement toward the ambitions of Hitler. Winston Churchill defined it for what it was in his speech to the House of Commons:
"We have suffered a total and unmitigated defeat … you will find that in a period of time which may be measured by years, but may be measured by months, Czechoslovakia will be engulfed in the Nazi régime. We are in the presence of a disaster of the first magnitude … we have sustained a defeat without a war, the consequences of which will travel far with us along our road … we have passed an awful milestone in our history, when the whole equilibrium of Europe has been deranged, and that the terrible words have for the time being been pronounced against the Western democracies: "Thou art weighed in the balance and found wanting". And do not suppose that this is the end. This is only the beginning of the reckoning. This is only the first sip, the first foretaste of a bitter cup which will be proffered to us year by year unless by a supreme recovery of moral health and martial vigor, we arise again and take our stand for freedom as in the olden time."
We must ask ourselves, will some look back to this moment of societal revolution when the whole of civilization shifted in the face of "perilous times," and ask the question, "how did the Church fail to understand the consequences of compromise?" How could they not preach righteousness in a time of great confusion? How could they substitute worldliness for holiness – "the first foretaste of a bitter cup." On what grounds could the Pentecostals begin to take this first sip of forsaking the Apostle's Doctrine? As Churchill so eloquently stated: "Do not suppose that this is the end. This is only the beginning of the reckoning."