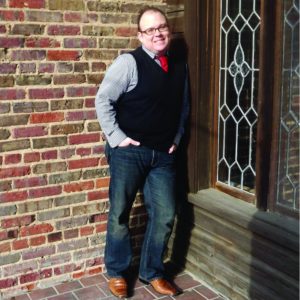 Bro. Brandon Jones, tell us a little about yourself and your ministry.
I am currently the music director for Charity Church in Chalybeate, Miss. under the leadership of Pastor Tim Watson. I also serve on a youth leadership board in my area. I've been in full-time music ministry for almost 11 years. I was born and raised in Walnut, Miss. and graduated from Indiana Bible College with a BA in Music in 2005. I am not much of a speaker due to having a stutter most of the time; however, when it comes to singing, everything is completely different. I can only give God the glory for my ability to sing clearly.
I am very passionate about music ministry, so anytime I can share that passion, I do. I cannot stand in front of a classroom and get a message out like so many men and women I admire; however, if I can put a message into writing or singing it is true joy for me.
How can church saints and pastors support the music ministry?
The act of worship is extremely helpful and encouraging to a music team! It is not possible on any level for a congregation to like every song the worship team does. I personally do my best to keep a variety of music in our repertoire and blend them together in our services. An individual can greatly support their music ministry by continuing to worship even if they are singing a song of which they are not particularly fond. Encouraging your music team is also very helpful. If the worship team does a song you really enjoy and that ministers to you personally, let them know. A genuine compliment or small word of thanks goes a long way.
The pastor, of course, has a very special role when it comes to the music team. As a pastor, it is extremely beneficial to have a plan to send your music leadership to some type of music conference at least once a year. This is especially vital for your full-time staff. I always do my best to attend IBC Music Fest each year. This is a three-day music conference hosted by Indiana Bible College.
IBC Music Fest provides workshops, clinics and multiple resources to present and future musicians and music ministers. These three days are some of my favorite days out of the year. I do not need to have my hands on a piano or worry about that singer who is not hitting the right note. Rather than being on the piano or behind a microphone, I am able to put my hands in the air in pure undistracted worship to God. This is a wonderful venue in which I recharge and fill up, so I can go back to my church and pour it all out again. The opportunity to be reinvigorated as a music minister is imperative. You cannot pour out what has not been poured into you.
How do you borrow literature without imitating non-Apostolic groups?
Writing songs is not really a talent that God gave to me, so I almost always draw my music from other groups and writers. I try to be eclectic when it comes to choosing music. I draw from artists such as Indiana Bible College, Israel Houghton, Kari Jobe, Eddie James, Tasha Cobbs, Anthony Brown, James Fortune, and others. I very much enjoy doing material that has been written by an Apostolic author but it is nearly inevitable that we sing songs written by authors outside of our Pentecostal faith.
It is here that I feel prayer and anointing must be present in order to fill in the gap. There is an undeniable difference in hearing a great song by a mainstream Christian artist and then hearing that same song performed by an anointed Pentecostal artist. I try to impart this truth to my music team. Anyone can PERFORM a gospel song to a crowd but not everyone can use a song to MINISTER to a crowd. It must also be emphasized that leading our people into worship is much more important than singing the latest chart topper.
How do you handle doctrinally questionable or possibly double-meaning songs?
I always try to pick songs that are doctrinally accurate and 99% of the time it is not an issue. This is especially true in modern worship songs. Most of those are vertical songs we sing to God and not about Him. If the song I choose is inconsistent with our Apostolic doctrine, then I will change the lyrics if possible. If the lyrics cannot be changed, then I refrain from using the song. Songs with inaccurate doctrine could be confusing and act as a stumbling block to a new convert that is still in the process of becoming grounded in the faith.
What are the benefits of original, Apostolic songs?
I believe there are many benefits. First of all, they are anointed and can reach into people's hearts and change them in a way that some mainstream Christian music is incapable of doing. Secondly, a five-minute song that teaches our Apostolic doctrine is sometimes more effective than hearing a 45-minute sermon. Music has the incredible ability to stay and resonate within your heart.
Writing music is not a talent that God gives to everyone. If you are interested in writing music, then pursue it. Contact some of your favorite Apostolic writers such as Bro. Tim Pedigo, Bro. Mark Condon, Sis. Jessica DiGiovanni, Bro. Mark Yandris and ask for their advice. I always encourage anyone in music ministry to do what they love, love what they do, and stay sensitive to the voice of God. He will take care of the rest.
What music projects have you completed and are more in store?
God has allowed me to complete three albums, and I am so grateful and thankful for this opportunity. I Need You Now (2006) and Captivated (2009) can be purchased from the Pentecostal Publishing House while the album Take the Limits Off (2015) can be found and purchased on iTunes. All three projects can also be purchased at https://squareup.com/market/brandon-jones-2. I am planning to do an album with my worship team sometime in the near future. We are just waiting on the Lord to orchestrate a few things and initiate the proper timing.
For more information, contact Bro. Jones through email at hbrandonjonesmusic1@gmail.com.