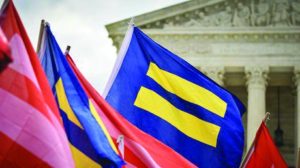 No Middle Ground: Evangelical Leaders Reject Compromise on LGBT and Religious Rights
Compromises designed to safeguard both religious freedoms and LGBT rights won't fly among many of America's most influential conservative Christians.
Leaders from nearly 90 evangelical seminaries, publications, ministries, and churches—as well as Catholic and Orthodox clergy—signed a statement last month rejecting any legal efforts to protect sexual orientation and gender identity (SOGI).
"[We] believe that proposed SOGI laws, including those narrowly crafted, threaten fundamental freedoms," they wrote as part of the "Preserve Freedom, Reject Coercion" campaign, hosted by the Colson Center for Christian Worldview.
The declaration follows months of conversations among Christian college leaders around the Fairness for All strategy, which would bring religious leaders and LGBT advocates together to try to secure satisfactory legal protections for both. Parties from each side of the conversation convened recently for a conference at Yale University.
The Council for Christian Colleges and Universities (CCCU) spearheaded discussion of a potential nationwide Fairness for All law—modeled after a well-regarded compromise enacted in Utah in 2015—among its members and partners.
Advocates of the Fairness for All approach argue that evangelicals and other faith groups end up with greater protections when actively involved in crafting legislation; if left up to the courts to weigh the rights of either side, Christian-run institutions and businesses—from churches to bakers—risk more severe restrictions.
However, presidents and professors from 16 CCCU member schools and affiliates are among the signatories declaring that "any ostensible protections for religious liberty appended to such laws are inherently inadequate and unstable."
The list also includes The Gospel Coalition president D. A. Carson, Focus on the Family president Jim Daly, Trinity Evangelical Divinity School president David S. Dockery, and First Things editor R. R. Reno. Several major Southern Baptist leaders also signed on: Russell Moore, Al Mohler, Fred Luter, and Paige Patterson.
At stake in the SOGI dispute are the local, state, and federal laws governing whether religious institutions or businesses owned by people of faith must serve LGBT individuals despite their convictions on sexuality and gender.
Opponents of Fairness for All legislation worry that such compromises offer too limited protections at the expense of designating SOGI as a protected class—a position they believe has deeper moral implications for Christians.
The Colson Center's statement shares this position: "We have seen in particular how these laws are used by the government in an attempt to compel citizens to sacrifice their deepest convictions on marriage and what it means to be male and female, people who serve everyone, regardless of sexual orientation or gender identity, but who cannot promote messages, engage in expression, or participate in events that contradict their beliefs or their organization's guiding values."
—–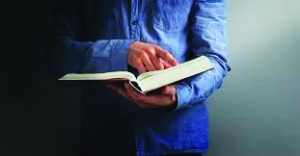 Street Preacher Arrested, Accused of Hate Crime after Sharing Scripture with Gay Teen
A Christian preacher in the U.K. was arrested and accused of a hate crime after he responded to a gay teen's question about homosexuality.
The Telegraph reports that 42-year-old Gordon Larmour was handing out leaflets and street preaching in the town of Irvine when he was approached by a 19-year-old who questioned him on what the Bible said about homosexuality.
Lamour proceeded to tell the young man about Scripture and specifically shared the story of Adam and Eve and how God told them to be fruitful and multiply. He also reportedly told the young man and his friends, "Don't forget Jesus loves you and He died for your sins."
Soon after responding to the young man's question, police arrested Lamour, accused him of using threatening or abusive language regarding sexual orientation, and locked him up in a jail cell overnight.
Now, after a prolonged trial, Lamour has been acquitted of all charges. Although thankful to be released, he and many other Christians worry about the state of free speech due to this incident.
"I can't see why I was arrested in the first place – it was a massive overreaction and a waste of everyone's time. The police didn't listen to me. They took the young homosexual guy's side straight away and read me my rights," shared Lamour.
"I feel they [the police] try so hard to appear like they are protecting minorities, they go too far the other way. I want to be able to tell people the good word of the Gospel and think I should be free to do so. I wasn't speaking my opinions – I was quoting from the Bible."
—–
Mississippi Town Protests after Mayor is Forced to Take Down Christian Flag
The residents of a small Mississippi town have engaged in rallies and protests after an atheist organization forced the mayor to take down the Christian flag at a local park.
TheBlaze.com reports that the Freedom From Religion Foundation threatened to sue the town of Rienzi, Mississippi for $500,000 if Mayor Walter Williams did not remove the flag from the public park.
Williams felt he had no choice but to give in to the FFRF's demands since Rienzi does not have the funds to engage in an expensive lawsuit.
However, the residents of Rienzi were not surrendering without a fight. They organized and staged protests and hosted a rally in support of keeping the flag up. The event included motorcyclists who flew dozens of Christian flags behind their vehicles.
Williams said the town has hired an attorney and is discussing what further action can be taken.
—–
NEWS IN BRIEF
The newest target of gendered-language crusaders? Motherhood. Gender neutral language guidelines just took a turn for the bizarre; the term expectant mother made the list of words that could be offensive to pregnant females who identify as male and plan to play the role of fathers. The new preferred term, according to the British Medical Association, is pregnant people.
Testimony from a former Planned Parenthood employee has revealed that the organization focuses on selling abortion services and offers incentives for employees to make more "sales." According to a report from the Washington Examiner, Planned Parenthood employees are offered rewards such as paid time off or free pizza for getting more women to get abortions through Planned Parenthood. President Cecile Richards disagrees, claiming that abortions only make up three percent of its services.
—–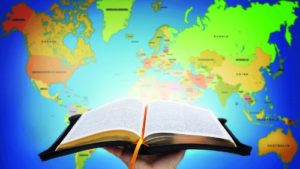 The Favorite Bible Verses of 88 Nations
Zechariah 14:9 doesn't show up often on lists of favorite Bible verses.
"The Lord will be king over the whole earth," it reads in the New International Version of the Bible. "On that day there will be one Lord, and his name the only name."
But last year, these words of Zechariah showed up as the top verse on YouVersion with the most highlights, bookmarks and shares in two countries with little else in common.
People in both Israel and Afghanistan engaged most with it—and so did those in France, Finland, Sweden, Guadeloupe, Belgium, Martinique, and Cyprus.
Overall, the world's favorite Bible verse in 2016 was Romans 8:28: "And we know that in all things God works for the good of those who love him, who have been called according to his purpose."
It was highlighted, shared, and bookmarked more than any other verse by YouVersion's users, who have now installed its Bible App on more than 250 million unique devices.
"In every category that we measure, the global YouVersion community has been more engaged with the Bible throughout 2016 than in any previous year," the organization announced. "2016 was our biggest year ever. Again."
Notable nations where usage increased include Argentina, Cameroon, Mozambique, Bangladesh, Indonesia, and Nepal, which YouVersion called "one of the most rapid increases in Bible reading in a heart language that we've ever seen."
Despite its nearly 550,000 shares, Romans 8:28 was only the top verse in 9 of the 88 countries and territories tracked by YouVersion, including the United States, Singapore and Ghana.
By comparison, Jeremiah 29:11 ("For I know the plans I have for you… ") was the top verse in 29 of the 88 countries and territories, including Saudi Arabia, Colombia, and Italy.
—–
Commentator Says Church Should Sever Ties with Boy Scouts over Transgender Policy
The Boy Scouts of America recently made the decision to allow girls who identify as boys to join the Boy Scouts and Cub Scouts.
In a column for FoxNews.com, Todd Starnes writes that "the time has come for every church and every parent in America to sever ties with the Boy Scouts."
Starnes argues that, through this policy, the Boy Scouts have abandoned the original purpose for which they were created–to instill morals and good character into boys and young men.
Boy Scouts spokesperson Rebecca Rausch had this to say about the policy change: "For more than 100 years, the Boy Scouts of America, along with schools, youth sports and other youth organizations, have ultimately deferred to the information on an individual's birth certificate to determine eligibility for our single-gender programs. However, that approach is no longer sufficient as communities and state laws are interpreting gender identity differently, and these laws vary widely from state to state."
Starnes also questions how the logistics of this policy will play out. He quotes John Stemberger, chairman of Trail Life USA, an organization similar to the Boy Scouts which is remaining true to biblical values: "Aside from the fact they are now going to confuse literally hundreds of thousands of young men and boys – you are now going to have further youth protection problems," Stemberger said. "Facilities and campgrounds are not designed for this type of thing."
Starnes recommends enrolling boys in Trail Life instead of the Boy Scouts.