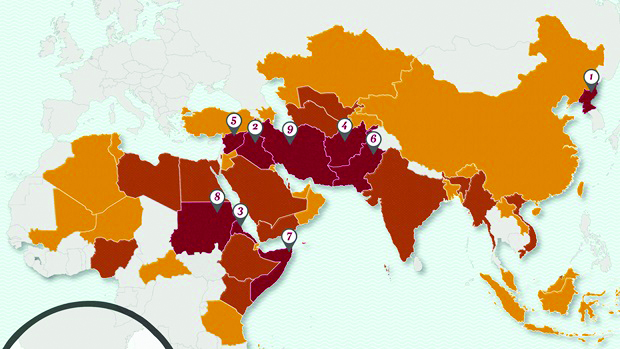 The Top 50 Countries Where It's Now Hardest to Be a Christian
2014 was the world's worst year for the persecution of Christians in the modern era . . . until 2015 surpassed it. The 2016 World Watch List (WWL) from Open Doors analyzes how African countries now outnumber Mideast countries on the list, affecting far more Christians numerically (though not as severely). Christian martyrdoms and destruction of churches nearly doubled during the "Year of Fear," yet only four of the top 10 persecuting countries rank among the 10 most violent ones. Meanwhile, the spread in severity among top persecutors shrank by half, and five countries that would have qualified for last year's list did not make this year's list because the minimum threshold of persecution is up 50 percent since 2014.
The annual list studies pressures on private, family, community, national, and church areas of life, plus levels of violence, in order to rank the top 50 countries where "Christians face the most persecution."
"Open Doors USA predicted that while Christians faced the worst persecution in modern history in 2014, the worst was yet to come," the organization stated. "The prediction was sadly fulfilled in 2015—the persecution of Christians increased on every continent."
More than 7,000 Christians were killed for their faith last year, up drastically from 4,344 in 2014 and 2,123 in 2013. Those numbers don't include North Korea or parts of Iraq and Syria, where accurate numbers are hard to obtain. All three of those countries are among the WWL's top five persecutors.
In addition, 2,400 churches were damaged or attacked worldwide, more than twice the number in 2014.
Violent Islamic extremism was the main culprit, "with its rise being the lead generator of persecution for 35 out of the 50 nations on the list," stated Open Doors. "Its two hubs are in the Middle East and sub-Saharan Africa, regions where persecution has risen to a level akin to ethnic cleansing."
The report agrees with the U.S. State Department assessment in October, which pointed to the "new phenomenon" of non-state terrorism as the biggest threat to minority Christian communities.
In addition to death and destruction, Islamic extremists caused the displacement of thousands of Christians. Syria's largest Christian city, Aleppo, saw its Christian population shrink from 400,000 to 60,000, while more than 1 million refugees fled from the Horn of Africa and the Middle East to Europe, Open Doors said.
North Korea remained the No. 1 perpetrator of persecution in 2015, as it has since the WWL began 14 years ago. Up to 70,000 Christians are in labor camps there, Open Doors said. The countries are judged on a 100-point scale, and North Korea scored a 92. In fact, the top 6 countries all landed within 5 points of each other. Persecution last year increased an average of 2.8 points in each of the 50 countries, stated the report.
Iraq, where Christians are "on the verge of extinction," edged up from No. 3 to No. 2 with a score of 90. Syria and Afghanistan swapped places, with Afghanistan at No. 4 (88 points) and Syria at No. 5 (87 points) on the 2016 list.
The biggest change to the top 5 was the drop of Somalia from No. 2 to No. 7, and the rise of Eritrea from No. 9 to No. 3 (89 points). Pakistan (No. 6), Somalia (No. 7), Sudan (No. 8), Iran (No. 9), and Libya (No. 10) round out the WWL's top 10. Almost all of the countries are repeat offenders. Only Libya didn't appear in the top 10 last year, rising from No. 13.
India ranked among the top 20 for the first time, thanks to Hindu extremists emboldened by the new government of Narendra Modi.
—–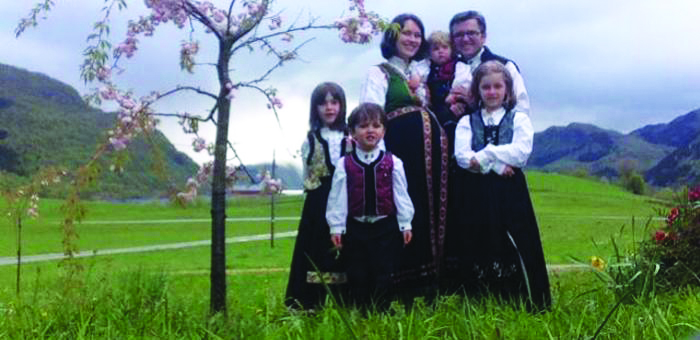 Norway Seizes 5 Children from Pentecostal Home: Prompts Protests
International protests were planned throughout the month of January after the Norwegian government removed five children from their Christian parents under accusations of "religious indoctrination."
Protests were held in Czech Republic, Latvia, Austria, Romania, Spain, Ireland, India, Poland, and Australia, along with several other countries, to speak out against the recent separation of five Christian children from their parents at the hands of government officials.
In November 2015, Norway's child welfare services, known as Barnevernet, removed five children, including three sons and two daughters, from parents Ruth and Marius Bodnariu, residents of Naustdal and members of the Pentecostal Church.
The five children were removed from their family and separated into two foster homes after their school's teacher and principal alerted the authorities that the children were being raised in a Christian household that taught "God punishes sin." The parents were then accused by child services of practicing "Christian radicalism and indoctrination."
Hundreds of Romanian Pentecostals from all over the United States and Europe gathered at the Norwegian Embassy in Washington, D.C. on Jan. 8, 2016 to urge the Norwegian government to free the five children seized from the Bodnariu family by child protective services in November.
A petition and a Facebook page have been set up in support of the parents as they continue to appeal to have their family reunited again.
"They are just a normal Christian family trying to raise their children in the knowledge of God! There is no documented or otherwise abuse of any kind in this family," an iPetition that has gained 25,000 signatures since November reads.
A Facebook page created in support of the family also calls on the Norwegian government to return the children to their parents.
"We will keep the calm and the confidence that God will work and bring this family together again, and we will do everything that is depending on us, and we will not stop until they are reunited!" the Facebook post reads.
Previous protests held by the family's supporters have had thousands of attendees, The Christian Post reported last week.
Friends of the Bodnariu's have defended the Christian family, arguing that accusations of physical abuse are unfounded.
"We have a God and God is on our side because God created the family. The tradition of the family has been ordained by God. If you are going to fight us and fight the Bodnariu family, you also fight against God," Cristian Ionescu, pastor of the Elim Romanian Pentecostal Church in Chicago and organizer of a recent protest in Washington, D.C. said.
"Lately they are trying to characterize it as an abuse case. It never started as such. The teacher said that we need to bridge the gap between us and this family because they have radical Christian principles and we know that right now, everything that was considered decent two decades ago is considered 'radical,'" Ionescu added.
—–
NEWS IN BRIEF
The UN Educational, Scientific and Cultural Organization (UNESCO) passed a resolution that declared the Tomb of the Patriarchs in Hebron and Rachel's Tomb in Bethlehem as Islamic sites. This is an obvious, brazen attempt by the Arab nations to change history and delegitimize Israel's claim to holy sites.
The Christian research organization LifeWay conducted a survey to gauge how pastors are likely to vote in the upcoming 2016 presidential election. Among all Protestant pastors surveyed, just four percent say they would vote for Donald Trump for president. While over 47 percent of the pastors say they are "undecided" on who to vote for, Ted Cruz received the most support of any candidate, as 17 percent of the pastors say they would vote for Cruz.
—–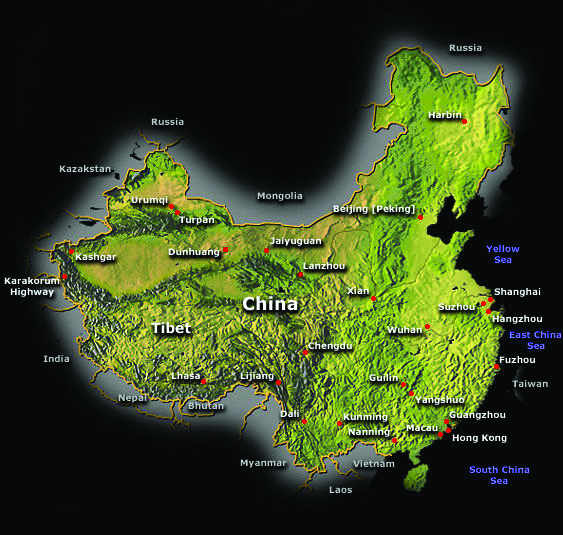 China's House Church Movement Pledges to Send Out Missionaries
In a recent development, 100 of the top house church leaders from within Communist China made it to Seoul, South Korea, where the Lausanne Movement held a special conference for them. And this fall, about 850 Chinese leaders gathered for their own Missions Conference even closer to home. They announced from Hong Kong a long-discussed goal: to send 20,000 missionaries from China by the year 2030.
The number is enormous, especially for a country that has sent only a few hundred foreign missionaries so far. Of the world's top six sending countries, four hover around the 20,000 mark, according to the Center for the Study of Global Christianity (CSGC): France, Spain, Italy, and South Korea. Only the United States (127,000) and Brazil (34,000) send more. But nobody's ruling China out.
It's hard to pinpoint the number of Christians in China since there's no official count. The Pew Research Center estimated 67 million in 2010.
—–
Dentist Sued by Former Employees for Playing Christian Music in Clinic
A Christian dentist in Michigan is being sued by four former employees for playing Christian music in her clinic. The former employees claim that Dr. Tina Marshall caused them distress by forcing her religion on them.
According to the complaint, the plaintiffs, "are seeking damages for loss of past and future income and employment benefits, outrage, humiliation, embarrassment, mental anxiety, emotional distress, and loss of professional reputation."
The employees also claim that Marshall violated Michigan's Elliott Larsen Civil Rights Act, which prohibits employers from discriminating based on religion, race, nationality, age, sex or marital status.
Christian Today reports the lawsuit was filed against Marshall last August and a trial by jury will begin this summer.
Marshall's attorney Keith Jablonski denies his client violated any laws, and is being targeted by disgruntled former employees for her faith. Marshall is "being attacked in this lawsuit for her Christian beliefs, based solely on her desire to play religious music and radio stations in the dental office of the business that she owns," Jablonski said.