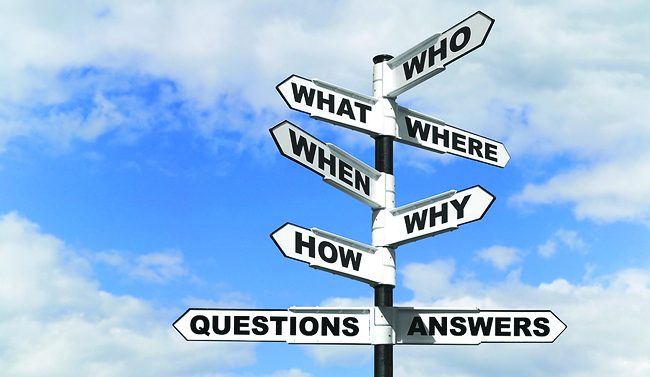 Questions are a powerful tool for every leader. The greatest leaders I know ask lots of questions. They encourage discussion. Plus, questions allow other people to have an opinion other than the leader—adding huge value to organizational health. Here are seven examples of questions leaders should memorize and use often:
1. How can we improve as a team? This is a practical question which, in my experience, people will enjoy answering. It can make their life better. They may have thoughts on needing more meetings—or less meetings—or better meetings. That could be valuable insight you don't see. Even if they've never thought about this question, it opens their mind to ways to improve. Who doesn't need that?
2. Will you help me? Everyone wants to be wanted. They want their input to be needed. I'm not talking about dumping on people, but when a leader asks this question and genuinely invites the team into the decision-making process they feel empowered.
3. How can I help you? Knowing a leader is willing to help is huge. Even if they don't need your help they appreciate knowing they are truly part of a team. And, the leader is a team player.
4. Do you understand what I'm saying? This is a valuable question to follow up with after you've said anything, but especially when you've delegated a task or given someone a responsibility. Because, again, they may not ask if you don't. Not asking this question can lead to unnecessary confusion, miscommunication and frustration.
5. Do you have what you need? Giving any assignment without asking this question leaves many people unprepared and doomed for failure. Good leaders make sure the team has adequate resources to do their work.
6. What do you think we should do? This question is helpful, for example, whenever there is a problem to be solved which has never been addressed before. Most likely, when the question is answered it will impact others on the team. Inviting people to help solve the issue or come to a conclusion about it gives them ownership in the solution.
7. What's next for us? This is a great brainstorming question. It forces people to dialogue about creating something new or developing something existing. It fuels momentum.
Ron Edmondson is the lead pastor at Immanuel Baptist Church in Lexington, Kentucky. For the original article, visit ronedmondson.com.