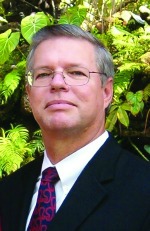 Bro. R. Phillip Hofstetter, tell us a little about yourself and your ministry.
I've been a pastor for 28 years. I started in 1988 as a home missionary in Bartow, Florida. In 2007, the ministry expanded to include Mulberry, Florida. I've served as the Sectional Home Missions leader in the Florida district, Sunday School Secretary, and in 2010 I was appointed by the Florida District Board as the Florida District World Network of Prayer (WNOP) Coordinator. Recently, I was appointed to serve on the WNOP International Planning Committee. Other areas include leading prayer and teaching sessions in the national and regional WNOP venues.
Tell us about the Florida District Prayer Ministry.
The prayer ministry consists of the District WNOP Coordinator and eight WNOP Sectional Coordinators that work to promote prayer in their sections. They have a job description that helps guide them in their endeavors. One of our goals is for every section to have a quarterly prayer meeting for pastors.
Every year, our district comes together during the first weekend of November at the campground for the "Fueling the Fire" (FTF) Prayer Conference. We have adult, youth and children's sessions that consist of preaching, teaching, and focused prayer times. FTF has grown to over 1,500 in attendance.
The Florida District WNOP has joined with North American Missions (NAM) to work with new church planters by hosting a "Plowing Before The Planter" event at their churches. This encompasses two days of training sessions, which include the Armor of God, Strongholds Of The Enemy, 8 Steps To Prepare For Intercession, The Weapons Of Our Warfare, Territorial Research, prayer walking, etc. There have been many incredible results, such as one church that reported their average attendance was 21 with 25 members before PBTP. After one year, they now have an average of 67 in attendance with 98 members, baptized 36, and 37 received the Holy Ghost since hosting the PBTP at their church. What makes this event a success is that it is not a program but a biblical principle.
Also, at every district event, we set up a WNOP prayer table to promote prayer with various free materials. Each district event is covered by prayer and fasting by our team.
Why is a prayer ministry so important for a district? What do you hope to
accomplish?
Prayer is the foundation to the success of every department, conference, event and church in our district. In Acts 27:17, the Bible talks about how during a storm, the men tie ropes around the hull of the ship to keep it from breaking apart. It is called "helps" or "undergirding." Undergirding the district in prayer enhances the success of everything. Our focus is that God would help, protect, give understanding and knowledge to, and enable the churches in Florida. We pray for more laborers in the harvest to start new church plants. We pray for revival in all of our churches and many other needs, as well as for God's will to be done in our district.
Tell us about some of your past success stories and miracles.
I have seen the interest of prayer grow over the years in our district. One great reason for this is that our District Superintendent C.P. Williams backs the Florida District WNOP prayer ministry 100 percent. It was his burden to have this prayer ministry. I have talked to many pastors who are very excited about this ministry and now have started a prayer team in their church and appointed prayer leaders.
Many have received the call to ministry, healings, miracles, encouragement, direction, inspiration and breakthroughs from attending Fueling the Fire Prayer Conference. Many have received the Holy Ghost. One young lady who was feeling the call of God to be a missionary was praying at the altar. My wife felt to go pray with her during the FTF altar call. At the time, we didn't know anything about her. My wife prayed and gave her a word of wisdom from the Lord, and this inspired her to take the next step. She is now an AIMer in Scotland. This year, I was asked to lead an hour of prayer at the beginning of the Men's Conference. At the altar call, over 200 men received the Holy Ghost.
What role, in your opinion, does prayer play in a district's growth and revival?
Prayer is very important in the decision making process. It gives a greater direction and understanding as to what needs to be accomplished. Prayer is the necessary link to receiving God's blessing, power and the fulfillment of His promises. Numerous scriptures in the Bible illustrate this principle. James 5:16 says, "The effectual fervent prayer of a righteous man availeth much." Prayer makes a serious difference in the individual's life, a church and even the district as a whole. When there is unity in prayer, the result will be greater revival for the individual and the church, just as in Acts 2:1-4.
What advice do you have for pastors wanting to start a strong prayer program in
their church?
Jesus said in Matthew 21:13, "My house shall be called the house of prayer." Everything done in the church needs to be backed by prayer first, in order to receive the full results everyone is looking for. First, the pastor has to teach on prayer and promote it to the church. Second, a prayer team needs to be assembled. Look for those who already have a burden to intercede, then lead them by casting your vision. Next, appoint a leader — someone you trust that will work well with you and the team. The prayer team can consist of as few as two to seven people or more. All departments in the church should promote prayer in some way with the guidance of the pastor and prayer leader.
How can others contact you for more questions or information?
R. Phillip Hofstetter, Florida District WNOP Coordinator, P.O. Box 926, Bartow, FL 33831 Phone: (863) 533-3974, floridaprayer@yahoo.com, http://flupci.org/departmentsprayer.html