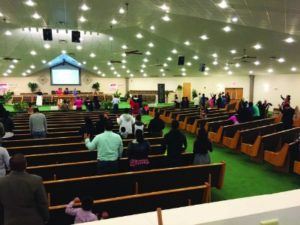 Principles of Growth & Revival
Primera Iglesia (First Church of Wendell, North Carolina) is flourishing with revival. Pastor Sergio Vitanza believes that the most important keys to having a growing church are evangelism and loving people. Accepting the people where they are, teaching home Bible studies, and preaching without compromising are also key factors to having a thriving church, and that is exactly what Bro. Vitanza does. He also believes that a revival pastor should place his priorities in prayer, fasting, the Word of God, and training leaders. "If you are looking to increase your attendance, personal evangelism and home Bible studies are the tools," he said.
Organization & Management
Over 20 ministries are operating at Primera Iglesia, including Bus Ministry, Radio Ministry, New Convert Ministry, Food Fellowship Ministry and many more. Pastor Vitanza keeps in close contact with his ministry leaders, asking them to communicate with him or his wife every week to fill them in on how things are going. Pastoral group meetings with all the ministry leaders vary from once a quarter to once a year.
Presently, Pastor Vitanza is revamping every ministry, one at a time, and updating all the systems/policies. For planning purposes, in the developed ministries, the leaders are given assigned tasks to develop proposals for Bro. Vitanza's approval. In the other ministries, they are proactive in a personal way. They hope to have corporate planning sessions every year. For training, Bro. Vitanza uses Kineo Resources via Skype. However, most of the training takes place using resource material from Pentecostal Publishing House. About 60 percent of the Primera Iglesia members are involved in some form of ministry. Between 10-20 percent are involved in evangelism. "To get people involved, we model it and teach it," said Pastor Vitanza. "We appreciate the folks involved through various means, from taking them out to dinner to honoring them in front of the congregation."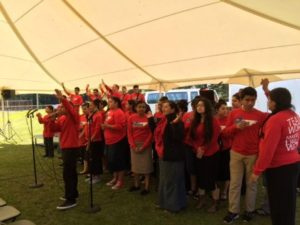 Personal Ministry
1 Corinthians 9:19-23 has been a guiding principle as Bro. Vitanza learned to fulfill Matthew 19:28-29. When he arrived in Raleigh, N.C., his pastor told him that everything Spanish-related was Bro. Vitanza's. Therefore, anyone that breathed oxygen that spoke Spanish became his focus for evangelism. After moving to their present location in Wendell, the focus became their local community. "Anyone who has not been born again has become our focus for evangelism regardless of language, race or creed," he said.
Current Facility
Primera Iglesia's current facility was built by a previous church organization with a seating capacity of 1,000. The 30,000 square foot building, built in 2004, has 10 classrooms. The vestibule alone is 2,000 square feet. It sits on 26 acres of land. The way the church acquired this facility is quite the story, according to Pastor Vitanza. They searched for places to rent to no avail. After several years, they purchased five acres of land with plans to build. However, at the eleventh hour, when they were preparing to sign papers to begin the building project, they were shown a foreclosed church building. The church building was double the size they were originally planning to build, and was furnished and move-in ready. According to Pastor Vitanza, it was a no-brainer to pursue the foreclosure. The investment group that owned the property accepted the five acres of land as a down payment, so they moved into the building virtually with no money down. Currently, Primera Iglesia is the largest UPCI church in North Carolina, and the district uses their church building for family camp/district conference.
They hope to eventually put a family life center on one side of the property, extend parking, and build an education building. The average attendance for Primera Iglesia has been about 450 each week. In 2015, a daughter work was started in ???.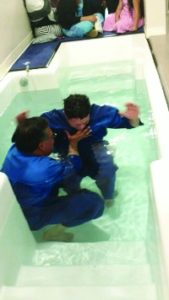 Personal History
Pastor Vitanza grew up in Albany, California. He was not raised in church. After being in college for a while, a few people had spoken to him about the Lord so Pastor Vitanza asked God to lead him to a church. Soon afterward, he was walking down a street and saw a sign on the marquee of an old theatre, "Voice of Pentecost," so he decided to attend the following Sunday. He received the Holy Ghost in January of 1980 at the age of 22. The irony of it all is that when Bro. Vitanza came as an immigrant from Honduras in 1967, he vowed to himself and his mother that as soon as he learned English, he would never again speak Spanish. He also vowed to never associate with Latinos. He never imagined that the Lord would call him to Spanish Evangelism, where he would speak Spanish and work with Latinos. When he finally said yes to God's will, the Lord opened doors of ministry for him.
Pastor Vitanza first felt a call to the ministry when he moved to South Carolina as a graduate student on an assistantship that paid his way through graduate school. He graduated with a Master's Degree in music from the University of South Carolina. He began his ministry at the age of 33. His first milestone was obeying his pastor and being willing to be sent to a Spanish Evangelism Conference in 1990. Then when he arrived in Raleigh, he began to focus on being full-time in ministry. This included outreach to the community and becoming involved in any way possible. For the first four years, he worked the existing bus routes and knocked on doors, teaching the Search for Truth Home Bible Study. The church saw growth from about 20 migrant workers to over 100, which included women and children.
Church History
Primera Iglesia started out as an outreach program. At the time, there was no church. The local church in Raleigh had started an outreach to the Latino migrant workers three years prior to Pastor Vitanza's arriving, and Bro. Wayne Huntley had asked the church to pray and fast for a Spanish pastor to come work with the Hispanic community in Raleigh. That prayer was answered in November of 1991 when Pastor Vitanza was installed as pastor of Primera Iglesia.
They began meeting on Sunday mornings, using a hybrid format that was a combination of Sunday School/church service. The first service was more in the fashion of a Sunday school class. The outreach methods used were simple but effective. Teaching home Bible studies and door knocking were the principle methods. Soon after, they began ministering in the form of social work, such as taking people to doctor appointments, interpreting in hospitals and courthouses, helping people find apartments, buying food for the needy, and visiting everyone. A dynamic church began to grow and thrive through those efforts. After moving into their new church location in Wendell in 2010, their congregation has grown to an average of 450.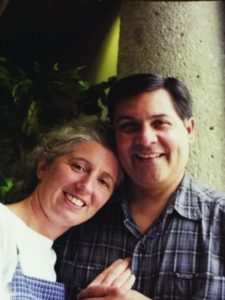 Personal Life
In Pastor Vitanza's leisure time he enjoys playing classical guitar. If he were to pick a favorite preacher, it would be Bro. Wayne Huntley. He and his family love to travel together. They have two dogs. He enjoys collecting books and loves to read Bro. David Bernard's books. Contact Pastor Sergio Vitanza by phone at 919-365-0177 or by email: vitanzafamily8@gmail.com