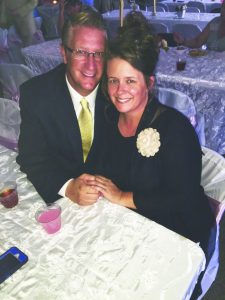 6 Paces to Your Miracle
Pastor Max Smith
II Samuel 6:9-15, "David was afraid of the Lord that day; and he said, "How can the ark of the Lord come to me?" So David would not move the ark of the Lord with him into the City of David; but David took it aside into the house of Obed-edom the Gittite. The ark of the Lord remained in the house of Obed-edom the Gittite three months. And the Lord blessed Obed-edom and all his household. Now it was told King David, saying, "The Lord has blessed the house of Obed-edom and all that belongs to him, because of the ark of God." So David went and brought up the ark of God from the house of Obed-edom to the City of David with gladness. And so it was, when those bearing the ark of the Lord had gone six paces, that he sacrificed oxen and fatted sheep. Then David danced before the Lord with all his might; and David was wearing a linen ephod. So David and all the house of Israel brought up the ark of the Lord with shouting and with the sound of the trumpet."
For over 100 years, the Ark of the Covenant had been separated from the Tabernacle and all of the other places of worship. After its capture by the Philistines, it remained in Philistia for seven months, then briefly at Beth Shemesh, and the rest of the time at Kiriath-Jearim. Now, David had taken Jerusalem, a neutral place, and made it the political capital of the kingdom, and all that remained for him to do was retrieve the Ark and place it in a tabernacle on Mount Zion — he would eventually build and declare Jerusalem as the religious center of the nation. I want you to pay special attention to verses 13 and 14. Notice that David danced before the Lord with ALL his might, and they sacrificed. If you get to the point of desperation in your life, if you get to the point where you must have a miracle, if you get to the point where you must have a divine encounter with the Creator, then I am here to tell you that you can go six more paces to your miracle.
Hebrews 13:15 proves that there is power in giving thanks. My two youngest boys love skateboards. I told my mother the other day, "I don't know if it's just a phase, but they love it." There's a little skate park in Jackson, so my wife and I took them and afterward while we were eating my son, Gabriel, said "Daddy, thank you for taking us." Now, that is just like our God. You will get a whole lot out of us as parents if you just say thank you. That's just the way God is. If you come to Him humbly and give Him thanks, then you will get what you petition from the Lord. I learned from my youth pastor many years ago that as we come into prayer, we start with thanksgiving first, then transition into praise and then we bring our petition to God. There's power in giving God thanks. Why do you think David wrote, "Enter into his gates with thanksgiving, and into his courts with praise…"?
Let's look at sacrifice for a moment. They sacrificed after six paces. The formal sacrificial systems of the Israelites were not implemented until the time of Moses. However, there were frequent references to sacrifice throughout scripture. A sacrifice is an offering of an animal, plant or human life for some material possession or to a deity. Now in the Israelites' sacrificial system, there were five major sacrifices; however, there's one that I would like to bring to your attention. This one relates to our lifestyle today, and that is the peace offering. It is called the peace offering because it promotes peacefulness between you and your relationship with God. The peace offering was mostly done in private except for the Feast of Pentecost. Imagine that. What would happen during the peace offering is the most inner parts of the animal would be separated from the rest of the body and would be burned as a peace offering unto the Lord. This is so relative to the situations we live in today. We have to come to the Lord with a sacrifice, and it has to be our inner parts. It has to be from our innermost being that we come to the Lord and offer Him a sacrifice of praise and worship.
The times are crying out to us. This is the end time. The world is crying out. The first step to teach is repentance, giving up your will for His. This is true worship. Sometimes it is a sacrifice to worship or praise Him. The very thought that I'm lifting my own hands out of my own will for His is called sacrifice.
Let's talk about the dance. Dancing has been in the church since the beginning of time. It is the oldest form of worship. The nation of Israel used dance as a form of worship throughout their history. Many Christians are opposed to dance because of what Satan has done to the dance. He has perverted the dance in the day we live. The Bible talks about how all things are created by God and for God. The dance was created by God to give Him praise. There is just something about dancing that can cause the service to go into a higher level. Dancing ushers in His presence. There's a word that I heard years ago for the first time. That word was abandonedly. We abandonedly worship. What does that mean? It's uncontrolled worship, not caring what other people think. That is abandoned worship.
The world we live in knows nothing of selflessness. You see, David was so excited about being in the presence of God and that the Ark was coming back. The Ark was the most sacred symbol. Whenever they went six paces from Obed-edom's house, they put the Ark down and sacrificed.
I'm going to make a profound statement. You see, death is always required to be in God's presence. The death of "my will." That is a part of salvation – death of the flesh and letting Him come to life. David did just that. He danced before the Lord with all his might, letting his will die. He danced as a result of deep passion. It was not to put on a show. His actions were pleasing unto God and not unto man. If you can get to the point where you worship Him unrestrained because your situation is so desperate, if you can just go six more paces, then you're going to have the move of God in your life that you need.