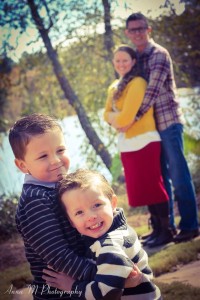 Michael A. Patterson, pastor of Faith Tabernacle Church in Conyers, Georgia, believes the secret to pastoral success lies in possessing a true servant's heart.
"A while ago my grandfather, who is our bishop now, preached a message called 'Servant of God, Servant to Man.' His point was that we are all called to be a servant and that's what ministry is about. We are servants of God, and we are servants to man. So I just adopted that as my personal motto or principle that I live by."
Bro. Patterson explained a bit more, "I never want to get to that point where I'm too good for something or I can't do something because of who I am. I want to always remember that I am a servant first. That's what ministry is always about: serving God. One of the ways is by serving God's people and sinners. Christ was the ultimate servant and He gave His life for us and made a way for us. I want to be a servant in ministry and serve anywhere that needs a servant. I never want to use one area of ministry as a stepping stone to get somewhere else or for self-benefit."
Principles of Growth and Revival
As a pastor of a growing revival church, Bro. Patterson is a busy man with many priorities. He believes that if he gets his priorities straight in his personal life that it can bleed over to the way that he operates and manages the church that the Lord has put in his care.
The goal is to make sure that God is the focus of everything. The pastor believes that Godly fellowship is a great teacher of revival, key to a growing church and a strong church. But Faith Tabernacle is not just a fellowshipping church; it is a church that seeks after God.
Although there is always an outline of each church service, it's subject to the move of the Holy Ghost. Their priority is to be led by the Spirit of God, which means that services sometimes take a different direction than originally planned.
Bro. Patterson has seen a lot of backsliders coming back to the Lord. He believes that one of the keys to revival is for the church to be consistent and have a place for the backsliders to come back. It is important for backsliders to feel comfortable and see the same things as when they left. They need to know that the church is still there, that they are still loved, and the church welcomes them back with open arms. "We are living in a changing world," said Pastor Patterson. "Sometimes people even change what they believe but the church has stayed the same. It's important to show that the church is grounded on the foundation of the Word of God, we still preach the same message, we still teach the same doctrine, we still worship. So consistency is a great key for revival."
Having a great prayer life is another key to revival. "We have intercessory prayer warriors that are continually in prayer for our church," said Bro. Patterson. "We have prayer rooms that are opened before every service. We have a prayer line also, kind of like a telephone tree where people call our operator with their prayer request. Our operator then sends out a message and the entire church prays. We definitely believe in prayer, worship, and the Word. "
Organization and Management
Bro. Patterson organizes quarterly directors meetings that all of the ministry directors and assistants attend. They meet after church on a Sunday, and a meal is provided for them.
Job descriptions are being developed for each ministry director. The current directors are assisting in this process because it's been a "learn as you go" type of experience. Bro. Patterson said, "Of course, we have done our best to verbally communicate the responsibilities to our directors, but we are working hard to get that on paper!"
The general planning is mainly done by the pastor, bishop and the administrative pastor. Then those leaders meet with the ministry directors individually and/or collectively (depending on what's being planned) to share their ideas and vision. "However, if any of our leaders have specific ideas, we set up a meeting and talk through it," said Bro. Patterson. "The guideline we usually use for planning is this: What? Who? Why? When? Where? How? How Much? These are our basic foundational questions for most ideas."
Bro. Patterson and the directors encourage everyone to get involved. "We have done our best to create areas of service for everyone from new converts to seasoned saints," the pastor said. "We've even involved non-converts in different areas of ministry to get them connected and help bring them closer to experiencing the New Birth for themselves!"
Special Miracles
The saints of Faith Tabernacle Church have seen many miracles take place, from saints dying and being brought back to life to adult entertainers changing their life.
"We have a young girl in our youth group who was born with Dextrocardia. This is where your heart is on the right side of your chest," Bro. Patterson explained. "She'd had some pain and discomforts from this her entire life. In fact, she's had to see her physician on a consistent basis for them to keep checking on her. Well, this young girl, along with some of the young people, were hanging out at a friend's house one day and this hang-out turned into a prayer meeting. That night the young people prayed for this girl, and God miraculously moved her heart to the correct side! She knew she felt something that night but wasn't quite sure what it was until her doctor confirmed that her heart had moved and was now in the correct spot!
"Also, on Easter Sunday 2011, our Worship Leader Sean Peacock was leading a song right before I was going to preach," said Bro. Patterson. "Suddenly, he fell on the pulpit and collapsed on the floor. He had suffered Cardiac Arrest and died. He was without a heartbeat for several minutes. The paramedics rushed him to the local hospital, and then they flew him to Piedmont Hospital in Atlanta. They had to put him in an induced coma. But thankfully the Lord brought him back, and he is alive and well! You can actually watch the documentary of this miracle on YouTube. Just search for Sean Peacock or Straight for the Heart."
Personal Ministry
Bro. Patterson's life started out in music ministry and from there he began helping on the youth staff. After a while he became the co-youth pastor and then the youth pastor. From there he became a pastoral assistant, then an associate pastor, and eventually the pastor. "It kind of seems like these were stepping stones but it wasn't for self-benefit," explained Bro. Patterson. "I just made myself available to serve where God provided the opportunity for me to serve. I was available to be a servant no matter if I was preaching a youth camp or cleaning toilets, as long as I had an opportunity to serve."
Current Facility
Faith Tabernacle Church began in a storefront building. The saints were only there for a few months before they outgrow the church and moved to a larger building. After that, they moved two more times and have been at their current location since 1991.
The current facility seats 300 in the sanctuary. "They started with around 20 people, then grew to over 100 in just a few months and have never dropped below 100 since," said Bro. Patterson. "On Easter Sunday 2014, we had 192 in attendance and another 35 watching online. So, our total Easter Attendance in 2014 was 227." However, on a normal Sunday service, attendance averages about 158.
Their facility includes two mobile units that can be used for a fellowship hall, children's center, Sunday school classrooms, youth center, office space and storage space.
The church became debt free in 2012, so they are just enjoying being debt free for now. However, the pastor hopes to grow the church to the largest that they can with the facilities that they have. "We do want to expand," he explains. "We have a floor plan of a Family Life Center that we would like to build but as of right now, financially, it's a little out of reach. So we are fixing up our current facility and eventually we will be pushed to go to multiple services (back-to-back services). From there I believe God will open up the doors for us to expand."
Personal History
Four years before Bro. Patterson was born, his grandfather started the church (in 1981). He grew up in the church with his grandfather being his pastor. When Bro. Patterson was a teenager his parents were divorced. "During that time, I just did my own thing," he said. "And there for a couple years, two years at the most, I was going to church but I wasn't really serving God or living right. I would just go. Thankfully I never got into drugs, alcohol or nicotine."
Eventually he came to his senses and began staying with his grandfather. One night turned into two nights, and two nights turned into a week, and a week turned into a month. He eventually ended up living there for another two or three years. "Those two or three years really saved my life and molded my life," he said. During that time he became a co-youth pastor and then a youth pastor. "My grandfather really helped by showing me it wasn't about title or position, it wasn't about fame or fortune, it's all about service."
After a few years in youth ministry, Bro. Patterson served as a pastoral assistant, then as the associate pastor, now pastor. "When I was around 21 years old, I remember praying about what to do: stay and continue moving toward becoming the pastor of FTC or go to start a church. My grandfather and I had discussed this on several occasions. He even told me that he'd help me start a church if that's what I felt God calling me to do. So, I really didn't know what to do at the time. Finally, one evening during a Monday night prayer meeting, I was at the altar praying for direction and suddenly I felt my grandfather come over, lay his hand on my back and say, "Son, you don't have to go anywhere." That was my answer! I knew from then on what the Lord was calling me to do. Now, I'm doing it! It took about five years from that point for God's promise to come to pass. And even though it wasn't always the easiest road to travel, the Lord's will was done!"
Written by Alexis Sims