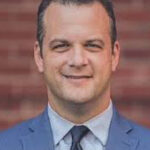 Written By Joshua B. Carson
"We need the wisdom, experience, and spirituality of the elder connected to the desire, strength, and vitality of the younger generation."
"But as one was felling a beam, the axe head fell into the water: and he cried, and said, Alas, master! for it was borrowed. And the man of God said, Where fell it? And he shewed him the place. And he cut down a stick, and cast it in thither; and the iron did swim. Therefore said he, Take it up to thee. And he put out his hand, and took it" – (2 Kings 6:1–7).
When Matt Wilson returned home from vacation in the early 2000's, he decided he would build a target in his backyard to recreate what he and his friends had come up with during their trip. Matt invited some friends over to find out how therapeutic it was to throw an axe at a wooden target. Since nothing says "unneighborly" like an axe crashing unexpectedly through a window, thankfully he installed a large wooden backdrop for safety. According to the Backyard Axe Throwing League website, "A point system was created, and soon enough a group of eight friends would meet every week and engage in some friendly competition. Those eight friends quickly grew and before he knew it, Matt was hosting two full leagues of a total of 60+ per night in his backyard, not including all the spectators that would stop by to catch a glimpse of our exciting new sport." Amazingly, axe throwing leagues now involve millions of people around the world.
Long before an axe was used as a game piece, it was used as a tool. Developed over the centuries, axes carved out of rock yielded to axes fashioned of iron and eventually became attached to a wooden handle where potential energy would become kinetic energy. While this may sound silly to some, there is a proper and an improper way to hold an axe when using it. While the swing and the result will quickly reveal whether an individual is skilled with an axe, simply the way they handle an axe is already telling the story. For any real woodsman, watching a rookie trying to chop wood without proper handling and technique is an emotional concoction of fear, nervousness, and humor. Someone seasoned in using the tool automatically places their offhand near the bottom of the handle with their dominant hand nearer the iron at the top. With their footing and their surroundings considered, in a fluid motion they will swing the axe overhead with their dominant hand sliding seamlessly down the handle and coming to rest in harmony with their offhand near the base. Both their footing and the distance to the target are calculated as to make proper contact safely and efficiently. After all, what good is a tool or a weapon that is not under control?
The story narrated in II Kings chapter six is one that most of us have read and heard spoken of many times before. Typically, the miraculous moment that rounds out the story gives it a platform, whether by pen or podium. When iron swims, people not only notice, they remember. Miracles automatically earn memory and always deserve sharing for the glory of God. But now throw your reader in reverse and contemplate the start of this chapter. Elisha is listening to the lamenting of a student who is not overly impressed with his cramped living conditions. This student belonged to a special group, known as the sons of the prophets. Student enrollment grew while vacancy shrank, all due to the miracles accompanying Elisha's ministry. When dead sons are coming back to life and a leader's leprosy is drying up, it has a tendency to draw a crowd.
These crowded conditions are the reasoning behind the young man's request to build an addition. It seems a dichotomy for the words "prophet" and "comfort" to work in harmony, yet Elisha relents and grants the request… and even agrees to accompany them. When given the choice between proximity to the prophet and comfort around the corner, why would any student in training choose the latter? Their livelihood as students was most likely meager, and there is soon an action that causes concern. Frantically a young man calls out to the prophet Elisha because he has lost the iron of an axe into the water. Automatically, anyone skilled with an axe reasons that one of two things happened. Either he swung improperly, hitting the wood and breaking off the head, or his inexperience kept him from assessing that the iron was already loose. His expression was telling the story before his mouth ever caught up saying, "Alas Master! For it was borrowed" (vs 5).
Who borrows an axe to build his addition? What a dangerous decision it was to begin building, chopping in zeal without owning up to lacking the proper training to handle an axe. Yes, I'm glad that it set up the miraculous moment for the prophet to throw in the branch and the sons of the prophets to witness the iron swim. However, what if that iron would have missed the water and hit a peer in the head or the heart? While I honor his desire to work, I'm troubled by his impatience and possible arrogance that is on display. As a whole, the church desperately needs a multi-generational revival. Yet, this cannot occur without multi-generational training. We need the wisdom, experience, and spirituality of the elder connected to the desire, strength, and vitality of the younger generation. May our elders be willing to train physically and spiritually for our future. In response, may our younger generation invest the time and resources to own and properly utilize the tools rather than immaturely break what was only borrowed and never purchased.