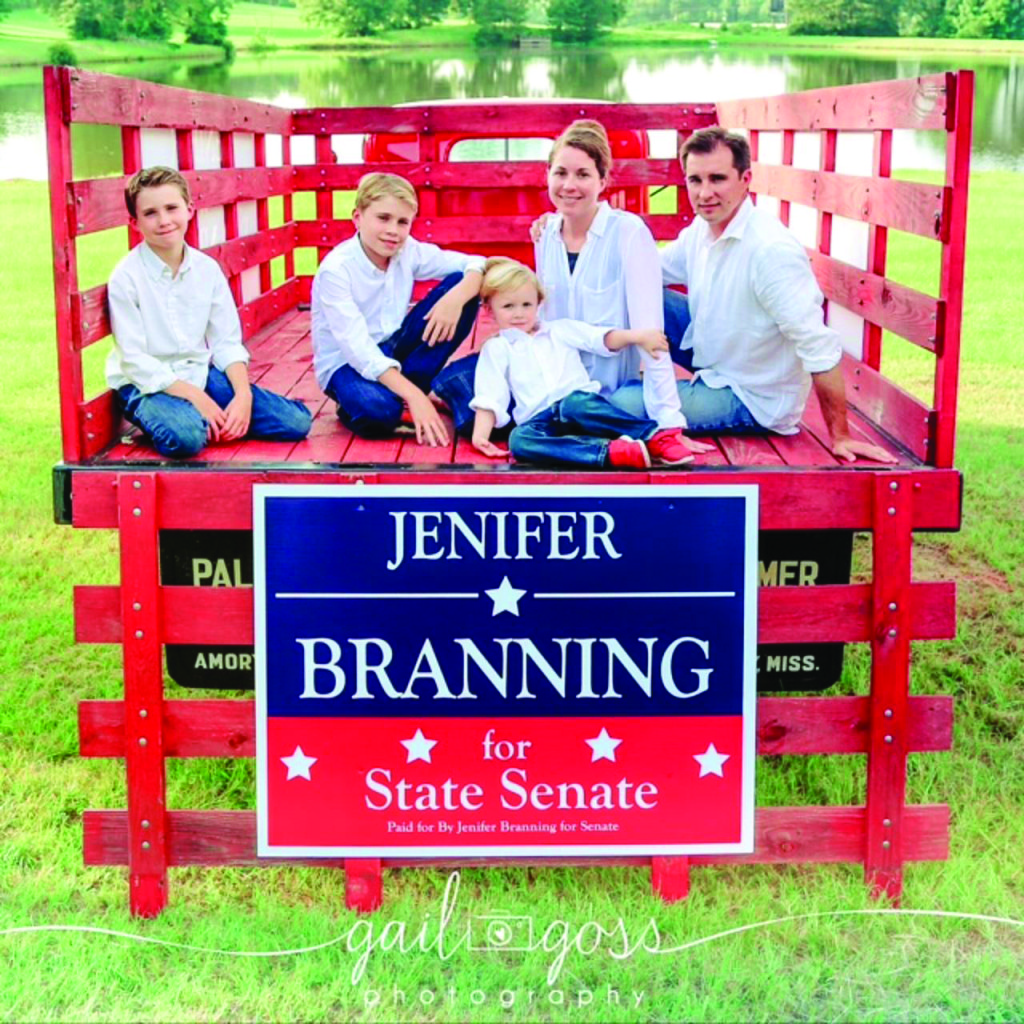 Sis. Branning, tell us a little about yourself, your background and your church involvement.
I am an honors graduate of Leake Academy and Mississippi State University with a Bachelor in Business Administration. I also attended the MBA program prior to entering law school. I graduated from Mississippi College School of Law in 2004, and had the privilege of serving as a staff attorney for the Mississippi Secretary of State's office upon graduation. In 2006, my family and I moved back to our home town of Philadelphia, Mississippi and opened Branning Law Firm, PA, which specializes in business and real estate transactions.
I am an Apostolic Christian, wife of 17 years to Chancy, mother to Ethan, Ellis and Evan, practicing attorney and now a Senate-elect for the state of Mississippi. I, along with my husband and sons, are active members of Pine Grove Pentecostal Church (PGPC) in Sebastopol, Mississippi. At PGPC, I have taught Sunday school and business leadership classes, and have served as co-chair of the PGPC Ladies Department for several years. Additionally, I am honored to serve as a founding board member for Hope's House (a subsidiary of PGPC), which is a children's foster home that is in the beginning stages.
Chancy is a licensed real estate agent and heads the land title division of Branning Law Firm, and he also serves on the music staff of PGPC as a percussionist. In the past, he has chaired committees such as the Neshoba County Tourism Board and the Philadelphia Community Development Partnership.
Our boys, Ethan (12), Ellis (10) and Evan (4) all attend Pine Grove Christian Academy and are involved in PGPC Bible quizzing and Standout Youth.
Tell us a little about Pine Grove Pentecostal Church and Pastor Mark Copeland.
Pastor Copeland is the most aggressive visionary that I know. He and his wife, Sis. Melanie Copeland, truly lead by example. When the Copeland's began pastoring PGPC in 1998, the church had approximately 40 members. Today, PGPC has over 400 active members in a town with a population of less than 200. People drive from all over the central Mississippi area to attend PGPC, because of the dynamic worship, outstanding music program, and most importantly, the love for outreach and souls. PGPC has numerous departments and programs that are constantly meeting, planning or working to prepare for the next function. From Pine Grove Christian Academy, to Hope's House, to the PGPC bus/outreach ministry, to PGPC Bible quizzing and to various "daughter works," Pastor Copeland is leading the way to revival in the last days, and is attempting to reach every single soul in the process. It is a privilege for my family to attend such a growing congregation that is full of hope and love for souls. The solid Biblical teaching and preaching over the years by Pastor Copeland, coupled with the wonderful example of Sis. Melanie Copeland, has prepared me for the political path that I am now walking.
Did you hold elective office before this? Why did you decide to run for state senate? What's the story behind it and your motivation?
While I have served as a special prosecutor for Neshoba County, I have never held an elective office. In 2011, I ran (unsuccessfully) for the Neshoba County Justice Court Judge position, while expecting child number three.
I had been considering a legislative position for some time. I believe that "to whom much is given, much is required" applies to all facets of life. I have been fortunate to have obtained a law degree and now run a successful law practice. My desire to see various improvements in my community and state, coupled with my education and experience, led to my decision to seek the state senate seat. With my husband and pastor's blessing, I filed qualifying papers to run as a Republican for Mississippi State Senate District 18 in January of this year.
Was it a difficult race? What was your most difficult moment?
We, as a family, dedicated a tremendous amount of time and energy toward the campaign from February to August 2015, while maintaining our work responsibilities, family responsibilities and volunteer commitments at church. Almost every week, we had any number of political rallies, fundraisers or forums to attend, in addition to grassroots direct voter contact through knocking doors and making phone calls. In addition, the boys accompanied us to almost every single event. Therefore, from a time and energy perspective, the race was extremely difficult on our family. However, at the same time, we enjoyed the time together and the boys learned a great deal about the political process and the inner-workings of a grassroots campaign.
There were four candidates in the race, including me. I was the youngest, the only female, the only attorney and the only Apostolic Christian. In Mississippi, a candidate must receive a simple majority of total votes cast in order to win without a runoff. Not every state has this rule. In the primary, I won 43% of the overall vote, and the other candidates received 24%, 22% and 11% respectively. While this was an impressive lead, I had to face the second place candidate in the run-off election, which was held three weeks after the primary.
My most difficult moment was the realization that my opponent in the run-off made the decision to attack me personally and publicly for being a wife and working mother seeking public office. I strive to put God and my family ahead of anything else in life, so this attack was brutal. I had been attacked for being "another attorney," but that was expected and did not affect me. However, we did not respond one time to any negativity during the campaign. We stayed on message and remained positive, and we prevailed in the end with 67% to the opposition's 37%.
Many of the young people from PGPC served as interns with the campaign. They spent countless hours knocking doors, making phone calls, placing yard signs and generally helping to prepare for Election Day. We could not have possibly achieved the level of results realized without the help and support of the volunteers and interns who participated in the campaign.
Did your opponent or the news services attack your faith or church affiliation? Was your being Apostolic ever an issue?
I have never viewed being Apostolic as a hindrance, as living this way is a choice. I do not recall an attack during the campaign for this reason. In fact, most people seemed to respect this lifestyle, and the public seemed pleasantly surprised by the quality of interns that assisted with the campaign.
Would you encourage other Apostolics to consider getting involved in politics? Why or why not?
I would encourage every Apostolic to prayerfully set goals and then live deliberately and with the effort and self-discipline required to achieve those goals. If an Apostolic has the qualification, experience and desire to seek public office, then the same should be approached with prayer and pastoral counsel. This way of life is a choice, not a hindrance, and living it due to a deep relationship with God brings the favor of God.
What would you like to influence most in Mississippi as a state senator? Besides general representation of your constituents, what are your target passions to help the people in Mississippi?
One goal that I have is to implement various business tax cuts (specifically the franchise tax) in order to grow our existing business and to create jobs. At the same time, we must continue to strive for an improved system of education for our children. An educated workforce is always a motivating factor for the recruitment of new industry, and another goal in mind is to recruit and maintain large industry for job creation and economic stabilization. My general motivation is to improve the quality of life for Mississippians through aggressive tax cuts and lessening of government regulation, all while working to protect our Second Amendment rights, right to life and traditional marriage.