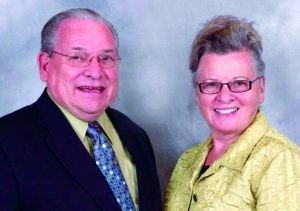 Bro. Lloyd Shirley has been involved with Compassion Services International in administration and a leadership role for at least 18 years. For the last 10 years, he has served as a CSI board of trustee member. Prior to that, he advised and led through his role on the Foreign Missions board.
However, Bro. Shirley's first interaction with CSI was as a UPCI field missionary to the Leeward Islands. In 1989, Hurricane Hugo came through the islands and devastated St. Croix, the island where he and his family lived. He remembers, "Our whole house was blown away by Hugo. We were totally cut off from communication. We saw no one from the outside for seven days. We were just there, with no way to do anything or go anywhere." Bro. and Sis. Shirley, their family, and the churches in St. Croix became some of the earliest recipients of CSI's disaster relief fundraising.
The Shirleys started their lives of ministry evangelizing in 1964 and shortly thereafter pastored a home missions church in Worthington, Minnesota. Around 1973, Bro. Shirley heard that the islands of the Caribbean were ready for revival and needed church workers.
He recalls, "I decided to go to the islands to see if this was where I might fit into the work of the Lord and was overwhelmed with the great need. I did not hear a voice or see writing in the sky but just felt the need to assist in bringing a revival to a needy area of the world." So they made application and received their appointment in 1973, and they arrived on the field the next year.
The Shirleys served in the Caribbean as missionaries until 1993 when they were appointed as regional field supervisors for Central America, Mexico and the Caribbean. They saw much exciting growth and revival throughout the region while filling that role. In the year 2000, Bro. Shirley transitioned to being the director of Education and of AIM and served in that capacity through the year 2010. During his tenure, the Global Association of Theological Studies (GAT) came into being and has grown now to include over 500 overseas Bible colleges.
"Having been through a couple of disasters myself on the field . . . it helps one to understand that you can't make it alone," he says. "Going through a helpless situation makes you realize the importance of someone coming to help. I still remember the first person coming up the hill after seeing no one for seven days. Fellow missionary Gary Landaw had managed to get into St. Croix from Puerto Rico and brought aid to us." Compassion Services International was started to be this kind of help for our missionaries and churches all over the world in times of humanitarian need, after natural disasters, and when other desperate situations arise. Bro. Shirley has continued to work with Compassion Services International all these years, because he believes in the mission of CSI and the need for the work that the organization does.
CSI needs your funding, support and prayers to continue our work. To donate, please visit www.compassionservices.org. Donations, contributions and offerings made to CSI's international relief efforts can also qualify for direct offering credit through the UPCI Global Missions.