Hannah (Benson) Blackmon – Missionary to Guinea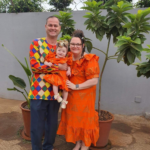 Logan and Hannah Blackmon
What would it be like for a young missionary couple, the first North American UPCI missionaries appointed to Guinea, to take their toddler daughter to an economically challenged, predominantly Islamic nation in French-speaking West Africa where doctors and hospitals are not readily available?
The answer, from Hannah Benson Blackmon, a 2015 Worship Studies graduate from Indiana Bible College (IBC), is positive in just about every way. She and her missionary husband, Logan, "have a beautiful, 15-month-old little girl named Sophia Brielle. She brings so much life and joy to our family … and maybe an ounce of sassiness, too." (Add smiles here.)
A Missionary Family – The Next Generation
What are a young mother and father's concerns in their situation?
"I think some of the obvious concerns are things like healthcare. Being that we live in a very poor nation, good doctors and hospitals are not readily available. However, God has really blessed us by providing a medical missionary who just so happens to be a pediatrician from the USA! She takes great care of Sophia!"
Meanwhile, Sophia is taking her missionary life in stride, albeit in short, occasionally tottering steps. 
"We are so blessed that Sophia is such a friendly and outgoing little girl," Hannah said. "She loves the people here, and they love her! We are thankful for the church community she is surrounded with here in Guinea. It's a source of friendship and blessing to her."
Hannah is the daughter of Michael and Danan Benson, UPCI Missionaries to Benin and the Central African Republic, over 700 miles to the east of Guinea. Hannah and Logan arrived as the first resident missionaries to Guinea in 2019, a nation of about 13 million people located on the Atlantic Coast of West Africa north of Liberia and Sierra Leon.
Hannah's brother, Thad Benson, and his wife, Emilee, both IBC grads, have recently been appointed as Associate Missionaries to Benin where they have already served a term as short-term missionaries. A younger brother, Micah, is a fifth-year student at IBC and president of the Missions Club.
Hannah began nurturing a call to global missions in 2003 when she was 10 years old and living with her family in Madagascar, where her parents were serving on the Associates in Missions (AIM) program.
"It was during our one-year term there that I felt God speak specifically to me that I would one day be a missionary myself," she said. "That call and passion have stayed with me since that time."
Training for the Call
Later, when her parents moved into full-time missionary work, she visited IBC where her parents were speaking at a Missions Conference. It was 2007 and she was 14 years old. "After that Missions Conference," she said, "I knew IBC was the place for me."
Did IBC help her prepare for missionary work? "Definitely!" she said. "I was a Worship Studies major. I knew that was the field God wanted me to study, but I truly never understood how that would fit into my mission's journey. Then, when my husband and I arrived in our nation of appointment, I saw the huge need to establish a music ministry. Music is an important part of my ministry here. However, every Theology and Biblical Studies class also equipped me with tools to help teach alongside my husband in the churches here."
When she and her husband arrived in Guinea two years ago, there were three churches in the southern portion of the country established by workers from the UPC of Liberia.
"Today," Hannah Blackmon noted, "we have seven UPC churches, and one of those is now located in the capital city of Conakry. Thank you, Jesus!" They plan to have expanded training programs in the near future.
Hannah and Logan met in Africa, soon after she graduated from IBC. Both were on short-term missions assignments, she in Benin and he in neighboring Togo. Their friendship, established at conferences and regional meetings, eventually became a relationship, and then marriage. She and her husband have become fluent in French, but she learned that communication goes beyond just the language.
Her greatest cultural adjustment? "I think the biggest cultural adjustments have been learning to communicate well," she said. "It's learning how to see from a national's perspective. When you have two people from different cultural backgrounds analyzing the same situation, you're likely to have two different solutions. It's about being open to learning, and being flexible."
What does she enjoy most about life in Guinea? "There are sacrifices," she acknowledged, "like leaving friends and family back home, but we have such joy living here. We truly love our life! We love the people we work with here. We love seeing what God is doing in the work."