The God of More Than Enough | Apostolic Ministry Vol 32 No 1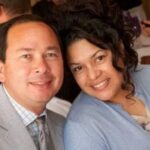 Monte Albalos, Monterey CA
Rev. Monte Albalos was asked why he would want to choose Monterey, California for a church plant, but God had given him confirmation. The very affluent Monterey area includes every walk of life, from movie stars, military, very wealthy, professional athletes, Italian mafia, drug addicts, and gangs. It is one of the most expensive places to live.
Five to six million people visit Monterey yearly. A hundred thousand visitors visited the Wharf after the COVID lockdown was lifted.  
From the age of 2 to 11 years old, Bro. Albalos was in foster care and attended the Apostolic Gospel Church in Delano, California. Later, at a 1983 Western District Senior Camp, he prayed through and began attending the Sounds of Pentecost. It was there that he and his family served in various ministries, from Sunday School to Associate Pastor.
While on vacation in Monterey, Bro. Albalos bought a coffee mug with the names "Carmel" and "Monterey" on it. On occasion, he would casually pray for each city. There was no Apostolic church in Monterey, and the average time a pastor would stay there was for two years.  
While serving as one of the Assistant Pastors at Revival Center in Modesto, they started sowing seeds in Monterey (which was over a two-hour drive each way) for nine months. On June 1st of 2013, they officially launched the Monterey House of Worship. Because of giving to Global Missions, God has opened doors for buildings. One of the first buildings was the Historical Carleton Hall, the site of the first Protestant church in Monterey, for only $400 per month. They were in that building until COVID-19, and their largest attendance was 253. Several District events were held there. They have baptized over 150 people in seven years, and over 100 have received the Holy Ghost.
Bro. Albalos prayed over the areas of the Fairgrounds and Cannery Row and brought Bro. and Sis. Jasinski there for a territorial prayer walk on those properties. 
After being online for a year, obeying the laws of the land, God spoke to him and said it was time to get a building. In March of 2021, God opened doors for them to have outside worship and use the paid parking lot on Cannery Row for free. In the same month, God opened doors for a new facility with 6,600 square feet, an overhead screen, a café, large restrooms, a new sound system, and everything else, completely remodeled for $400 per month. To God be the Glory!
From what he was told, two businessmen spent about $250,000 on a remodel to host a bingo night. It didn't go well, and that became Monterey House of Worship's blessing. The building is sanitized before they get there and sanitized when they leave, as part of the service. 
They've had non-stop visitors, people receiving the Holy Ghost, and several people asking to be baptized. In the last seven years, eight people have been healed of cancer, including a restaurant owner that was healed when an anointed tissue was sent to her (Acts 19:11-12). They have baptized people in Monterey who now attend or have attended churches in Maine, Texas, Australia, and Hawaii.
Bro. Albalos says he was always taught by Rev. Ron Mullings and Rev. Harvey Cantrell to give to missions, and God would bless his church. Currently, they give to sixteen missions efforts.