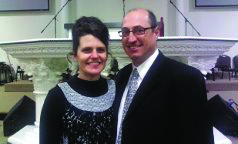 Evangelist Eddie Gorden of Visual Truth Ministries knows what it takes to grab children's attention. "We use puppets, up front games, illusions, and illustrated sermons to teach biblical truths," he said. "Our ministry is based out of the Bastrop United Pentecostal Church in Bastrop, Louisiana, pastored by Dwight Fulton and Bishop A.J. Fulton."
Bro. Gorden and his wife started out teaching in the Sunday School Department at their home church over 20 years ago. As time passed, they moved from teaching to assisting in the leadership of the Sunday School Department. "About eight years ago, my wife, our youngest daughter and I started going out once in a while to minister in area churches," he explained. "God has opened many doors and now we are scheduled to be involved in Save Our Children crusades, home missions crusades, and youth camps in 2016." He added, "I think the greatest influence in our ministry is our Bishop A. J. Fulton. He has always infused our youth and children. Youth Quake at Bastrop United Pentecostal Church has been one of the biggest influences in our life and ministry.
"Our ministry is unique in the way we use the tools God has blessed us with in providing something fun and exciting while teaching biblical truths and principles. Many children know us by the six-foot balloon we use. We have had up to 15 at one time inside a six-foot balloon. It is something they never forget."
As a children's evangelist, Bro. Gorden has many stories and memories he will hold on to for a very long time. "I guess the one that stands out the most is of one little boy in Florida," he said. "I was asked to come down and pray for him. As I asked him his name and what he was praying for, his reply was one I have heard many times over: 'I want the Holy Ghost.' I told him that Jesus wanted him to have just what he was wanting, and as I prayed with him, God so graciously filled him. The reason this is my favorite is because he was the child that God used to direct me into this wonderful ministry."
So, what does it take to be a successful children's evangelist? "I feel that you must love children and have the burden to see them receive the greatest gift any one could ever receive," said Bro. Gorden. "I know that sounds pretty simple, but Jesus never meant for it to be difficult. Children truly are the greatest!"
For more information on their children's ministry, contact the Gordens via e-mail at ed.gorden@yahoo.com or by phone at 318-547-5491 (cell) or 318-281-7795 (home).