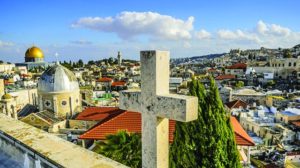 The Real Difference Between Christians and Muslims
The Internet is typically abuzz over the question "Do Muslims and Christians worship the same God?" A cacophony of largely Christian voices exhausted themselves arguing these complex issues, to almost no one's satisfaction. This isn't the first time people have debated this question, and likely won't be the last.
The primary problem is that the dispute is focused on the wrong question. Understanding what Islam and Christianity do and do not hold in common is an important task these days, but asking whether Muslims and Christians worship the same God will not get us there. If our goal is to compare these two religions we need to shift our focus to a much more illuminating question: How do Christianity and Islam differ? With the answer to this question in hand, ironically, we are in a better position to address the "sameness" question.
During the contentious debate, Trinitarianism was often offered up as the core difference between Islam and Christianity: Christianity embraces it, Islam does not. But this observation, while accurate, does not automatically locate the decisive issue. Neither the Old Testament faithful nor even the earliest Christians could have articulated orthodox Trinitarianism as we understand it, which as a doctrine wasn't fully worked out by the church until the fourth century. So reducing the question to the presence or absence of historic Trinitarianism is not a helpful way of getting at the key difference between Islam and Christianity.
The decisive issue between Islam and Christianity is, quite simply, the gospel—the Bible's account of what God has done, is doing, and will yet do through His Son to redeem His creation. It is this "good news" story of the Creator's eternal, Son-centered plan of redemption that reveals to us who our Creator truly is. This gospel story is the watershed issue that exposes the dramatic difference between Islam and Christianity. It is not until this difference is grasped that the question of what Christianity and Islam may or may not hold in common can even be addressed.
Before the term Christian was applied to those who believed Jesus was the Son of God, early believers called themselves followers of "the Way" (Acts 9:2; 16:17; 19:9, 23; 24:14). There's a clear reason for this, Christianity is about "the Way" which the Creator—revealed now through his plan to be a loving heavenly Father—has graciously opened for his estranged, mutinous creatures to be reconciled to Him.
It is this gospel that informs the gaping divide between Christianity and Islam. Christianity recognizes, embraces, and proclaims this Son-centered plan and the triune God it reveals to all who will hear. Islam repudiates this Son-centered plan and the divine triunity it reveals and substitutes a dramatically different proposal in its place. If our goal is to compare Christianity and Islam, this is the difference we need to grasp.
—–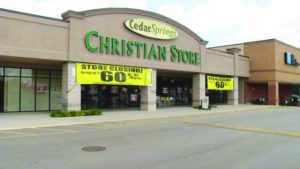 TN Newspaper Rejects Ad Over "Offensive" Word Christian
The owners of a Christian bookstore in Knoxville, Tenn. were dumbfounded after the News Sentinel rejected their ad because it included an "offensive" word – Christian.
Lois McGinnis and her family own Cedar Springs Christian Store. They recently decided to close a second location of the store so they wanted to place an ad in the classified section of the newspaper, which is owned by Gannett.
The advertisement read: "Store closing sale – Cedar Springs Christian Store – Clinton Highway location – All merchandise, fixtures, slat walls must go. Sale through August 13, phone 865.947.XXX."
The ad was scheduled to run but when Mrs. McGinnis opened up the newspaper – the ad was nowhere to be found.
So Mrs. McGinnis phoned the newspaper and spoke with a classified ad employee. "She said our ad did not run because it contained an offensive word," she told me. "I asked what that offensive word was and she said the offensive word was 'Christian.' As Christians, this was a slap in the face to us."
She said the News Sentinel did not notify her in advance the ad had been rejected nor did they call to say they were refunding her money.
So the bookstore decided to tell their customers what happened in a very clever Facebook posting. It was simply titled, "Do you find the word 'Christian' offensive?"
Let's just say the good, church-going folks of East Tennessee lit up the telephones – and it wasn't too much long afterward that the Knoxville News Sentinel addressed the issue.
They offered up one heaping helping of an apology "for any misunderstanding about the News Sentinel stance on Christianity."
"We had a system failure, which resulted in a classified ad for Cedar Springs getting hung up in our front end system," they wrote in a statement posted online.
A front end problem, eh?
"We corrected the technology issue in our system and the ad is now running for an extended period at no extra charge," they added.
And for the record – the newspaper does not have a problem with Jesus.
"The News Sentinel does not have a bias against Christianity or any other religion," publisher Patrick Birmingham wrote in response to online critics.
However, the newspaper's explanation doesn't seem to be placating its readers.
"Considering how liberal this paper is…I take the apology with a grain of salt," one reader wrote on Facebook.
Another wrote, "Don't be offended Cedar Springs Christian Stores… Nobody has read the Knoxville News Sentinel in over a decade anyway. Spend your advertising dollars elsewhere."
"I cannot believe they are doing this now. I am so glad I do not subscribe to them or give them my business. To not sell an ad because the store's name has the word Christian in it is absolutely wrong. I guess if the store was called Cedar Springs Muslim store it would be published. I hate to tell them, but the majority of the people who live here proclaim to be Christian," another irate reader added.
Well, let's hope the News Sentinel has fixed their front end problem – lest their readers give them a back end problem.
—–
NEWS IN BRIEF
The Netherlands, Belgium, Colombia and Luxemburg now have legalized euthanasia while in Switzerland, Germany, Japan and Canada, doctor-assisted suicide, where patients take the final action themselves, is legal. In the U.S., euthanasia is already legal in five states, including Washington, Oregon, California, Montana and Vermont. Proponents are attempting to legalize assisted dying nationwide with 20 states currently facing proposed euthanasia legislation.
Less than one-third of U.S.-educated millennials are able to identify Israel on a map, a new survey has found. A mere 31 percent of respondents knew the location of Israel on a map of the Middle East. Close to 50% were able to locate Iraq and Iran on a map, with 61% able to identify Saudi Arabia.
—–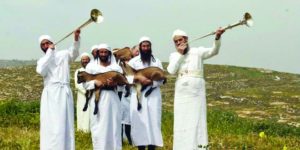 Temple Institute to Open School to Train Levitical Priests
Things seem to be really accelerating toward the fulfillment of Bible prophecy from the increase of wars, pestilences and false prophets these days. Now we are witnessing events coming together to bring about the fulfillment of prophecy in Revelation chapter 11 regarding the Temple Mount.
A new report indicates that the Temple Institute, which is dedicated to reestablishing the Holy Temple in Jerusalem and in keeping its memory alive, announced it is opening a school for training Levitical priests for their eventual service in a new temple.
The institute ran several pilot programs in recent years and now "is embarking on a mission to teach Kohanim all the practical skills required to serve in the Third Holy Temple," it said in a statement. The institute has opened an Indiegogo crowdfunding campaign to raise at least $75,000 for the project.
The Temple Institute hopes one day to replace the Dome of the Rock with the Third Holy Temple, but not by violent means. Observant Jews pray for that to happen in every daily prayer service, with some awaiting the appearance of the Messiah and others believing that they must act to bring the Messiah closer.
—–
Christian Revival Sweeping Iran, Despite Persecution
Iran is experiencing a Christian revival despite the Christian persecution that exists there, reports ChristianToday.com.
Gathering together to worship the Lord is prohibited in Iran, but that isn't stopping God from working. Many believers are connecting with a Christian community online.
"The main church is my house, and through the Internet I connect to everybody," said one believer named Reza. "That's why it's become like an Internet church." Believers connect to churches in the U.S., Canada, Germany, and Malaysia via Skype.
Reza said that many of the Christian converts came to Christ after they had a vision or dream. In 1994, there were about 100,000 believers in Iran. Currently, the number of Christians in the country has risen to about three million, despite the fact that persecution against Christians has also increased, and Iran is ranked ninth on Open Doors World Watch List for Christian persecution.
Many of the Christian converts are leaving Iran for Turkey where persecution is less severe. In Turkey they hope to gain refugee status and eventually emigrate to other countries.