Muslim Man Intent on Killing Christian Family is Miraculously Converted
A Muslim man determined to kill Christians has miraculously encountered Christ and become a Christian himself.
Charisma News reports that Al-Rashid was the commander of a radical Islamic group that sought to bring all people and nations under Islamic rule.
Al-Rashid was especially angered by a report of a former Muslim who had converted to Christianity, become a pastor, and began spreading the gospel. Al-Rashad decided to target Pastor Paul and his family, but God had other plans in mind.
Al-Rashid and his band of followers attempted many times to capture Pastor Paul and his family. Their plan was to kill the pastor's family members and force Pastor Paul to convert back to Islam.
"We attacked them several times," Al-Rashid recounted, "and miraculously they escaped." They tried to ambush and kill the family at night, but saw what appeared to be soldiers surrounding the family's house. Another time they tried to poison the pastor's children, but the children survived. Still another time they tried to capture the family when the daughter was sick and being placed in an ambulance.
"I was watching with two others from an ambulance near the hospital to see his daughter's death. Our plan was to kidnap the dead body along with his family in our ambulance," Al-Rashid recounts.
Then, something miraculous happened. "I saw a ball of light come down from the sky and stand over the room where his daughter was lying unconscious," he says. The pastor's daughter regained consciousness and stood up, healed.
Al-Rashid saw a hand reach down with a hole in it and blood flowing from the hole.
"I trembled with fear," Al-Rashid says. "I felt giddy and fell down. My friends moved me from there at once."
After this vision, Al-Rashid felt no peace. A shadow of a human face appeared with the same hand he had seen earlier and asked why Al-Rashid was "nailing Him."
Ironically, Al-Rashid had a Bible in his house for the purpose of refuting Christians. He picked this Bible up and flipped it open to John 1:9-10 which says: "That was the true Light, which lighteth every man that cometh into the world. He was in the world, and the world was made by him, and the world knew him not."
Al-Rashid understood that the passage was about Jesus. Soon after, he surrendered his life to Christ. "Jesus is the Prince of Peace. And He will give you peace," he now tells others.
Al-Rashid now works with Bibles for Mideast, distributing God's Word to those who are just like he was.
—–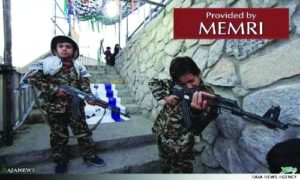 Iran Opens Amusement Park For Kids To Practice Attacks On Israel
Children in Iran reportedly now have the opportunity to train for jihad in a new educational theme park that both indoctrinates them on the evils of Israel and the U.S. as well as letting them practice shooting at Western targets.
The Middle East Media Research Institute, also known as MEMRI, has obtained an interview given to a media source close to the Iranian Republican Guard as it reported on the educational theme park called City of Games for Revolutionary Children Park.
In Mashad, Iran's second largest city, the park was open free of charge for children between the ages of 8 and 13. The attraction ran for several weeks with the option to run for longer if interest was high. According to the interview, the park was in "high demand" and could be expanded soon.
The park reportedly consists of 12 stages of jihadist indoctrination. Hamid Sadeghi, the director of the institute hosting the park, described the mission as one that seeks "to convey to the children messages about fighting, the Holy Defense and current global issues, through games, amusements, and group activities." The rest of the park's activities lean to a decidedly military nature with the children dressed in camouflage fatigues.
Crawling under child-sized barbed wire obstacles, learning to move with child-sized replica AK-47 rifles, the children shoot bullets and plastic mortars at effigies of the Israeli Prime Minister, the American flag and Israeli flags, the Saudi Royal family and ISIS fighters.
—–
Judge Orders California Pregnancy Centers to Give Abortion Info
A federal judge refused to grant a preliminary injunction recently against a California law that forces pro-life pregnancy centers to advocate for abortion.
Under the law, pro-life pregnancy centers must give information about abortion even though they exist to offer abortion alternatives.
The National Institute of Family and Life Advocates (NIFLA) has sought an injunction since October. NIFLA includes 1,350 pro-life pregnancy resource centers, including 115 in California.
But Judge John A. Houston refused to put the law on hold while the lawsuit proceeds, becoming the third federal judge to do so. He indicated during the hearing that he thought the required information was necessary for women to make "an informed decision."
California's "Reproductive Fact Act" took effect Jan. 1. It requires licensed, religious, pregnancy resource centers to inform women, with either posted signage or a handout, that the state offers free abortions for qualifying women. The New York Times reported many of the pregnancy centers have yet to comply, but NARAL Pro-Choice California plans to monitor the centers.
—–
NEWS IN BRIEF
The French Council of State recently upheld the French Broadcasting Council's ban of a commercial intended to convince mothers not to abort their babies after discovering they have Down syndrome. The ad's original purpose was to showcase all the normal activities that children with Down syndrome are able to enjoy. However, the French Council said the ad would "likely to disturb the conscience of women who had lawfully made different personal life choices."
Marriott International will not carry Bibles or the Book of Mormon at its new millennial-oriented hotel brands, the Moxy and Edition hotels. A recent survey found that the percentage of hotels that offer religious books in rooms has fallen over the past 10 years. In 2006, 95 percent of hotels carried such books, and this year, it's estimated that only 48 percent of hotels carried religious materials.
—–
Evangelicals Key Group in Propelling Trump to Victory
Research now shows that evangelicals were a key factor in the recent election of Donald Trump as our nation's 45th president. One commentator noted that "This was the largest turnout of evangelical voters in American history."
Despite many evangelicals' reservations about voting for Trump, Christianity Today notes that research shows four in five white evangelicals voted for him. White evangelical Christians voted for Trump over Hillary Clinton 81 percent to just 16 percent.
Evangelicals of color, however, preferred Clinton. These evangelicals represent two in five of all evangelicals.
Political commentators said that Trump made much more of an effort than Clinton to court the vote of evangelicals. Although some evangelical leaders such as Russell Moore, Denny Burk and Max Lucado remained firmly against Trump, many other evangelical leaders such as Robert Jeffress and Jerry Falwell Jr., the president of Liberty University where Trump spoke several times, were enthusiastic Trump supporters.
Research also shows that evangelicals made up one in four of all voters in the 2016 election. Other demographics that voted heavily for Trump were Republican men (90 percent), Republican women (89 percent), and conservatives (81 percent).
—–
Ohio School Districts Suspend Student Bible Clubs Amid Complaints by Nation's Largest Atheist Group
Bible study clubs at two schools in Ohio have been suspended following a complaint made by a Wisconsin-based atheist group. The Columbus Dispatch reported that two schools in Fairfield County have temporarily suspended their Bible clubs in response to a complaint letter sent by the Freedom From Religion Foundation.
"[FFRF] sent letters to four school districts regarding Bible studies held in eight high schools, junior high schools and middle schools before class or on lunch breaks," reported the Dispatch.
"Such groups violate protections of separation of church and state if they are led or regularly attended by local pastors," said Ryan Jayne, a legal fellow at the Wisconsin-based foundation.
Of special concern was the involvement of Faith Memorial Church of Lancaster, whose website temporarily listed the Bible clubs as places where their pastors speak.
Youth Pastor Aaron Green of Faith Memorial Church told The Christian Post that the pastors and the school administrators "have always had an extraordinarily great working relationship, one that has helped these groups to thrive and to be encouraged in a special way during the school day.
"I am not aware of any school administrator that is not supportive of these groups as well. However, most school districts have asked youth leaders and volunteers to attend less often and only speak at the specific request of the students."