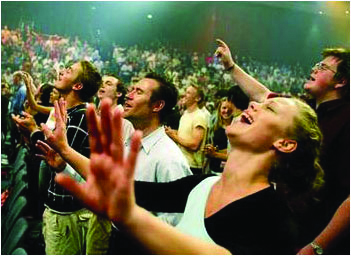 Christians Happiest Among All Faith Groups, Survey Reveals
Statistics from Britain's national happiness index have suggested that Christians are among the happiest people in the nation, while those who don't identify with any particular religion generally scored the lowest life satisfaction numbers.
The Office for National Statistics posted numbers pertaining to several happiness and life satisfaction questions measured between April 2012 and March 2015. The study found that Christians, with all denominations grouped together, reported an average mean of life satisfaction at 7.60. This was the highest mean in the table, alongside Hindus, who also posted the same number. The groups with the lowest average score were the non-religious at 7.41, and the "any other religion" group at 7.31.
When it came to the question of whether life is worthwhile, Jews and Christians were on an average most likely to answer yes. The non-religious were at the lowest end of the scale.
The detailed survey, which had a sample size of 304,740 people, explored the questions in a variety of other categories as well, including geographic locations within the U.K., age groups and health status.
The statistics showed that the 65 to 79 age group was the happiest of all, while those aged 45 to 59 reported the lowest levels of life satisfaction.
As for the religious group results, Dr. Paul McLaren, a consultant psychiatrist at the Priory Hospitals, said that faith can indeed be a protective factor for many people.
"With it usually comes strong social support which is a recognized protective factor against psychological trauma," McLaren said, according to The Telegraph.
Other studies in the past, such as a December 2014 release by the Austin Institute for the Study of Family and Culture, have also found that there is a strong link between happiness and religion.
The results found that 45 percent of those who attend church weekly would describe themselves as "very happy," while only 28 percent of those who never attend said the same.
On the other end of the scale, 4 percent of those who never attend church said they were "very unhappy," compared to 2 percent of those that attend weekly.
"Greater levels of church attendance predict higher life satisfaction even when we account for how important religious faith is in people's lives," the study said at the time.
"This result offers tentative evidence that actual integration into a religious support network through attendance at religious services may in part be responsible for the increased happiness observed among religious people."
—–
British Evangelicals Fear Government Restrictions of Religion
The Evangelical Alliance United Kingdom is asking the government to cancel requirements from the prime minister that force religious groups to register children's activities.
According to Christianity Today, British Prime Minister David Cameron included the requirements in his five-year plan to fight Islamic extremism. Under the requirements, all religious group activities— not just Islamic— for children are subject to inspection.
"There's a very real problem with violent extremism and radicalization that the government is trying to address, and we support strong safeguarding measures," said Simon McCrossan, the EAUK's head of public policy. "But these proposals will fail to tackle the problems and instead stifle the work that churches and faith-based organizations do with children and young people across the UK."
The proposal from Prime Minister Cameron has been called confusing and vague, stating that "churches, youth groups, holiday clubs, church camps, Christian festivals, Bible-reading groups, homeschooling events or training courses for those under 19, lasting six hours or more per week, would be subject to registration and inspection."
Thousands of British Christians are complaining about the proposal, arguing that the Office for Standards in Education, Children's Services and Skills would become the regulator of religion.
The policies stem from British government investigations that found radical Muslims had allegedly tried to take over the Birmingham public school system. In a policy following that investigation, the government announced that all education curriculums would include values of "democracy, the rule of law, individual liberty, and mutual respect and tolerance of those with different faiths and beliefs."
—–
NEWS IN BRIEF
A recent report from Syria warns that two-thirds of all Christians in the war-torn country have fled or been slain since the conflict began in March 2011, which means close to a million believers have left the country. There were an estimated 1.5 million Christians in Syria in 2011, but five years later only around 500,000 remain.
Under the view that what happens in Europe often migrates to the U.S., a frightening new Scottish law that was approved in 2014 will now go into effect in August. The law assigns a guardian, such as a teacher or nurse, to monitor the wellbeing of every child until they turn 18. That guardian is also able to access school and medical and legal documents. Supporters say the law will help streamline the process for child welfare, while critics say the policy violates human rights.
—–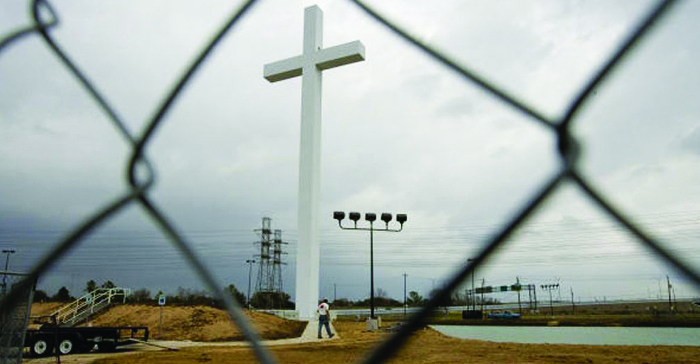 Giant Texas Cross Sparks Atheist Lawsuit
Lifelong atheist Patrick Greene has a huge problem with a giant cross under construction alongside Interstate 37 in Corpus Christi, Texas – a city whose name literally means "Body of Christ."
"It's tacky," Mr. Greene said. He said the cross is a safety hazard and should not be seen from the highway. The 230-foot tall cross is being erected on property owned by Abundant Life Fellowship – paid for by donations. Pastor Rick Milby said it will be the largest cross in the Western Hemisphere. So tall, in fact, that the church was required to install a lighted beacon on the top.
Green, who reportedly was angry because the mayor and other city leaders attended a groundbreaking ceremony for the cross, filed a lawsuit. "When I saw the mayor in her official position and the council in their official positions were attending a groundbreaking ceremony for a Christian symbol – that smacked right in the face of the Constitution of the state of Texas," he said. And he also sued Preacher Milby.
"It's ridiculous," the pastor said. "He's attacking my rights and the rights of the mayor. The groundbreaking was on a Sunday and these are Christians and they have a right to their faith."
Milby has since been dropped from the lawsuit. However, the mayor and council members are still facing litigation. "No matter what belief you have, this is the name of our city and it was my constitutional right to attend, and I will never regret being there for this wonderful moment," Mayor Nelda Martinez told the Caller-Times.
—–
Growing Number Of Americans View Christianity As Extremist
Most Bible-believing Christians would never think of themselves as being similar to radical jihadists in the Middle East, but that is precisely how many of their fellow Americans view them. The Barna Group has just released a shocking new study which found that 45 percent of all "non-religious" Americans believe that "Christianity is extremist."
The perception that the Christian faith is extreme is now firmly entrenched among the nation's non-Christians. A full 45 percent of atheists, agnostics, and religiously unaffiliated in America agree with the statement "Christianity is extremist." Almost as troubling is the fact that only 14 percent of atheists and agnostics strongly disagree that Christianity is extremist. The remaining four in ten (41%) disagree only somewhat. So even non-Christians who are reluctant to fully label Christianity as extremist still harbor some hesitations and negative perceptions toward the religion.
Even more troubling is what the study discovered about how the general population views specific religious activities. There has been a tremendous shift in society, and behaviors that were considered to be completely mainstream a few decades ago are now considered to be extremism.