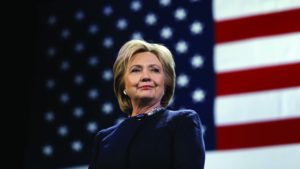 5 Horrors Hillary Clinton Could Bring Upon America
Dr. James Dobson, described by Time magazine as "the nation's most influential evangelical leader," was interviewed at a recent gathering of over 1,000 evangelical leaders in New York. Speaking charitably but forthrightly, he shared his strong opposition to Hillary Clinton as president. He said publicly, "The very thought of that haunts my nights and days."
Many strongly disagree, saying that this is a defining moment in history, because we are on the cusp of electing a woman president. But what it truly boils down to is the fact that the 2016 election is much more than selecting Hillary Clinton or Donald Trump. It's about a vision for the future of our nation. As Christians, we must be realistic, courageous, prayerful and take some righteous risks at this tipping point in history.
I am not endorsing a candidate. I am presenting, from a biblical point of view, five points on why Hillary's vision would bring a national catastrophe, an unmitigated disaster of incalculable damage to America.
Abortion will become casual, commonplace and covered by tax dollars. She is supported by abortion providers like Planned Parenthood and aggressively promotes tax-funded dismemberment of children on-demand until the moment of birth. She admitted on Meet the Press that an unborn baby is a "person" and a "child" yet believes an unborn person doesn't have any constitutional rights.
Her vice-presidential candidate has a 100% abortion rating from NARAL (National Abortion Rights Action League). Clinton's platform calls for overturning the Hyde Amendment—the law forbidding any tax-payer money for abortion passed by Congress in 1976.
She could appoint two or three liberal Supreme Court justices to shape America for decades. No need to say much here as this is a terrifying prospect. The aging members of the court are waiting and she admits she'd love to appoint President Obama as one of them!
Clinton's misguided, reckless, socialistic spending spree could collapse our economy. America's financial insolvency and its generational consequences spell out a disturbing reality: we are broke and living on borrowed time with an economic crash inevitable, unless we correct the trajectory now!
We are almost $20 trillion in debt as Obama increased the national debt more than all the previous administrations combined. Clinton has endorsed universal pre-K, free college tuition, paid family and medical leave, subsidized abortions and childcare; expanding, not trimming, Social Security (last year's Social Security ran a deficit of $70 billion); raising the minimum wage to $15 an hour (which will force scores of small businesses to lay people off); and free medical care and entitlements in the trillions.
Finally, she will dramatically raise taxes (income, business, death, capital gains, etc.) not just on the rich but the middle class. Based on her own campaign figures, this amounts to a trillion dollars over 10 years.
Hillary Clinton will dramatically exacerbate the immigration problem and threat to our national security. America is in the midst of a simmering crisis regarding illegal immigration and growing Islamist terrorism. Her party pushes amnesty, open borders, full work permits, full benefits leading to voting rights, support for sanctuary cities and proposing a 500% increase in Syrian refugees alone. Vigilant screening and vetting of these refugees isn't realistic or even possible at this time.
With radical jihadism on the increase in chilling ways, we must be proactive. We simply cannot afford to be naïve in this critical area.
Hillary's track record of dishonesty and deceit will further erode America's moral character at a time when we desperately need a spiritual turnaround. Character matters, and as far as Hillary Clinton goes, millions believe her grade is F. A recent poll published in USA Today showed that 68% of Americans believe she isn't honest and trustworthy, 56% have an unfavorable image of her, and 57% believe she should have been indicted for her mishandling classified information.
"You will know them by their fruits" (Matt. 7:16). After her first presidential campaign failed when she presented herself as a strong, assertive leader, Hillary underwent a makeover. Now she presents the image of an approachable and relatable grandmother who simply wants to help the poor, fight injustice and provide a better way for our children.
Sadly, masses of Americans still don't see the truth. "It is up to us in our time to choose, and choose wisely, between the hard but necessary task of preserving peace and freedom, and the temptation to ignore our duty and blindly hope for the best while the enemies of freedom grow stronger day by day." – President Ronald Reagan.
—–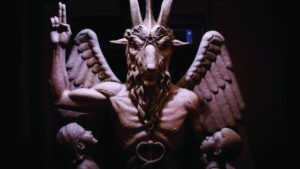 Satanic Temple Seeks to Open 'After School Satan' Clubs in Elementary Schools
The Satanic Temple recently contacted several school districts nationwide to announce plans to open After School Satan Clubs at elementary schools in an effort to counter religious groups, The Washington Post reported.
Members of the Satanic Temple who are proponents of the program say that the purpose of the club would not actually be to worship the devil, but rather to promote rational thinking.
"It's critical that children understand that there are multiple perspectives on all issues, and that they have a choice in how they think," said Doug Mesner, the Satanic Temple's co-founder.
The Satanic Temple, despite its name, does not worship Beelzebub. The group claims it does not believe in any religion and uses Lucifer more as a mythical symbol. They reportedly hope that their after school program will compete with the Christian program, the Good News Club, that is allowed in public schools.
In 2001, the U.S. Supreme Court ruled that the Christian clubs were allowed in public schools because to exclude them would be to violate the right to free speech.
—–
Washington State to Teach Kindergartners about Transgenderism
Starting in the fall of 2017, public schools in Washington state will begin teaching students as young as kindergartners about transgenderism.
The Daily Caller reports that the state recently made changes to its health education learning standards, revising them to include instruction about gender expression.
A part of the sexual health curriculum titled "Self-Identify" will begin in kindergarten where students will be taught to "understand there are many ways to express gender." Students will be taught that gender expression is subjective to individual preference and is not restricted to biology.
By the time they reach third grade under the new curriculum, students will be expected to "explain that gender roles can vary considerably" and "understand [the] importance of treating others with respect regarding gender identity."
The state's health education glossary officially defines gender as "a social construct based on emotional, behavioral, and cultural characteristics attached to a person's assigned biological sex." Additionally, gender expression is defined as "the way someone outwardly expresses their gender."
The Office of Superintendent of Public Instruction (OSPI) admitted that it did not know what would happen if a student refused to complete an assignment in the new curriculum if it went against his or her beliefs.
—–
NEWS IN BRIEF
Christian author Tim LaHaye, 90, passed away recently after suffering a stroke. He is most known for co-authoring Left Behind, a series of 16 best-selling novels dealing with end times and the Christian eschatological viewpoint of the end of the world. About 62 million copies of the series were sold.
Undercover journalists David Daleiden and Sandra Merritt, who are responsible for the controversial undercover Planned Parenthood videos, have been acquittedof all charges. A judge ruled recently that they were not guilty of attempting to purchase fetal body parts after they pretended to be employees of a fictitious company seeking bodies of unborn babies for experimentation in order to expose Planned Parenthood's alleged sale of fetal body parts. If convicted, Daleiden and Merritt could have faced up to 20 years in prison.
—–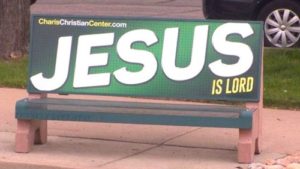 Colorado: Pastor Fighting to Keep Jesus Ads on Bus Stop Benches
A Colorado Springs pastor is fighting to keep his Jesus ads on public transit benches in the city. The Christian Post reports that Pastor Lawson Perdue's license with Mountain Metro Transit to display the Jesus ads expired recently, and the city may not allow him to renew it due to a complaint from a customer.
Perdue has been displaying his large Jesus ads on the benches of bus stops for three years. After the complaint, the city has undertaken a review of Mountain Metro Transit's advertising policies to determine if they violate the Constitution.
"The city of Colorado Springs is carefully reviewing the advertising policies of Mountain Metro Transit in light of the advertising by Pastor Lawson Perdue of the Charis Christian Center," the city said in a statement. "The city takes First Amendment issues very seriously, and strives to fully comply with Constitutional Law."
Pastor Perdue responded, "We believe that Jesus is a very positive message of faith, and we want to share that around our community. There's a lot of messages in the city that I'm opposed to personally, but I don't complain, because this is the United States of America."
Perdue says he is willing to go to court over the issue if the city decides against him.
—–
Report: Divorce Rates Dropping: Contributed to Fewer Marriages
Declining marriage and divorce rates go hand in hand and reveal a cultural skepticism about relationship definition, according to a new report from The Heritage Foundation.
The marriage rate has been trending downward for decades. From 2004 to 2014, the U.S. marriage rate fell by 20 percent, a drop of 8.3 marriages per 1,000 unmarried women over age 15.
The report also noted the divorce rate's steady decline since 1979, from 5.3 per 1,000 people to 3.2 per 1,000 people in 2014—a 40 percent drop.
But those numbers do not tell the whole story, according to experts. "The declining marriage rate is not so much a reflection that marriage is no longer desired, but that, in a culture of distrust and divorce, it is fragile," write Amber and David Lapp, research fellows at the Institute for Family Studies.
The Lapps assert young people today are not opposed to marriage—they are conflicted about it. They want a healthy, sustaining marriage relationship and desire to raise their kids within marriage, but they are afraid of divorce.
"As a result, many young Americans are left on the outside looking in, admiring marriage but paralyzed with anxiety about becoming another divorce statistic or worried that their boyfriend or girlfriend is not trustworthy," write the Lapps.
Because of this, we should be "cautious in our celebration" about the dropping divorce rate, writes Julie Baumgardner, president and CEO of First Things First. "Widespread divorce led people to believe that although relationships are good, relationship definition is risky," Baumgardner said. Generation X children lived through the rise of the divorce culture in the '70s and early '80s, almost half within broken homes. The result for Gen Xers: risk avoidance, undefined relationships, and a widespread belief that marriage is just a piece of paper.