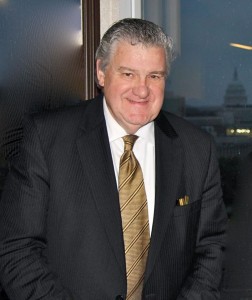 I remember well several nights that the now notorious Jim Jones of Jonestown, Guyana came to our home. His roots were in Indiana, and he pastored for many years in Indianapolis. Early in his ministry, he spent a time preaching in Apostolic churches, and during that era he visited my parents' inner-city storefront.
My father's passionate lectures on holiness and the new birth (Acts 2:38) were loud and unwavering. He was "Churchillian" in his "resist, resist, resist" mentality. Perhaps a better description, my dad was like Timothy. In his own way he was fighting the good fight of faith, laying hold on eternal life (1 Timothy 6:12). My father's unwavering conviction and anointing befuddled Jones, the clever befuddler, at our simple dining room table. Later, during a tent revival we were holding, the charismatic young Jones went too far in his departure from the truth and my father physically and publically set him down. It was an interesting moment for me. I was probably about 13; Jones was a big name at the time, an orator and crowd mover. Dad was a Bible teacher, not a fiery preacher, and in my 13-year-old mind kind of boring. But, that night – enough was enough and he took control. I knew then that resistance against false doctrine was essential. It didn't matter how many people had come to see Jones and his antics; if he didn't preach the truth, we had to resist, and as my father took to the podium and opened his worn Bible and began to speak again the Apostolic message – resistance had won the day.
The baptism of the Holy Ghost is both an experience and revelation of truth — an essential experience erasing any uncertainty of who Jesus is. It is a promise made by Jesus (Acts 1:4-5). It is the fulfillment of a prophetically expressed spiritual revolution (Joel 2:28). It is a new birth and a new life. The baptism of the Holy Ghost is an abiding presence that teaches and affirms to mankind what is really real, and positions born-again humanity into divine relationship in Him.
"But the anointing which ye have received of him abideth in you, and ye need not that any man teach you: but as the same anointing teacheth you of all things, and is truth, and is no lie, and even as it hath taught you, ye shall abide in him" (1 John 2:27).
Some, in these perilous times, have embraced the idea that the baptism of the Holy Ghost was a one-time event marking the beginning of the early Church, but not intended as something essential to the modern new birth experience. Such an idea is erroneous, harmful and divisive, and there is clear evidence to dispute it. The baptism of the Holy Ghost continued with Cornelius in Caesarea (Acts 10, 11), and it continues today.
The modern Oneness Pentecostal movement is not without attacks against the truth. Long established, scripturally-based principles of the holiness lifestyle are under attack, as are basic fundamental doctrines.   We may choose not to discuss such things, but ignoring them does not equip the church for the kinds of battles we are facing today, such as the cyberworld and its pornographic influences, the growing love for the world's fashions, pleasures and approval, the collapse of Christian ideals as the foundation for our morals, culture and politics, and the silencing of free speech in our universities and public discourse.
The Apostles had to face the same types of situations. "For there are certain men crept in unawares, who were before of old ordained to this condemnation, ungodly men, turning the grace of our God into lasciviousness, and denying the only Lord God, and our Lord Jesus Christ" (Jude 1:4).
Giles Milton's fascinating book Churchill's Ministry of Ungentlemanly Warfare deals with England's war against the Nazis. The book reveals the efforts made to promote a more powerful and creative approach within the military in order to take on the unspeakable evil and determination of Hitler. Regular warfare was not enough. Churchill and others thought that they needed to expand into guerrilla warfare at all cost and with the best "fertile minds available." It was said that Churchill's greatest fear was the passivity he felt among his military and his nation. His solution was to "resist, resist, resist." Most historians agreed that this approach made the difference.
One can feel a passionate resistance in John's defense of the truth in the following statement. "If there come any unto you, and bring not this doctrine, receive him not into your house, neither bid him God speed"  (2 John 1:10). There is no hesitation or ambiguity here – just resistance against accepting an alternate position. Such conviction is developed through experience with the Spirit, not by mere academic pursuit as Titus points out. "Ever learning, and never able to come to the knowledge of the truth. Now as Jannes and Jambres withstood Moses, so do these also resist the truth: men of corrupt minds, reprobate concerning the faith" (2 Timothy 3:7-8).
Our victory and the victory of the defenders of the faith who came before us involves a passionate love for truth and righteousness at any cost – including resistance. This generation of young men and women will only win its battles through the same Holy Ghost anointing that was upon the first century Apostles, and He will enable this generation to meet every liar and all vain babbling through resistance.
It will not be easy. It will mean separating from some, opposing what may be popular or on-trend, avoiding worldliness and carnality and many will not understand. But "these are not drunken, as ye suppose" (Acts 2:15). They live for a purpose. They love the truth. They have been born again. They live unspotted from the world (James 1:27).