The Book of Acts Continued
Rev. John Hanson | Thompson, CT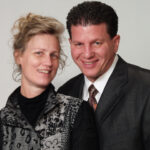 Pastor and Sis. Hanson
Welcome to Acts II Ministries, a church that believes church should still be like it was for Christians in the Acts of the Apostles. This is a church whose goal is to have powerful encounters with God and then engage with others who are searching for abundant life in New England. "We are a church that believes that God still wants to demonstrate his power, heal, forgive sins, and give His Spirit to those who will commit their lives to Him," said Bro. John Hanson, Pastor of Acts II Ministries. "We are the Apostolic Church continued!"
Nestled in the heart of Thompson, Connecticut, a quaint town with rural character and a beautiful New England setting, Acts II Ministries is a church with a heritage as rich as the New England countryside. "Rev. Terry Hardt founded the work in his home in 1976," explained Bro. Hanson. "From there the church grew; they purchased a property and built a small building with two classrooms, restrooms, and an auditorium. In 1985 they added on to the existing building adding an office, vestibule, and enlarged the auditorium to seat 100 people.
Prayer and Lifestyle Evangelism
There are many principles of growth, but there are two that Bro. Hanson believes are key: teaching people to pray and lifestyle evangelism. "Prayer and learning to flow in ministry are key principles that guide our ministry," said Bro. Hanson. "Prayer groups [house-to-house cell groups that are focused on prayer] have been key to seeing increased attendance in our church. A revival pastor's priorities should be prayer, study, discipleship, and training, in that order. I have written several books and many prayer clinic guides that we sell on our website. Although we do special services and events that we encourage people to bring guests to, most of our outreach is done by our prayer groups. Each group does some kind of outreach each month. In this way, we involve 80-90% of our people in outreach. Our prayer groups are house-to-house groups with an emphasis on prayer. They disciple by dealing with key topics, teaching people to pray, and encouraging outreach and lifestyle ministry. Deacons are asked to do four to five different kinds of prayer meetings each month. At least once per month, they do a prayer clinic prepared by the bishop. Once each month they review a sermon, and once per month they conduct a 'Spirit-led' prayer meeting."
Several ministries have been birthed in the church that have had an impact on the community as well as the growth of the church. "'Girlfriends' is a unique ministry for women with a wide variety of fun activities," explains Bro. Hanson. "It continues to draw in new guests at each event. The Spanish ministry consists of a Spanish prayer group, a language class, and translation of resources into Spanish. Ministerial internships with the pastor are provided for young men who feel the call to public ministry. 'Empower New England' was established to provide a variety of classes for the public at locations other than the church building, and several men of Acts II have provided help to other Connecticut churches in the form of manual labor and preaching ministry. Since then, Acts II Ministries has helped to plant a church in Worcester, Massachusetts, has started a daughter work in West Hartford, Connecticut (Lighthouse Tabernacle; led by Edward and Elissa Ford), and is establishing a preaching point in Windham, Connecticut.
Throughout these decades of growth and change, some things have not changed. Outreach has continued to be a central component, ministering to people from all walks of life. Recounting all the happenings would be almost endless. Acts II Ministries has been consistently involved in nursing homes, children's crusades, youth activities, training seminars, street meetings, community events, college campus ministry, hosting missionaries, and food drives, to name a few. The biblical foundation of Acts II Ministries has not changed and has kept the church strong, alive, and growing as we continue to be kingdom-minded and Spirit-led.
The Bishop-Elder-Deacon System
Organizational management is a combination of many components of leadership within the church. The actual structure of the church is used to develop strategies that are then implemented and executed via meetings, training, and promotion. "We are a small-group church that uses the bishop-elder-deacon management system," explains Bro. Hanson. "Our deacons oversee small groups – this includes youth, children's classes, and special outreaches. One of our six "elder" couples is assigned to oversee three or more of the small groups. The 'bishop' oversees the elders."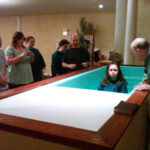 A Convert is Baptized
"I meet with staff consistently," states Bro. Hanson. "Elders and deacons give a report each week and we have an elder meeting, a meeting for all leaders, and a ministry training session once per month. We plan as needed in the monthly meetings, and use videos, books, guest speakers, and other ways to train our leaders. We have 80% of our members involved in some form of ministry and because each small group does some type of outreach consistently, we have 90% of our members involved in evangelism. Our small group ministries are also how I promote and encourage involvement in the church with the help of the leaders. The deacons and the elders help plug people into different ministries based on their particular giftings.
Backgrounds of Preparation
Billings, Montana and Round Rock, Texas are worlds apart, but when Bro. and Sis. Hanson's paths crossed, those two worlds became much closer. "We were both raised in the UPC," said Bro. Hanson. "We were both baptized and received the Holy Ghost at a young age. My involvement in children's ministry in Billings, and my wife being part of a church planter family in Round Rock got us involved in ministry at a young age. As a teen, I was involved in the bus ministry. I began teaching Sunday school at age thirteen and preached my first sermon at the age of nineteen."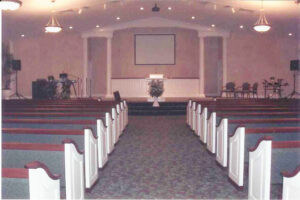 View from the Back of the Sanctuary
With an extensive background in education, Bro. Hanson applied his knowledge to the ministry. "I received my degree in teaching and started in ministry by founding a Christian school," said Bro. Hanson. "I attended JCM for two years and then graduated from Texas State University with a B.S. in Special/Elementary Education. I was the Christian school principal and assistant pastor to my father-in-law for twelve years in Texas. Before I became the pastor of Acts II Ministries, I was looking to start a church or take a pastorate. I explored Idaho, which is near where I grew up. My former pastor, Terry Hardt, was leaving Thompson to do a metro work in Ohio. And when he heard I was available, he invited me to come and see if New England was a fit. My wife and I were voted in as pastor in May of 1996. There was an average attendance of sixty people when we came. Our first service was a day when the entire church had fasted. It snowed six inches, and we were just there preaching to see if we were a fit for that church and that culture. The congregation voted us in 100%. Since then, I have been a district NAM secretary, a presbyter, and Connecticut Disctrict Superintendent (2009-2021)."
Bro. Hanson believes in the importance of leaders and mentors and is so appreciative of the leaders in his life that have helped to shape his destiny. "My pastors, John Russell, Tommy Cassel, and Terry Hardt were very influential in my ministry," said Bro. Hanson. "Mentors are very important in that they serve as anchors. My mentors were available for counsel, but more importantly, their lives kept me grounded and reassured me that ministries of integrity and faithfulness were reachable.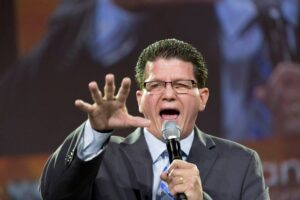 Pastor Hanson Preaching 
From a Humble House to a Full Facility
Acts II Ministries had its humble beginning in a minister's home. After several years and three building projects, the thriving congregation now meets in a beautiful new sanctuary. "The church facilities were built in three phases," explains Bro. Hanson. "The original was built in 1979. In 1976, Rev. Terry L. Hardt and his wife Dorothy, along with their sons, Nathaniel, Sam, and Dan, began hosting a group of believers in their home. During those few short years in the house, twenty-seven people were baptized and thirty-two received the Holy Ghost. The church started with two children in Sunday School and soon grew to have three full classes meeting in the entryway, the dining room, and in the house next door, occupied by Bro. and Sis. John Tremblay.
The church was growing, and the group outgrew the house. God miraculously made possible the purchase of two acres of land in Thompson, Connecticut. Construction began, and soon, the congregation excitedly moved into a little building containing a small sanctuary, four little Sunday school rooms, and a converted horse trough, used as the baptistry. By then, over eighty had been baptized in water and over sixty had been filled with the Holy Ghost.
The church continued to grow. The original building was full, so plans were made to build an addition. A new sanctuary and a vestibule were added in 1985. More Sunday school area was created, and wooden pews were built to replace the old folding chairs. The horse trough was traded in for a real baptistry. In 2004, we added a 250-seat auditorium, restrooms, and two additional meeting rooms, tripling our space, and we also added paved parking. God helped us to build our current building at about half the cost by giving us favor with the city, and by using members to do the majority of the work. In fact, all three phases were built primarily by church members. For our next phase, we plan to add educational space or to relocate entirely if the opportunity presents itself.
Growth: The Ultimate Goal
The future is bright for Acts II Ministries as they have also launched two other churches in the past ten years. "We have plans to start other congregations as well," said Bro. Hanson. "Our goal is to be a training center for the region and start as many prayer groups as possible."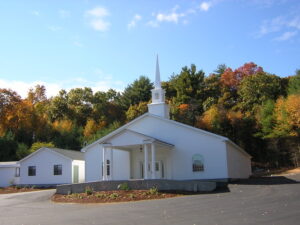 The Church Exterior